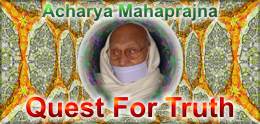 The truths, the religious tenets and conduct rules laid down by Mahavira, those which brought about a revolution in the minds of the people are as relevant now as they were two thousand five hundred years ago. In brief his principles and the lessons deriving from them can be enumerated as follows:
Valuable Principle: 1. Anekanta and Syadvad
To be able to see truth in its many facets is anekanta and to express this in relative terms is syadavad. Truth has infinite attributes. Do not look at one aspect of it from one angle and then decry the rest.
Do not uphold only one faith as true and all others as false.
Explain truth in relative terms. Do not be impassioned by your views. Try to understand other's views.
Every thought can be either true or false-one thought can be true with respect to, or in relation to other thoughts. In absolute terms thought becomes non-truth or false.
Do not show off your knowledge by praising your own thought and decrying another.