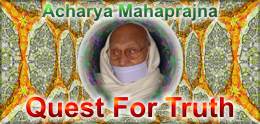 Substance is the base for modes. Substance is not manifest. Modes are manifest. Where are we able to see the substance? We see only the modes. All our knowledge is about the modes. There is a man before me. He is a substance. I do not know him. Of all his different modes I know one of them and through that mode I know that he is a man. When I see him with my eyes his form and colour are the basis on which I say he is a man. When I hear him speak, from his ability to speak, I infer he is a man. I am not able to see his entire being. I know a mango by the smell, colour or taste. I do not have any means of knowing it completely. When the eyes are seeing then smell and taste become less important. When the sense of smell is greater then the colour is forgotten. It is in this context of totality that I say that we do not perceive the substance. We see only the modes and on the basis of the modes draw our inferences.
Our world of modes is very large whereas our world of substances is very small. The number of modes is infinite in proportion to the number of substances. Each substance is hidden in its modes. It is impossible for the senses to look beyond the modes and see the true substance.
Change takes place both by nature and by use. Intrinsic changes are in-built in the existence of the substance. Empirical change takes places due to external stimuli. It is not true that such changes take place only when the external stimulus is found. The process of change is continuing. Time is its major reason. Time is a dimension of all existence. It is an intrinsic cause for change and so is found in all existence and makes the nature of all existence transitory. The change intrinsic to a substance is subtle. The senses are not able to comprehend these changes at the level of knowledge gained from senses. This change cannot be explained. We see the gross changes that take place due to the mutual stimuli of the soul and matter and define them accordingly.
People die due to illness, due to injury, on being killed by somebody and so on. Some die naturally. One who is born will necessarily die. That is only a change. The internal process of death lies within life. The process of dying begins with birth. The one, who does not die in a first moment, never dies. One who is able to live for one moment will remain immortal. The definition of death as it takes place due to external stimuli is very simple. The death that takes place due to mental or physical weakness is more difficult to describe but the death that takes place in full health can be understood only by scientists or through intuitive perception.
Some philosophers give theological explanations to creation. But Jain philosophy explains it in terms of the changes that take place in the soul. Creation, development or destruction - whatever happens due to the mutual reaction between matter and soul. Time supports both of them. In a certain event external stimuli also contribute. The seed for both the expressed and non-expressed changes exists within the objects. Changes can be collective or individual. Mix sugar with water and it becomes sweet. This is collective change. When the clouds thunder in the sky a new state is created. Different kinds of molecules got together and the cloud was formed. Some changes already exist within the substance. Such changes are generally individual changes. There are five states of fundamental existence (astikay). Dharmastikay, Adharmastikay and Akashastikay - in these, there is intrinsic change. In the soul and in matter both the types of changes are found, intrinsic and empirical. In them the intrinsic changes are individual. But the collective changes can be empirical also. The entire gross physical world is created due to the collective changes in these two substances. All that is visible has been brought to shape by living beings. We can also say this in different words that all that we are seeing is either the body of beings or body created by beings.
Every existence has an extension, a body, a cluster of indivisibles and a size. Apart from matter all the other four astikays have a continuous texture. Both fusion and fission take place only in physical existence that is pudgal (matter). Through fusion of molecules, atoms are created and through fission of molecules, atoms get separated; all that remains is the atom in the real sense. Collective changes take place only in pudgal. Only pudgal has visible existence. Different aspects of the world are created through matter. This is the theatre of the world. If anybody has the prime role it is pudgal. This single actor comes before us in different roles. Even though the soul also contributes to this, the main actor remains pudgal.
Existence has the capacity to change. That which does not have the capacity to change looses its power to remain in existence the next second. To ensure its existence in the next moment, matter changes itself and only then is able to ensure its existence. One atom, which is infinitely black, becomes slightly black and that which is slightly black becomes infinitely black. This change is not an outer change. It is taking place within substance itself, spontaneously. The degree of change depends on the loss of the number of infinite units and the gain in them. In the stream of infinite moments in infinite time and infinite number of events, any substance what ever it may be, has to undergo infinite transformations in order to keep its fundamental existence intact. If its changes were not infinite, it will not be able to keep its existence forever.