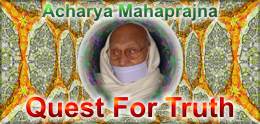 The religious teacher initiates the social being into religion but because of that he cannot ignore the physical requirements of the person and preach aparigraha to him. Therefore Mahavira developed the path that desire should follow and gave the following moral precepts:
Do not fuzz weights and measures.
Do not adulterate.
Do not sell imitation after displaying the original.
In the context of the society, limitation of cravings has two defining features - fairness and compassion. In the context of the individual the defining feature is restraint. The inspiration to avoid fraudulent transactions is found in restraint. The inspiration to reduce individual consumption is found in restraint. The followers of Mahavira, who had vowed by the twelve oaths, did not use unjust means of aggrandizing their wealth and limited their personal wants. To use unfair means of accumulating wealth, to draw a definite limit to accumulation of wealth and to observe restraint in individual consumption are the primary principles on which the principle of limitation of cravings is postulated.
This does not mean a vow that advocates complete divorce from wealth. There is no relation between religion and poverty. That only a poor man can be religious or that religious men are poor were viewed as fallacious conjectures by Mahavira. Neither the poor nor the rich can follow dharma or religious precepts.
The one in whose mind the sense of peace awakens can follow dharma, be he poor or rich.
A religious man is removed from both poverty and wealth. He is one who gives up. We have defined one religious sub-caste. In our age, religion is defined by our birth. The family into which a man is born and the religion followed by that family becomes his.
To such people who belong to a certain religion by virtue of their birth, desire-control does not have meaning.
It is meaningful to those who belong to a certain religion by virtue of their deeds.
Such people are not as rare as ascetics but in terms of percentage, they are rare. So no economic theory can be formulated on their basis nor do they become obstacles to economic growth of any sort.
Most of those who follow a religion by virtue of their birth are blindly ritualistic.
They do not believe in reducing wants, reducing the accumulation of wealth, restraining the consumption of luxury items or in moral values. Their religion is devoid of morality. They do not think it is important to observe morality along with religious precepts. They exhibit their inclination towards religion, but do not show it in their conduct. The religion of such people does not influence economic progress.
For progress, economics adopts the principle of increasing wants. If some economists are willing to separate the two, some others are not. The following arguments have been raised in favour of increasing wants:
Man's satisfaction is maximized by increasing the area of his wants.
Increase in wants leads to a content life and a better standard of living.
With increase in wants, there is increase in wealth.
With increase in wants the state's economic power becomes strengthened.
Result: It can maintain a full-fledged army and becomes self sufficient in terms of its security.
The following arguments have been posed against increasing wants:
Man experiences dejection with increasing wants.
The constant endeavour to meet the increasing wants fosters consumerism.
The increasing wants syndrome leads to class struggles within society.
With increasing wants man becomes selfish and adopts unfair means to aggrandize his wealth.
Analyzing from the perspective of anekanta, we find there is truth on both sides. The assumption of economics that with reduced wants there can be no economic progress which is not false. Equally it is not false when we say with increasing wants, dejection increases. The latter contention is supported by religion because according to Alfred Marshall economics is the discipline of human betterment and its primary objective is to improve human life. To throw light on the path to meeting unlimited wants with limited means is its purpose. But it is not possible to increase satisfaction of all people with the same speed with which wants increase. All people are not able to satisfy all their wants. Most people are able to satisfy their very basic and necessary wants. Lesser people are able to satisfy their wants for comforts. Only a few people are able to satisfy their need for luxury items. If along with this order of satisfaction we view Mahavira's contention that greed begets greed, then we see that only a few wants can be satisfied but the dejection that accompanies the inability to satisfy all wants is incurable.