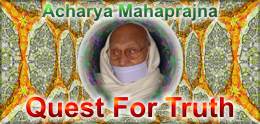 We have two words before us - supreme existence and the other existence. The philosophers who believe in idealism do not accept the other existence as real. According to them there is nothing beyond the consciousness. In Indian philosophy, this principle is extant in the Vedas. In Western philosophy the exponents of this principle are Kant, Brecht, Shelling, Hegel, Green, James Ward and others.
The philosophers who believe in realism accept the other existence as real. According to them the other existence is not influenced by sentience, and is independent. In Indian philosophies, the Sankhya, Vaisheshika and the Buddhist philosophers believe in this. In Western philosophy Reed, Hamilton, Bertrand Russell and others are its exponents.
Jain philosophy has taken both these aspects of truth: idealism and materialism and explained them relatively. The first half of their explanation presents the analysis of the school of idealism. Instead of believing that there is nothing beyond the consciousness, it may be believed that there is nothing beyond reality. Reality can be made the point of reckoning, not the consciousness. In reality both the sentient and the insentient can be incorporated but into the sentient the insentient cannot be incorporated. The acceptance of both the sentient and the insentient makes idealism turn into the philosophy of materialism. To think of the insentient as a reflection of the sentient causes many problems. There is no problem in viewing reality as one. Sentience is divisive. It separates the sentient from the insentient. The common is a cohesive attribute. It occurs in the same form in all substances. That is why it is the ultimate point in oneness. On it is based the entire philosophy of advaita (monism). That is why the idealistic perspective is also partial truth.
'It is' (truth) is the supreme reality. A particular thing is, this is the other reality. In the supreme reality there is no division, no substances and no modes. The other reality is divisible. Within its limits are substances and their many modes, which are infinite. In a substance two types of attributes are found - the common and the specific. These two never separate from each other. There can be nothing, which is devoid of commonness or specificity. A common attribute ensures the existence of the object but does not rob it of its specific quality. A specific attribute of a substance makes it different and independent of other substances. It does not cause any obstruction in its existence.