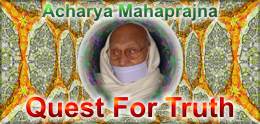 Bhagvan Mahavira's penance began on the note of resolution:
From today I will not care about my body.
I will not protect it.
I will tolerate heat and cold.
I will withstand any problems.
I will not medicate myself during illness.
I will not be constrained by desires of hunger and thirst. I will win over sleep.'

Bhagvan Mahavira experienced: without harnessing fearlessness, equanimity cannot be attained and without harnessing the bodyless state, fear cannot be conquered.
The main source of all weaknesses in man, is fear.
The main source of supernatural powers in man is fearlessness.
Half the reasons for fear is attachment to body.
To give up this attachment, to be in a bodyless state it is mandatory to reach a state of fearlessness.
As Bhagvan Mahavira intensified his penance in the bodyless state, his feelings of non-violence (ahimsa), amity (maitri) and peace,(shantt), soared new heights.
Violence (himsa), arrogance (vyr) and chaos (ashantt) are all in the body and are not present in the bodyless state.