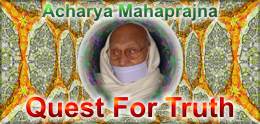 Mahavira announced that all men are one. Casteism, disgust and untouchability are all elements of violence. There is no place for them in the dharma of ahimsa. Mahavira gave three characteristics of dharma-non-violence (ahimsa), restraint (sayam) and penance (tap). All three are related to the soul (atma) and the individual. The character evolved on the basis of these three factors is of high moral calibre. Consciousness devoid of attachment and aversion is ahimsa. It is the spiritual form of dharma.
Do not kill living beings, do not lie, do not steal, observe celibacy, and do not be possessive. These are the moral expressions of dharma. The consciousness devoid of attachment and aversion is indeed the soul itself. It is not with respect to anybody else nor is it related by anybody else. Not to kill is a rule to be followed with others. That is why it is a moral. Moral rules are expressions derived from a spiritual form. They are born from the spiritual form. Therefore they cannot be different from dharma. Herbert Spencer, Thomas Huxley and other similar environmentalists and Human Rights thinkers have separated dharma and morality. This does not hold water. That which is right, the conduct, which is right from the perspective of dharma, cannot be wrong from the perspective of morality. The only difference between the two is that dharma is towards and within oneself while morality is with respect to others. But there is not so much of a distance between them such that one single action can be in accordance with dharma and in conflict with morality. Sociologists have highlighted the difference between morality and dharma on the basis of social conduct (smriti-dharma). In relation to this, the distance between dharma and morality can be shown. Action that is accepted by dharma can be opposed by morality. This kind of dharma born out of fundamentalism can obstruct development of society.
The spiritual form of dharma is located in the soul while the moral aspect is located in society. This way dharma is spread over two territories. Since both these forms of dharma are eternal they are also unchanging. Smriti-dharma is based on utility at a given time and place. So it is ever changing. It is only because this ever-changing dharma has been confused with, and superimposed on, the unchanging dharma that many social ills, which have been discussed by sociologists, have come into being.
Smriti-dharma has given directions for the distribution of wealth and its consumption. Even directions to assuage desires have been given. To give these directions are mandatory for smriti-dharma. But this is not the job of dharma based on eternal values. If it were, however, to give directions to assuage/guide passions and wealth then it will take the form of an unchanging rule and cause impediments to the growth of society, as it is doing today. But the management of passions and wealth as designed by smriti-dharma can be supported by dharma. Mahavira gave the form of this support. From the rules of conduct he gave to individual householders, social organization can be greatly benefited. As an example the following rules can be quoted:
Do not rob your labourers of their livelihood.
Do not over burden animals.
Do not give false evidence.
Do not have relations with anybody other than your wedded wife.
Draw a definite limit to accumulation of wealth. Do not go beyond that limit.
Do not go in the wrong direction to accumulate wealth or increase consumption and so on.
Mahavira gave the secret to reduce attachment that causes wealth accumulation and passionate obsessions. He however did not give the manner in which wealth accumulation should be organized or how passions should be quenched. He worked within the parameters of a spiritual seer and did not intrude into the territory of an economist, sociologist or endocrinologist. In this respect if anybody thinks his philosophy is incomplete, then they are most welcome to do so. Some may even say that his followers have to look elsewhere for social organizational rules. If eternal vision and eternal truth did not have this dependence then smriti dharma would totally cloud the perspectives of eternal dharma. Completeness and incompleteness can only be relative. A man can exist even without dharma and morality but without wealth and passion, he cannot exist. That the man is real and the society unreal- with this idea the individualistic philosophers have given man the freedom to acquire limitless wealth and thereby increased exploitation in society. A relative acceptance of the reality of man and society can free man from these problems.