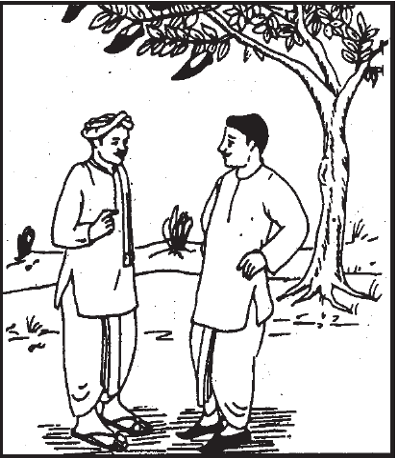 A man was unable to walk properly because he was wearing very tight shoes. Another man was coming from the opposite direction. He stopped and asked the first man, "Why are your wearing such tight shoes?"
The first man was visibly upset. He replied, "Let them be tight. It is none of your business."
The second man again asked, "From where did you buy these tight shoes?" The first man answered angrily, "I plucked them from a tree". "You should have waited for a short while, my friend", said the second man.
The first man now lost his temper, "Who are you to sermonize me? Why should have I waited? Would the shoes fit me properly if I had waited?"
The second man said, "You told me you had plucked these shoes from a tree. If you had waited for some time, the shoes would have grown bigger. That would have been the correct time to pluck them. Then they would have fitted you properly. Like a ripe fruit, they would have served you in a sweeter way."
This illustrates the point that an impatient persons does not want to stop in between. He wants everything then and there. For such misguided people, a great sage has said, "Be Patient. Fruits come only by season. They can't be hastened by any other reason". (Dhire dhire re mana, dhire sab kuch haoi; mali seechai sau ghada, ritu aye faal hoi.)
All this has been said to make the mind understand that one cannot hurry with things. We need to be patient. To wait for our turn, to participate in maintaining order, to feel happy when others reach the head of the queue, these are some of the traits that should become an integral part of our behaviour.
We have to stand in queue at so many places: at the milk dairy, at the counter for payment of electricity bill, while boarding a bus, while buying a railway ticket, while collecting water from a public tap. There are several other similar situations when we must wait for our turn. To stand in a queue we need patience. Our mind argues in several ways to find out short-cuts to escape the boredom of standing in a queue. Sometimes we try to exploit the person ahead of us. Some people use the trick of forming a parallel queue, claiming that theirs is the original one. Then they start arguments and quarrels and create a noisy scene. The queue suddenly disappears because there is a rush to reach the head of the queue. In such situations one who observes rules is the most distressed.
All this happens because we lack patience. Our impatient mind disturbs us and we tend to agree what it tells us to do. As a student also we so many times behave in an impatient manner. If we can think coolly we will realize that we come to school to build an ideal character. Patience is an attribute which all of us must try to imbibe.
The purpose of this discussion is that we should learn to be patient in normal circumstances. It is the need of the day that every normal person should strive to remain patient at least under ordinary similar circumstances. Then only we will be able to maintain law and order in society. Normally, no one disturbs our patience. It is up to us to become sick. What is required is the firmness of mind. Under ordinary circumstances. If we become impatient then we are supposed to blame ourselves.
First requirement of patience is a total control over mind. We can control and regulate our mind contemplating patience. If we continue to exercise control over our mind a stage comes when nothing can disturb our patience. We can give several examples to illustrate our point.
MARX propounded the theories of communism. He was the first sociologist to do so. But he had to wander a lot in his quest. As a punishment for the theories he propounded, he was expelled from his own country, Germany. Nobody gave him shelter. But he tolerated all this humiliation with patience. Finally, he completed his works and gave a new concept to the world. Marx became immortal.
Take the example of SOCRATES. He rebelled against the orthodox ideas of his time and propagated the eternity and power of truth. The people in power became his enemies. They tortured him in many ways and finally made him drink hemlock, i.e., a poisonous drink. Yet Socrates did not lose his patience. He opted to die for the benefit of society. Socrates was a great sage and philosopher of the west. No one remembers his enemies but the entire world today hails him as a great thinker and philosopher.
JESUS CHRIST professed so many things against the orthodox practices of the religion of his time. He did so because he wanted to deliver his people. But the fanatics and opportunists, whose interests clashed with his teachings, became his enemies. They tortured him and he endured it all. Finally they contrived against him and succeeded in crucifying him with the help of the Roman Governor. Yet, when Jesus Christ was crucified, he did not lose his patience. He prayed, "Oh God! Please forgive them, for they do not know what they are doing."
Life of LORD MAHAVIRA is another sublime example of patience. In the court of God Indra, there was a universal voice of praise for the endurance Lord Mahavira had always shown. One of the countries, named Sangama, did not agree as he was jealous of Lord Mahavira. He came to the mortal land, i.e., the earth, to prove himself right. Sangama assumed the form of an elephant and kicked Lord Mahavira about all over the sky. Then he started biting Lord Mahavira after assuming the form of a scorpion and then of giant ants. But Lord Mahavira did not lose his patience. Sangama adopted many other ways to break his will power but could not succeed against patience of Lord Mahavira. In the end it was Sangama who capitulated and apologized for his shameful deeds and returned to Indra's court.
These are some of the examples from the lives of great men. They had been tested and tried in a very harsh manner, whereas we are required to adhere to patience under ordinary circumstances. We are to develop this capacity further and further. Sadhana helps us to achieve this goal. But at the same time, one must not unduly hurry. Hurry always upsets the physical balance and then it is difficult to regain it. So be patient and divert your mind towards the right path. Continue your search for truth with patience.
ANUPREKSHA OF PATIENCE (DHAIRYA)
Anupreksha of patience can help us in our quest for truth. We had already learnt the exercise of Anupreksha in the previous classes. So, we will mention about it very briefly here:
Mahaprana Dhvani: 2 minutes.

Kayotsarg: 5 minutes.

Visualize that yellow is the colour of your inhalation. Rays of yellow colour are entering your body with each inhalation. 3 minutes.

Concentrate and visualize the yellow colour on the Prana Kendra (nose tip).

(a) Concentrate at the Prana Kendra (nose-tip) and carry out the Anupreksha: "I will develop the capacity of endurance. I will no be defeated in my endeavour." Repeat these words 9 times. Then carry our MANASIK JAPA 9 times.

(b) Contemplate: "Do not hurry. Haste makes the mind restless. Restlessness disturbs our Thought Process. This reduces our capacity for memory and concentration. Therefore it is very essential to be patient. It is very important to carry out the exercise of Dhairya". Complete the Dhyan exercise - 5 minutes.
EXERCISE
Why is patience necessary in life? Explain with examples.

One cannot formulate anything without patience. Explain with examples.

Which exercises of Jeevan Vigyan can help us in cultivating the attribute of patience?

Describe the stages of Anupreksha of patience.