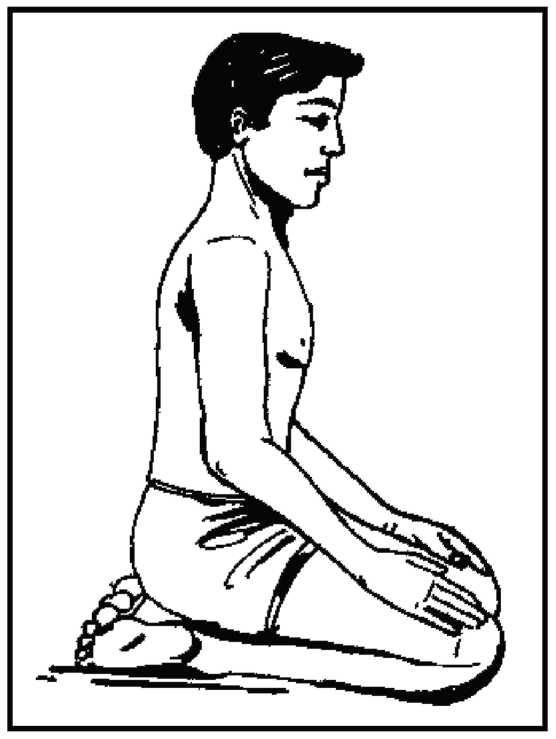 Vajrasana
is one of the most important and easiest asana. By practicing this asana, body becomes as strong as the
VAJRA
(the proverbial thunderbolt of Indra in Hindu Mythology).
That is why it is known as Vajrasana. Let us learn the procedure of performing this asana and its advantages.
PROCEDURE
First of all bend both the legs backwards at the knees and gently sit down.

The big toes (foot-thumbs) should be touching each other while heels should be at the normal distance.

Join both the knees together and place the hips over the heels.

Keep the spine, neck and waist straight.

Keep both the arms straight and place the palms of knees. Fingers should be joined together.

Look exactly in front of you. Inhale and exhale evenly, regularly and deeply.
This is the final posture of the Vajrasana.
EFFECT OF
VAJRASANA
ON DIFFERENT ORGANS
Mainly it is the digestive system, neck and spine which are affected by this asana. We have also studied about these body organs in the previous lesson. Tension is exerted on thighs, calves and knee-joints.
SPITIRUAL ASPECT
People professing different faiths assume this position for the purpose of worship. This asana is also used while bowing before sages, saints and other eminent persons.
ADVANTAGES
Vajrasana gives relief to tired legs and feet. It has positive effect on our digestive system. People suffering from indigestion should do Vajrasana for at least 10 minutes after every meal. It also gives relief to people suffering from sciatica pain. It boosts the flow of blood in the body and reduces nervous feebleness. It also corrects certain physical deformities.
IMPORTANT NOTES
Vajrasana

is the only asana which can be performed immediately after taking meals.

In the initial stages,

one might feel some pain in legs because of tension. But if one keeps practicing it regularly the pain would disappear itself.

In mornings, one may read from scriptures or other sources while sitting in the position of

Vajrasana.

It gives quick relief from the fatigue of long walk.



EXERCISE
When can one perform the

Vajrasana?

What are the advantages of performing

Vajrasana?

Describe the procedure of performing

Vajrasana?