There are two paths of life: materialistic and spiritual. To satisfy the basic needs of a man's life you need the physical material and to make life peaceful, sacred and pure you need spirituality. Today we are discussing on topic of spirituality. In the current time, it is one of the most favourite topic. Earlier we used to hear rarely someone speaking on spirituality. People knew religion names but were hardly aware or even heard about spirituality. Towards the end of the twentieth century and the beginning of the twenty-first century this terminology has come forward leaps and bounds leaving behind the word religion.
Today, there is a lot of discussion happening in the world over spirituality. The reason being, the orthodox and sectarianism both being associated with religion. This is the reason that many people do not like religion. Many prejudices have been associated with religion and this has been the root cause for the tension between various religious communities. It was happening earlier and is also happening today. Spirituality is a common word and there is no orthodox or prejudice associated with it. This is a subject where one tries to discover himself. Hence it is acceptable to most of the people today. Even people who never believed in any religion and called themselves as atheist, intellectuals and socialist now talk about spiritualism.
Spiritualism has a very broad meaning. It revolves around the soul. When the materialistic view and its consciousness gets separated out that is spiritualism. It takes much endeavour to reach to the depth of spiritualism. The first practical step that we can adopt is Anuvrat - development of moral values. There are numerous discussions, seminars and conferences happening around on moral values. It is surprising to know that Acharya Tulsi who researched on spiritualism put forth the moral values first. He presented moral values in the form of Anuvrat to the common man. When one reads it, it becomes clear that it is not associated with any religion, sect or a group of people. It is for the common man. It is required for the smooth functioning of the society. It is for this reason that it is very elaborate. Here, there is no room for any show-off or puppetry. One must understand this very clearly that without moral values the religion cannot exist. When the unethical person follows any religion, I am sure that his inner conscious would definitely question him on the double standards and would perplex him.
A young man was getting married and somebody asked him why he was not taking his father along with him in the marriage procession. The young man replied that he was not taking his father along with him as he did not take him when he got married. It was a perfect example for a tit for tat approach. This is perplexing. This arises from within, and not from any external source. The person is unable to understand the truth about what he is doing and what he is speaking. This confusion leads to a weird situation.
In the context of Anuvrat, Acharya Tulsi presented religion in three different forms:
Naitikata (moral values or ethics)
upasana (worship)
adhyatma (spirituality)
Anuvrat and Religion
In the context of Anuvrat, Acharya Tulsi presented religion in three different forms: Naitikata, upasana and adhyatma.
In the present day, worshipping has taken precedence and the moral values are totally neglected. Acharya Tulsi emphasized more on the moral values in the form of Anuvrat. If you want to enter the door of any religion, then first enter through the door of moral values. If you do not enter through this door, then you are bound to be deceived when you travel further. Man is not able to distinguish what is good and what is bad. Few people do not consider cheating, dishonesty and deceiving others as bad. For them it is a part of society and economic infrastructure. They consider this very natural and hence at times it becomes difficult for them to understand the truth.
A child approached the mother and asked her for some money. On being asked what he is going to do with that money, the child replied that he wanted to have an ice cream. The mother said to him that it was cold outside and asked him if he still wanted to eat the ice cream. The child replied that he would wear a sweater and eat the ice cream. Hence one needs to have a real perception of the truth. One needs to have a holistic approach and a holistic view. Anuvrat is the door to this perception of reality.
The sutra of spirituality is to treat everybody as one's own soul. When somebody cheats you and you do not like that, then how can you expect that the the other person would like it, when you cheat him. As per Mahabharata scriptures, you should conduct only what you like and you do not conduct what you yourself do not like. This should be the benchmark. When somebody abuses you, you do not like it. How will the other person like it if you abuse him? People have now broken this into two halves. They only think that they can abuse others. But they don't consider the fact what if somebody abuses them.
What you want for yourself, you should not create a barrier for others. In a weighing scale, one should put oneself on one scale and on the other scale he should put somebody and then weigh. You will need to compare each to know the truth.
One should treat others the way he wants to be treated by others. Unfortunately what is happening is we are not treating others properly and we are expecting others to treat us good. Today a religion is running without any moral values and hence we are not able to wipe out the immorality. It is no less than a cadaver today. Though it is the bitter fact, but it is the truth. When the moral values are followed, it makes sense to talk about religion. In this context one must think deeply about Anuvrat. If one makes an attempt to understand the moral values, then understanding religion would be easy.
Roopchandji Sethia of Sujangarh was a spiritual man and a follower of Jainism. He had a textile garment business. One customer came to his shop and enquired about the rates. At that moment, Roopchandji was not there in his shop and he had gone out somewhere. The salesperson who was looking after the shop quoted the price of the garment to the customer. The customer insisted the salesperson to give him a discount and reduce the price of the garment. The salesperson agreed and sold the garment to the customer at a discounted price. When Roopchandji returned back, the salesperson told him that he had given discount to the customer. He further assured his owner that even though he gave a discount to the customer, he did not incur any loss as he had not given the full length of the cloth that the customer had asked for. Roopchandji did not like this and he told his salesperson that it was not a wise thing to cheat the customer. If the customer had not given the full money, it doesn't mean that the salesperson could cheat him. He immediately went in search of that customer and he narrated the entire incident and apologized. He further gave him the right measurement of the cloth. Roopchandji fired the dishonest salesperson saying that he didn't want an unethical salesperson in his shop.
Identity of Religion
Moral Values or ethics is the true identity of a religion and the first step towards spiritualism.
Moral values are the true identity of the religion and the first step towards spiritualism. One cannot attain spiritualism without it. In Uttaradhyan, a question is asked, "Where does religion stay?" The answer is that it stays in a pure soul. If the soul is not pure, no amount of meditation or prayer will be of any help.
There was a rich man who was the priest of a temple and a poor man. Co-incidentally they both died on the same day. After their death they were produced before Yamaraja (God of death according to Hindu mythology). The Yamaraja looked at their complete report and ordered the poor man to go to heaven and the priest to go to hell. The priest was shocked to hear this and cried for injustice. Through out life, he had offered his prayers to the god and performed pujas (offerings / prayer) everyday. The poor man had not even visited the temple once and it was an injustice to the priest to send the poor man to heaven instead of him. Yamaraja replied "You have lighted lamps in the temple, performed prayers but you have deceived the people who have visited the temple. The poor man on the other hand did not even visit the temple once but he has swept the roads which led to the temple clean and lighted lamps which enabled the people to walk easily on those roads. Hence he deserved to go to heaven."
Anuvrat is the underlying foundation and the pillar for our entire program. In life if the moral values, ethics, honesty, truthfulness are not there then it is as good as sowing seeds in an infertile land. Prayers, meditation would have no values without moral values. Acharya Tulsi has given us a great boon in the form of Anuvrat. There is no other revolution which focuses on moral values and ethics which is in the near sight. Everybody is cashing on the word "Moral Values" but there is no sincere attempt to show as to how one can develop it.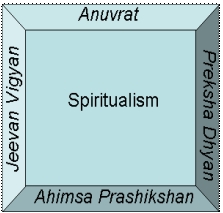 Acharya Tulsi asked me many times that the code of conduct for the moral values was good and many people have also echoed the same views. There were not many people adopting it. Why are the people hesitating to adopt it? After numerous discussions it was finally decided that we would associate meditation along with the code of conduct. As a result, Preksha Dhyan came into the existence. With the inclusion of Preksha Dhyan when the positive results started coming in, Acharya Shri asked me "It is good that we are doing a lot of work with the elders and the old generation. How do we connect to our future generation?" As a result of this Jeevan Vigyan (Life Science) was proposed to connect to the future generation. Jeevan Vigyan aims to add a new dimension to the field of education based on the idea that intellectual development alone does not provide any solution for the burning ethical problems of the current times. The three programs: Anuvrat, Preksha Dhyan and Jeevan Vigyan aims at revival of the values and a complete development of the human personality.
Developmental Program
The four programs: Anuvrat, Preksha Dhyan, Jeevan Vigyan and Ahimsa Prashikshan aims at revival of values and a complete development of the human personality.
During this journey of Ahimsa Yatra, its development and progress would not have been possible without having any course or training associated with it. Hence Ahimsa Prashikshan (awakening the consciousness for non-violence and, providing job oriented training to the people for their livelihood) also became a part of the program. Anuvrat, Preksha Dhyan, Jeevan Vigyan and Ahimsa Prashikshan, these four programs together give a total holistic view of spiritualism. One who wants to experience and feel spiritualism, we can ask them to look at Anuvrat, Preksha Dhyan, Jeevan Vigyan, Ahimsa Prashikshan andJain lifestyle. With this one will be able to experience and feel spiritualism in its totality.
On a 25th January