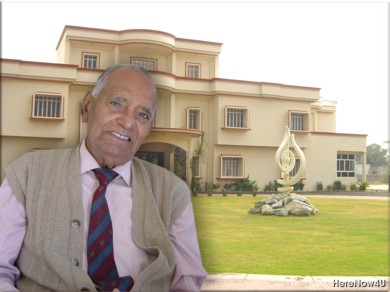 On a sunny midday in February, the day before we left Ladnun, Karuna had the opportunity to meet professor Musafir Singh, senior professor and head of department for social studies at Jain Vishva Bharati Institute, Ladnun. Until then we had missed to meet professor Singh, but had heard a lot of his views on social work by his students, seen some of his course papers, and were present when the excursion bus full of joking and laughing social work students came back from one of their half day trips twice a week to 'their' villages. Our friends Paulo Soukup and Luis Carlos Rodriguez Leiva had accompanied them several times and reported enthusiastically on a kind of social work, they had never watched before. This work was characterised not only by the warm welcome every time when they arrived, but also by the trustful and relaxed atmosphere full of mutual respect. The vivid discussions were rendered into English language to them, and rather often they were asked by the villagers to give their points of view. They never had seen so happy social workers and benefit receivers, as they put it.
So Karuna started with the intention to meet him at least the last day, a Saturday, day-off for university courses, reserved for special scientific or administrative activities, as she was told. She only knew that he was living in an apartment on the campus of Jain Vishva Bharati, but luckily met someone who handed her over after some inquiries to another person, and this person finally took her where Prof. Singh uses to live. It was her luck that he was at home and had some time left before he had to start for further activities. After having tea and a nice small talk together, Prof. Singh was asked how spiritual dimension and social work are affiliated according to him. Immediately Prof. Singh started with this most impressing special lecture, summed up as follows:
Science and technique have been developed in western culture for raising the standard of living, in Indian culture the standard of life is stressed. The spiritual dimension is one of the human components, spirituality is the means to transgress space and time. Man can develop far above his physical, emotional and political welfare and attain his ultimate destiny by spirituality. Man as a spiritual being is the last chapter of human evolution itself. Buddha and Christ are embodiments of this human evolution.
Social work helps man to realise all his potentialities, and has to help man to develop his spiritual nature, for man is not only a social, but also a spiritual being. Everything is interconnected horizontally and vertically in the unity of existence. 'Your suffering is mine' should be the main point of both, science and social work. The more spiritually developed a person is, the more this becomes real.
The grand unification theory is heading towards dynamic interrelatedness, 'All universe is one'. Everything is connected with everything. The great scientists of our time are paradigms for this.
In Christianity God, nature and man are all separate from another. Man experiences them as counterparts in an abstract unity. Out of compassion for humans, Christians are always the first rushing to disaster struck areas and give an amazing support to the victims.
Hinduism teaches that man is integral part of nature and has to give service to all beings, no matter if animal or plant - by the way, it is that what leads to the theory of idol worship. Hindus are giving sooner help to animals, which cannot articulate themselves as much as man. Man can look after himself; his suffering is due to karma according to Hinduism. Animals and plants cannot look after themselves; it is man's duty to look at nature as his ward.
'O man, I have created this whole universe for you', Genesis 26: Science and technology are exploring God by exploiting nature. To stop this rootless exploitation, man has to become divine. The whole eastern civilisation emphasized the divine aspect of man, resulting in consecration of nature. Consumerism depletes nature, leads to greater and greater imbalance, resulting in desecration of nature. The Gaya system of our planet is a living system and responds to this. We better should establish a natural, not only social contact to nature.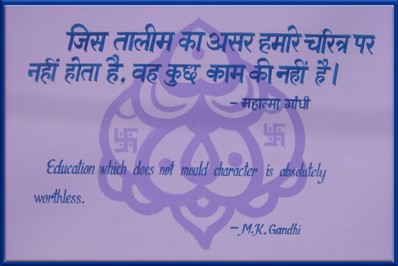 Evolution is the phenomenon of development of consciousness. A certain kind of vitamin E is found in cow's breath only. This vitamin is very important for human survival. Plants have also been dignified and are supposed to be deities. When we consider certain plants, we can state that some of them are delivering oxygen for 24 hours, i.e. mango tree, tulsi plant, peepal tree.

Social work should cover a very wide circle and transform the doer and the receiver as well. It should be regarded as transforming exercise. Before doing good, a person must BE good. Only enlightened and elevated persons can become real transformers of others. Sadhana, austerity, and penance are must-dos for a social worker.
Impure persons cannot do it, for only purified persons can transform others in the right way. When social workers are not purified themselves, they will transform their evil emotions to others. They have to be free from negative tendencies and should have been transformed towards divinity.
Social work has to include Ahimsa for the whole range of being as ethical and ecological concept for welfare orientation, service to man should not exclude the other beings. Omega point is that man has to become a cosmic being.
We would have listened more to the implementations of Prof. Singh, if we only had time…
The same afternoon, Prof. Singh, whom we met again by chance on the campus of Jain Vishva Bharati, gave us the following paper: