Last not least, the outstanding educational work of Jain Vishva Bharati needs to be reported. The first Jain university, unique in the world upto now, December 2005, is certainly the most known educational sprout of the Ladnun based philantropic Jain society. It acted like a scout, being confided with the task to find out, if an university might attract enough students to an environment, not specially known for its educational skills, not to mention the lack of facilities to earn the livelihood. The solution to this problem, which would certainly have influenced decisions of spiritually ignorant people, but naturally acted as a challenge to followers of Lord Mahavira, were correspondent courses. The next step was to develop a role model for sustainable spiritual education, withstanding comparision of results delivered by other educational institutions. This was realised by gradually establishing institutions from College to Secondary and Primary School, including Kindergarten. As far as we know, diploma holders from 'Ladnun', having passed through a holistic oriented, not specialised formation, succeed not only in finding jobs for their livelihood, but have been chosen mostly because of their high motivation for work. Obviously, employers do not mind to provide professional skills for people they can trust.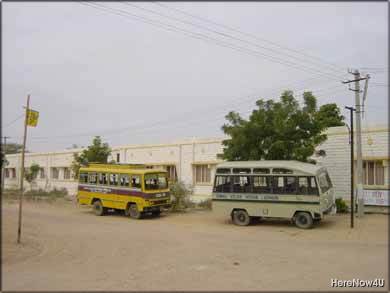 These two school busses are one means of transport for the young students, some are coming in little groups by taxis or tongas (horse carts), and are accompanied by alternating parents, or by car with their parents.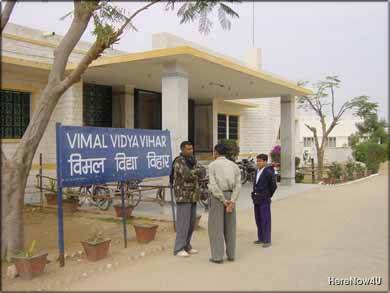 Vimal Vidya Vihar Sr. Sec. School
One father was talking to one of his son's teachers, while the son is waiting in the background. Like documented on the photo, it seemed to us a very communicative surrounding where everybody was heard and had the right to speak. The parents we talked, were very happy for the opportunity. They agreed that their children loved to go to school, and enjoyed their time there very much.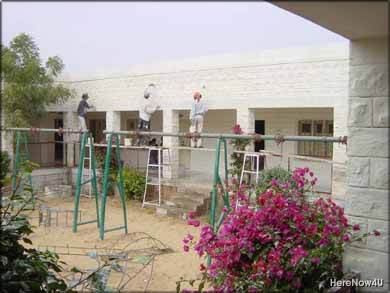 Although the buildings have been build not yet ten years ago, their maintenance is considered very important. All Jain Vishva Bharati institutions are preserved from decline regularly, a necessity due to climate.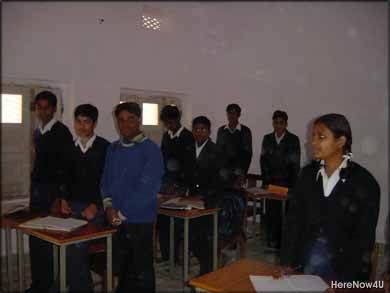 In all educational institutes, the 'Education of the open doors' was practised, and even unexpected visitors were heartily welcomed, and allowed to talk to the students, as seen here in a Secondary School class. Boys and girls are learning together in a semi-coeducational surrounding. Some subjects are taught in coeducational groups, others in mere boys or girls groups.
Head of the Secondary School is Samani Rijut Pragyaji.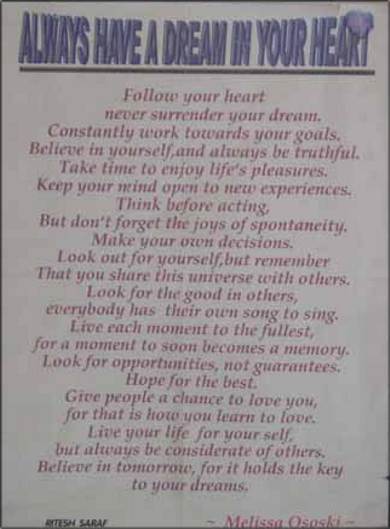 In the main hall, on the daily passage of all students, we found this placard (photo); it says,
Follow your heart, never surrender your dream. Constantly work towards your goals. Believe in yourself and always be truthful. Take time to enjoy life's pleasures. Keep your mind open to new experiences. Think before acting, But don't forget the joys of spontaneity. Make your own decisions. Look out for yourself, but remember that you share this universe with others. Look for the good in others, everybody has their own song to sing. Live each moment to the fullest, for a moment to soon becomes a memory. Look for opportunities, not guarantees. Hope for the best. Give people a chance to love you, for that is how you learn to love. Live your life for your self, but always be considerate of others. Believe in tomorrow, for it holds the key to your dreams.
RITESHSARAf ~ Melissa Ososki ~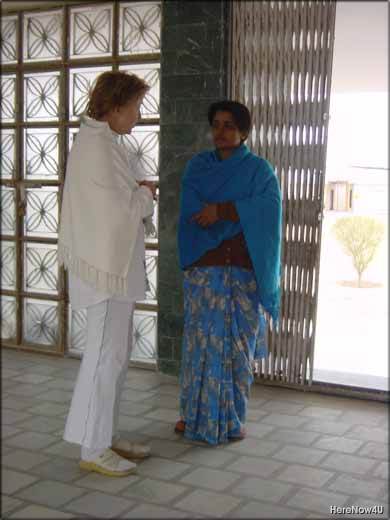 When we were reading the placard, the principal of the Primary School (right) approached and welcomed us very friendly. While she showed the building to us, we passed the open doors of the classrooms. The atmosphere inside was quiet and full of concentration, no noise or shouting, not even when the students saw us. They looked at us attentively, and continued their work after salutation. The young students were concentrated and respectful, reflecting in their behavior, how they are treated. The world could be another place, if more people would have the chance to visit such a peaceful school.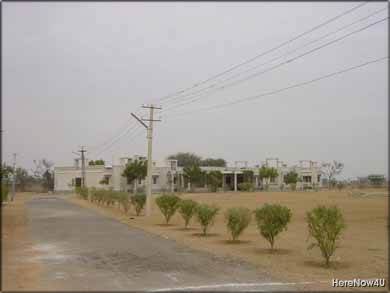 In some distance from the school buildings, the boarders are accomodated. They are provided with sleeping and working rooms, kitchen, storerooms, lounges, and sanitary equipment. When editor Karuna Jain did her first visit to Ladnun 5 years ago, these buildings were about to be constructed. They were realised exactly the way they were conceived. Only some rooms are in the habitual quadrangular shape, most of them are polygonal.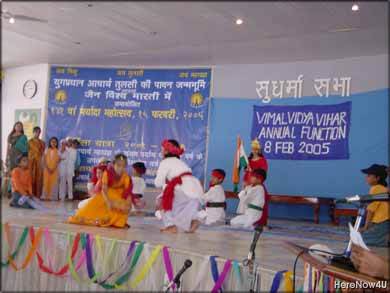 For the annual function, all students had prepared some performance together with their teachers, to give pleasure to their families who highly appreciated these efforts. Professional taylors had made the beautiful costumes, designed by teachers and parents. They made their bearers feel special. The function took place in the big Assembly Hall.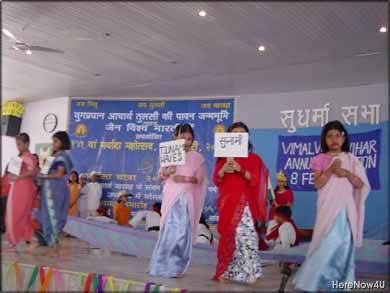 One group had worked on a drama on the Tsunami, which had hit big parts of the Indian south coast on December 26th 2004. It has been written by one of their teachers, who also had composed some wonderful music with chants by the children. They shared their feelings on the big tragedy, and expressed compassion with the victims. This performance was very touching.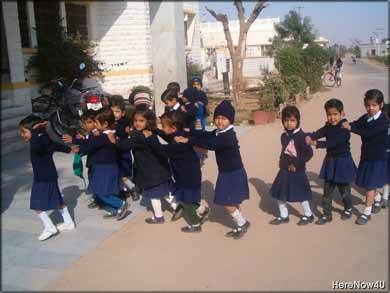 These little Primary School students came back from a short excursion on the campus of Jain Vishva Bharati. They had been in the park to admire some flowers and to draw them afterwards. Their way of walking in a group is one of the first exercises in non-violent behaviour. It is not easy to move fast in a group together as shown on the photo, without being harmed or causing harm to others...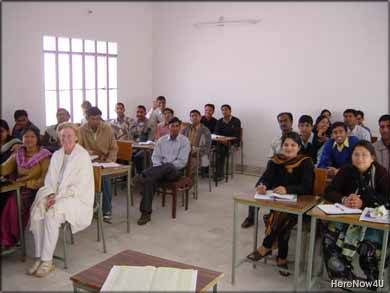 At Acharya Kalu Kanya Mahavidyala College we were received with the same openness and warm welcome as in Secondary and Primary schools. We had some discussion together on the importance to learn from each other, western culture from eastern, and vice versa. The students were very open for discussion and all of us enjoyed exchange of thoughts.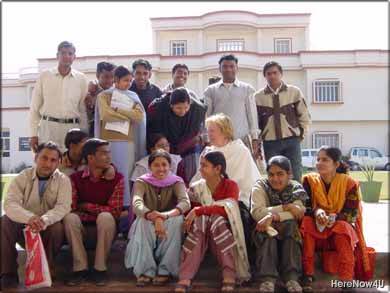 When we left, some other students were about to leave for home, and asked for a photo. It was a pleasure for us. We are happy for the opportunity to have met so many open minded people. We hope they all are going into a bright future.
This is the final report on our trip to spirituality, which was a constant rubric during 2005. Thanks to all readers who shared this trip with us, you were a wonderful company. Let's see, what we can share next year. May 2006 be a peaceful and active year for all of you.