It was Munishree Mahendra Kumar who was the first to ask if Acharyashree had seen the results of our 18 months work. He provided special appointment with Acharyashree on this matter after having seen the offline version of HereNow4U, Edition 2 on our laptop. But we were more than astonished that nobody had reported to Acharyashree and to the saints of his entourage on our activities. We only had noticed a keen interest in copying our graphics and reports without mentioning the source.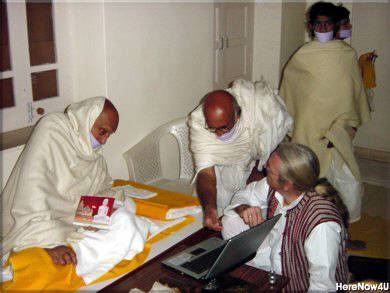 Acharya Mahaprajnaji was very interested to see how we are spreading the message of Jainism through his writings and teachings in HereNow4U. Munishree Mahendra Kumar is summing up for Acharyashree Aparigraha's (Editor) explanations on the magazin's structure.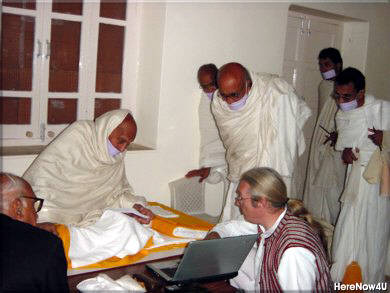 Acharyashree took cognosance of all sections and topics covered in the magazine.
Aparigraha explained that many websites dealing with health in Germany are listing his articles published in HereNow4U.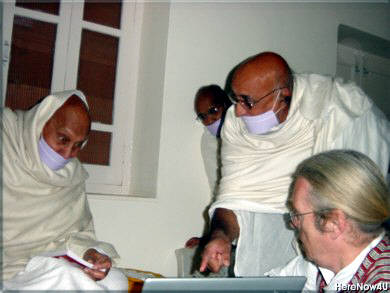 Munishree Mahendra Kumar points out the broad choice of Acharyashree's writings in HereNow4U.
Acharyashree was very aware of the possibilities of Internet and stated that readers all over the world would have access to Anekant philosophy through 'Anekant - The Third Eye'. 'Anekant - The Third Eye' was published in portions up to 14th June 2005 in HereNow4U and linked with the glossary to explain the terms used and to make people familiar with the vocabulary of Jainism.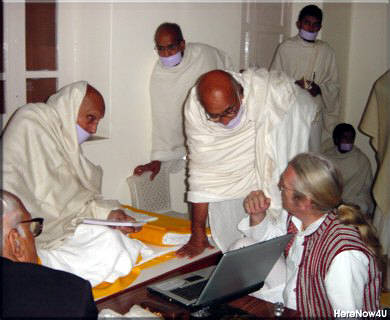 Aparigraha informs Acharyashree that the German translation of six chapters of 'Towards Inner Harmony' (Zur Harmonie im Inneren) has had about 800 pageviews from German speaking readers.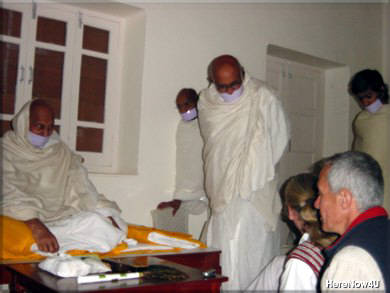 Acharyashree accentuated how important it is nowadays to awake spiritual consciousness, because material objects are the main course for any conflicts. It seems not only western, but also other cultures have to be advised on this truth.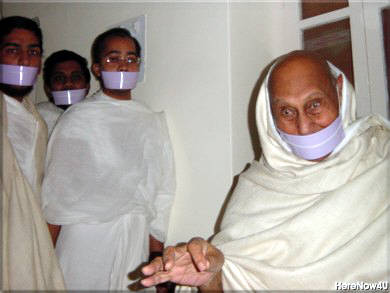 At the end of the session, Acharyashree gave his blessings to HereNow4U magazine and expressed the hope that many readers may get into contact with the teachings of Lord Mahavira by reading the magazine.
As far as we are concerned, we do and will do our best.
Regarding the actual development it seems more than neccessary to observe how Jain values are realised in daily life in the different walks of society.