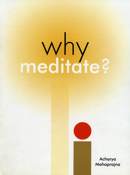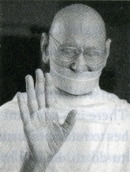 Detachment belongs to the world of the soul. That is totally different from the material world. One who wants to live in the material world does not know the world of the soul, but when locked in an unfavourable situation, the struggle becomes a turning point in one's life. One such point is when a person suffers from a disease. While suffering, the materialistic dimensions of the world recede from his consciousness. How can the material world help one while he is suffering? When he steps back, he gets a chance to realise that life is not restricted to just this much, but is much larger. The moment of death is also a turning point, which makes a person change his thinking. I have seen many people who used to hate religion all their lives, but when they were about to die, there was so much inner transformation of an unimaginable order. It will not be at all surprising if a person, who was a confirmed atheist all his life, becomes a complete theist when death is near.
One person sent this request to Acharya Tulsi: Please send monks and nuns to bless me and preach religion to me. It was amazing that a person who used to criticize religion throughout his life was asking for the blessing of monks and nuns in his last moments. It was so amazing that Acharya Tulsi went there himself. That person said, "Gurudev! I was on a different path for so long. Now I have realized that I have committed a big mistake, and I want to make amends. I now want to lead a religious life. You came along with nuns and monks blessed me, taught me about religion, and this has benefited me greatly. I am so obliged!" Showing his gratitude, he recited a couplet (Sloka) that means: "You redeem those who worship you but you have delivered me who didn't worship you at all. What a great quality you have!" I have seen many a person on their deathbed. It is a very critical moment. Some people undergo an inner transformation but there are also others who become restless because of attachment. You may rest assured that all the material objects give pleasure to the senses in the beginning, but in the later stages, the intensity of pleasure decreases and by the end, it becomes insipid. A great spiritual saint has explained this very beautifully: "The sugarcane tastes very sweet, when you suck it. But after you chew it, only the tasteless fibre is left." While passing by field of sugarcane, a poet's heart burst forth exquisitely: "Oh, sugarcane! You appear very sweet when filled with juice, but you have one drawback. As you are sucked, your sweetness reduces gradually." So also is the nature of the sensual desire linked with the five senses. The less we consume, the sweeter they are. The more we consume, the less sweet they become.
A couple was quarrelling. The resulting loud noise made the neighbours gather around. A wise man said, "My good brother! Night is the time for resting and relaxing. And you fight at this time! You are disturbing the sleep of your neighbours! Why are you fighting?" The husband said, "The reason is that this is our third year of marriage. In the first year, when I spoke, she used to listen to me. In the second year, when she spoke, I used to listen to her. And now in our third year, both of us speak, and our neighbours listen."
This is a mere story, but it reveals the truth - how insipidity gradually sets in over the years. Attraction that occurs at first glance does not remain the same after fifty years. Insipidity is the nature of every object. Whether it is an edible or visible object, the affinity that it evokes at the first moment is not sustained till the end. This is the real nature of all material objects!
Let us try to understand the nature of consciousness. What is its real nature? In the beginning, it appears to be difficult and dry but as we begin to get deeply engrossed in it, bliss will start increasing continuously. Dryness will never come into being from the day you start spiritual practices. At first, it seems difficult even to sit. It may even be painful and the mind may start to wander. Your senses, mind, psyche, emotions and body will not support your meditation. You might think of giving up the practice halfway, but as time passes, the blissfulness will increase, day by day. I have often asked, should the meditation camp last for ten whole days. The answer has been, "It is very long. It should be for 5 days." Those who opted for five days and became deeply engrossed in meditation and realized the blissful moment, said that even ten days are inadequate, could we please increase by 5 more days! The sequence is thus reversed. Let us compare the nature of objects with the nature of spirituality. The nature of objects is that they give pleasure in the beginning, but their attraction and our affinity towards them reduces, as time goes on. The nature of spirituality is that there is no exhilaration or attraction in the beginning, and it even looks difficult, but with intense practice, the eternal bliss bursts out from our inner consciousness, and the practitioner wishes that this ecstasy should go on increasing. As this exhilaration increases, no more problems will arise. You may have experienced this yourself.
A person came angrily and let loose some abusive words. When he cooled down, be regretted his words. "I have misbehaved in front of many people. I should not have lost my temper. I should not have used bad language." He now wishes to atone for his act. When does a man atone for his errors? A person commits a mistake in passionate haste. When his anger abates, he regrets. A spiritual practitioner never repents, because there is no cause for regret. Let us compare those who get angry & those who forgive. A person takes advantages of others due to the strong feeling of greed. Overpowered by the strong passion of greed, he exploits others. When that strong emotion of greed cools down, he thinks: "My behaviour towards my brother was not right." Then he feels guilty. There are many such people who regret and atone for their mistakes. If we compare positive or creative and negative emotions, it becomes very clear that a person who acts according to negative emotions has to regret & atone for his acts later.