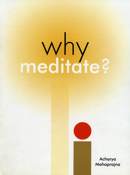 There are multifarious dimensions to life. Our life cannot be complete with any one dimension. For completeness, we need to focus our attention on all dimensions. If we classify them, we can say, in brief, that one dimension of life is spiritual progress and the other is worldly wisdom. A person's expertise lies in the second dimension of life. However, Preksha Meditation leads to spiritual progress, and this is its main benefit. Worldly wisdom is also gained as an incidental benefit. By practicing meditation, spiritual progress begins and our interest towards it increases. Simultaneously, we should analyse whether our behavioural skills are also developing or not. If they are not developing, then we should realize that there is something lacking, and we need to practice more.
Man is a social animal. He lives in society. The family is a unit; even institutions and nations are units. All these units belong to society. He lives in these units and maintains a relationship with all. Where there is a social life, the question of behaviour comes up. In matters of the soul, the question of behaviour does not arise. But where relationships matter, social and societal lives take precedence, and it becomes very important to know how to behave with each other and how to perform any action efficiently.
The first principle of behavioural skills is development of perspective and a non-absolutist view. Non-absolutism (Anekant) is also an instrument for good behaviour. That is why Acharya Siddhsen wrote, in the last chapter of Sanmati Tark, - "Without the implementation of Anekant, even worldly transactions cannot be conducted." Even to get along in this world, we need a non-absolutist perspective. If our viewpoint is absolute and one-sided, even day-to-day transactions will not be feasible. In the context of operational efficiency, two principles of non-absolutism should be considered - the concept of relativity and harmony.
Our lives are interdependent. A person, who knows/understands the principle of interdependence, will operate efficiently. I am dependent, I am not absolutely independent. If a person understands that he is not absolute, he can function successfully. There is a manager or director who has get work done by others. If he does not know the concept of interdependence, then he cannot work efficiently and extract work from others. All are interdependent. A manager cannot work without the help of subordinates.
One monk went to Acharya Kalugani and said respectfully, "Gurudev! That monk is telling me that he doesn't need me." Acharya Kalugani called that monk and said, "I cannot work without the help of monks. You don't need him but I need him. I cannot separate him from us." The Acharya's work requires monks. In the absence of monks, the order cannot function properly. Similarly, without a good helper work cannot be executed. This should be the viewpoint of interdependence. We should realize that what ever we do requires the help of others. If you realize the importance of helpers and supporters you will behave well with them. If you behave well with them, you can work efficiently. The conflict that takes place between mill-owners and workers is because the owners do not engage with the perspective of interdependence; rather, they rely on their own absolute views. They want to increase their profit margin and pay lower salaries to the workers. This gives rise to exploitation. Where there is exploitation, several impediments arise. An efficient person is one who thinks both of his own welfare as well that of others. This is the relativistic view.
The second principle is harmony. Our views should be such that we can establish harmony. There will always be differences in thoughts and opinions. Where there is difference of thoughts and work cannot be done, the principle of harmony works. If you establish harmony between both, there is no opposition. We should be skilful like that potter who learnt how to establish harmony:
A potter had two daughters. One was married to a farmer and another to a potter. After some time, the potter went to meet his daughters. He first paid a visit to the daughter who was married to a potter. He asked, "How are you?" She replied, "Father! All other things are fine but there is a problem. The pots are just hardening and in the meantime, the sky is overcast. If it rains, the pots will be destroyed. Please pray for me that it should not rain." The father then went to meet his other daughter and asked her, "How are you?" She replied, "Father! All other things are fine but it is monsoon time, yet there is no sign of rain. How is farming possible? Please pray for me that it should rain." Both were opposing thoughts. He was an intelligent and reconciliatory potter. He called both the daughters. To solve this problem, he said, "See! Your pots are in the process of being made. If it rains, one of you will have a good harvest and the other can partake of 50 percent of it. If there is no rain, then the pots will be ready for sale and the other can partake of 50 percent of the pots." This is how the potter reconciled his daughters' problems.
The important rule of working efficiency is to reconcile opposites. Opposites are natural and inevitable. Without opposites, no independent philosophy or religion can develop. Each object has its own nature and intrinsic qualities, distinct from those of another. Contrariness is natural. If we focus on opposition, no work can be accomplished. To reconcile opposites is a great art of operational efficiency. An efficient person can accomplish good work through harmony.
Another imperative of operational efficiency is balanced emotions. Our emotions should be balanced. I chanced upon a book titled "Emotional Intelligence" written by a professor of Harvard University. He came to the conclusion, after surveying and doing considerable research, that "Those who are not highly qualified but are emotionally balanced have risen to top positions. Concomitantly, those who are highly qualified, but are not emotionally balanced are working under these people." This means while education is a yardstick to measure status, it does not necessarily reflect an integrated personality. Along with high qualifications, a person will want to know if the educated man is quarrelsome or not. If he is quarrelsome he will create a problem. He may have pursued higher studies, but is he greedy? If he is greedy, he will cheat and deceive others. We judge persons on the basis of their emotions. Only intelligence is not sufficient. As long as emotional intelligence is missing, work cannot be performed properly.