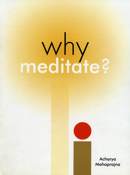 Note
Many are those who ask this fundamental question, "Why Meditate?" This book is an attempt to answer them. Modern education has defined all knowledge as that learned by the rational mind. It does not take into account the knowledge that lies beyond the mind. This kind of mind, educated in the contemporary world needs logic to convince it and lead it to meditation. It is also one, which is fragmented and restless and so needs meditation more than anything eise. This book caters to them giving the scientific reasons for meditation to appeal to the mind that rests purely on logic.

The knowledge of meditation and experience lies in practice, not in bookish knowledge or logic. Meditation is not linked to youth or old age. It is the way to the inner seif, the way to assess the inner world. The man who has been able to estimate the value of the inner world will move ahead on the path of progress, both in the spiritual realm and in the world we live in. But one who has not assessed the inner world, but has concentrated on the world of circumstances alone, will not be able to take the lead, will not be able to inspire.

This book is for those who wish to live witb equanimity, self-assurance and confidence but without tension or heartburn.
Sudhamahi Regunathan
---
Forword
Preksha Dhyan is a practice that can lend momentum to the progress towards spirituality. This has been proven with practice. In other words there is no need for any verification. The need is only to understand it in a holistic manner. Why should one meditate? I have written elaborately on this in my book called Sambodhi. A few verses from it would be in place here:

Megha asked: "Lord! What is the purpose of meditation?"

The Lord said: "One's emancipation from suffering."

Megha said: "O worthy one! What are the causes of suffering? Omniscient! I am extremely eager to know them."

The Lord said: "O virtuous one! There are eight causes of suffering: ignorance: delusion or absence of spiritual awareness, fickleness, feeling of inferiority, self- conceit, acquired mode of behaviour, prejudice and illness. In this world if there is apaya (inauspiciousness), there is also a way to restrain it."

Factors causing happiness are self-knowledge, spiritual awareness, concentration, reserve of bio-energy (vital force), non-obduracy and devotion to truth.

One form of happiness is good health. The practice of forgiving etc., purification of the mind and physical labour are the means to achieve good health.

This book is a compilation of ten lectures delivered at an International Preksha Dhyan camp. They are enough to get to the heart of Preksha Dhyan, and this is no exaggeration. Muni Dhananjay Kumar put in dedicated effort to bring out this book.
Acharya Mahaprajna
---
Content of Book
| | | |
| --- | --- | --- |
| Chapter | Title | Page |
| Chapter 1. | Preksha Meditation - What & Why? | 1 |
| Chapter 2. | Emotional Health & Preksha Meditation | 15 |
| Chapter 3. | Mental Health & Preksha Meditation | 27 |
| Chapter 4. | Physical Health & Preksha Meditation | 41 |
| Chapter 5. | Change in Nature & Preksha Meditation | 55 |
| Chapter 6. | Stress Management & Preksha Meditation | 67 |
| Chapter 7. | Time Management & Preksha Meditation | 81 |
| Chapter 8. | Working Efficiency & Preksha Meditation | 95 |
| Chapter 9. | The Conciousness of Detachment & Preksha Meditation | 109 |
| Chapter 10. | Self-Realization & Preksha Meditation | 123 |