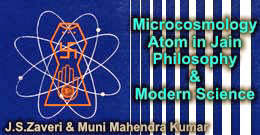 Pudgala - General Properties
Earlier, astikaya was defined as
a homogeneous continuum composed of multiple parts, and
having an extended body.
Pudgala is an astikaya, as all aggregates of pudgala are composed of multiple parts (pradesa). The composite bodies (aggregates) of pudgala consist of numerable or innumerable or infinite number of pradesa, depending upon the structure and composition of the bodies. [(a) Br. Dr. Sam, verse 25, (b) Niy. Sar, verse 35, (c) Tat. Sut, 5/10]
An ultimate atom is a single pradesa, and has no constituents.
As regards extension-in-space, there is remarkable similarity between Jain view and modern science. The extension-in-space of pudgala varies from aggregate to aggregate depending upon its density. Since a free ultimate atom is an indivisible point, it will always occupy a single space-point, but a composite of two such atoms - a diatomic aggregate - can extend to two space-points, or after fusion can occupy a single one. Similarly, an aggregate composed of numerable, innumerable or even infinite number of pradesa, can be accommodated in a single space-point on account of its quality of compressibility or may extend to numerable or innumerable space-points. [Tat. Sut. Sarvarthasidhi, 5/14]
The extension (number of space-points occupied) of an aggregate cannot exceed the number of its constituent atoms. But the maximum extension of an aggregate of infinite atoms is inumerable, and not infinite space-points. It must be remembered that a number of atoms may occupy a single space-point at the same time without being fused. Thus, infinitely infinite ultimate atoms in the free state together with infinitely infinite number of aggregates are all accommodated in lokakasa which has innumerable pradesa only, and not infinite. [1. U.T. (Gloss), 1/34.]
This is because of the unique attribute of tremendous compressibility of pudgala. This view of Jains is in line with the discoveries of modern science that 99.97% of mass of an atom is condensed in its nucleus which occupies 500,000 billionth part of the space of the whole atom.