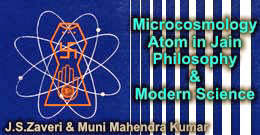 Pudgala - General Properties
As stated before, the very name pudgala is derived by the virtue of the pudgala possessing the qualities of being fusionable and fissionable. [Tat. Raj., 5/1] Put (purana) means fusion and gal (galana) means fission. In other words, the processes of fusion and fission are inherent properties of the physical universe.
The process of fusion is called bandha i.e. integration. The process of fission is called bheda i.e. disintegration. The word 'process' (prakriya) is used here to distinguish it from the dynamic activity of motion (kriya). The infinite variety of the physical universe and colossal energy of pudgala is due to its being fissionable and fusionable.
The process of fusion results in the formation of physical objects. The number of paramanus - ultimate atoms - combining together in a fusion process may vary from two to infinity. The objects formed by fusion of paramanus are called skandhas, i.e. aggregates or composite bodies. [Ibid. 5/25/16] Two or more aggregates may also unite to form one larger object. Sometimes a few paramanus only may unite with an aggregate.
In fission, aggregates break up and may result in:
smaller aggregates,
smaller aggregates and free paramanus
free paramanus. Sometimes a few paramanus only may separate from the main aggregate.
For instance, an aggregate composed of four primary atoms (paramanus) may break up in the following four ways:
One free atom and a tri-atomic aggregate.
Two di-atomic aggregates.
Two free atoms and a di-atomic aggregate.
Four free atoms.