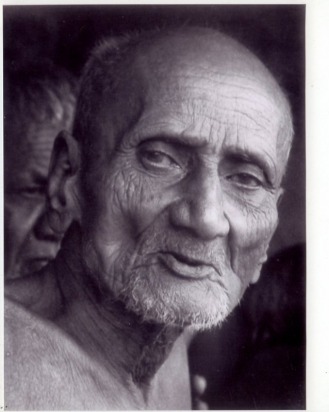 Lifetime
Born:
1872, at Yelagula (Bhoj), Karnataka, India
Passed away:
18.09.1955 @ Kunthalgiri
About
Acharya Shri Shantisagar Maharaj, Charitra Chakravarti (आचार्य श्री शांतिसागर चरित्र चक्रवर्ती)
was the first Digambar Jain Acharya of the 20th century, and the first Digambar Jain monk to wander in North India after several centuries.

Padmanabh Jaini writes in the first paragraph of "The Path of Purification" (1979:

"It is August, 1955. On the holy mount of Kunthalagiri, in the state of Maharashtra in India, an old man called Santisagara (Ocean of peace) is ritually fasting to death. He is the Acharya (spiritual leader) of the Digambara Jaina community; now, after thirty-five years as a mendicant, he is attaining his mortal end in the holy manner prescribed by the great saint Mahavira almost 2,500 years earlier. Santisagara has owned nothing, not even a loincloth, since 1920. He has wandered on foot over the length and breadth of India, receiving food offerings but once a day. and then with only his bare hands for a bowl; he has spoken little during daylight hours and not at all after sunset. From August 14 until September 7 he takes only water; then, unable to drink without help, he ceases even that. At last, fully conscious and chanting the Jain a litany, he dies in the early morning of September 18. The holiness and propriety of his life and of the manner of his death are widely known and admired by Jainas throughout India".
Tradition
He belonged to the lineage of Sena Gana[2], made famous by Acharya Jinasena and his pupils in the Rashtrakuta period. His initiator Devendrakirti belonged to this lineage. The Sena Gana itself was a branch of the Pancha-stupa lineage.
Chronological outline
Based on the account given by Sumeruchandra Diwakar and Dharmachanda Shastri:
1872 born to Bhimagauda Patil and Satyavati at Yelagula (Bhoj), Karnataka, named Satgauda
1881 Married at age 9, wife died in six months
- Serves Acharya Muni Adisagar
- Father died
1905 Pilgrimage to Sammet Shikhar with sister
As Kshullaka (Junior monk)
1915 Kshullaka Diksha by Muni Devakirti (Devappa Swami), former Sena Gana Bhattaraka
1918 Visit to Mt. Girnar
As Muni (full monk)
1919 Yarnal, Full Muni Diksha from Muni Devakirti
1921 First Chaurmas at Kognoli
1922 Ch Naslapur
As Acharya
1924 Ch Samdoli, Acharya pada given, initiated Munis Virasagar and Nemisagar
1925 Ch Kumbhoj, urged to visit Samet Shikhar
- Present at Mahamastakabhisheka at Shravanbelgola (Kanrataka)
1926 Ch Nanded
1927 Ch Bahubali (Maha.)
- Nagpur (Maha., then capital of Central Provinces)
Eastern India wanderings
- Panchakalyanaka at Samet Shikhar (Bihar)
- Champapur
- Pavapur
Central India wanderings
1928 Ch Katni (Madhya Pradesh)
- Jabalpur, Sleemanabad
- Nohta
- Kundalpur
- Sagar
- Dronagir, encounter with tiger
1929 Ch Lalitpur
- Sonagir: 4 Ailaks initiated
- Gwalior
- Murena
Northern India wanderings
-Rajakheda (UP): attacked by a violent crowd
- Agra
-Firozabad
1930 Ch Mathura, Digambar Jain Mahasabha blessed
- Delhi (marked by a memorial at Lal Mandir)
- Hastinapur
1931 Ch Delhi
Western India wanderings
- Mahavirji (Raj.)
1932 Ch Jaipur
1933 Ch Byavar
1934 Ch Udaipur
1935 Ch Goral
1936 Ch Pratapgarh
1937 Ch Gajpantha (Maha.)
- Sanskrit "Shri Shantisagar Charitra" written by Muni Kunthusagar
- Gajpantha: Given title "Charitra Chakravarti"
1938 Ch Baramati
-Indore (MP)
1939 Ch Pratapgarh (Raj)
Maharashtra wanderings
1940 Ch Gorel (Maha)
1941 Ch Akluj
1942 Ch Korochi
1943 Ch Digraj
1944 Ch Kunthalgiri
1945 Ch Phaltan
1946 Ch Kavalana
1947 Ch. Sholapur, India's independence - A mute young man starts speaking
1948 Ch Phaltan
1949 Ch Kavlana
1950 Ch Gajpantha
1951 Ch Baramati
1952 Ch Lonand
1953 Ch Kunthalgiri
1953 Book "Charitra Chakravarti" by Sumeruchandra Diwakar published
1954 Preservation of Dhavala books
Final samadhi
1955 Ch Kunthalgiri
- Determination for Sallekhana
- Sumeruchandra Diwakar arrived
- Acharya pada awarded to Muni Virasagar
- Bhattarakas Lakshmisen and Jinasen arrive
Sept 18, 1955 Kunthalgiri: Samadhimarana
Compiled by Yashwant Malaiya
From Wikipedia, the free encyclopedia
---