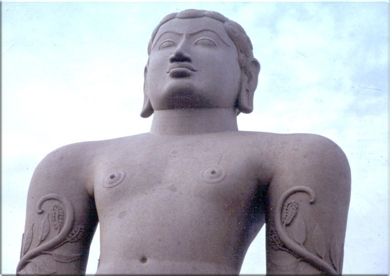 About
According to Jainism, Bahubali, called Gomateshwara (Kannada: ಗೊಮ್ಮಟೇಶ್ವರ gommaṭēśvara), was the second of the hundred sons of the first Tirthankara, Rishabha, and king of Podanpur. The Adipurana, a 10th century Kannada text by Jain poet Adikavi Pampa (fl. 941 CE), written in Champu style, a mix of prose and verse and spread over in sixteen cantos, deals with the ten lives of the first tirthankara, Rishabha and his two sons, Bharata and Bahubali.
Life of Bahubali, the son the Rishabhanatha, provides similar example of the importance of ahimsa in one's life. Bharata, the brother of Bahubali got greater part of the share of the kingdom of his father. Bahubali challanged his brother and both of decided to resolve the dispute by a duel rather than causing bloodshed in the battle.
Bahubali overpowered his brother, lifted him up in his arms and as he was about to hurl him down his heart was filled with the remorse at the violent thought and leaving the kingdom to Bharata, he renounced the world and performed penances, so intense that the creepers grew around his body.
His thought at the most crucial moment is beautifully expressed in a poem:
"It is not the futility of the act
But the multiple injury of the intent
That is violence."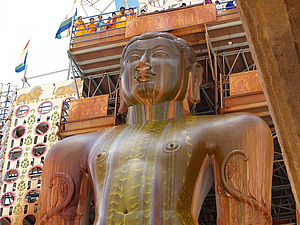 ---