his book is not a biography but an essay on Truth. Bhagvan Mahavira was the embodiment of Truth rather than a historical hero. Our devotion to him is devotion to Truth, for he himself devoted his entire life to the search, attainment and dissemination of Truth. Sadhakas like him who exerted themselves in tapas (austerities) for years and years together are rare in the history of the spiritual discipline. Time seems to have cast his achievements into oblivion. But let us remember that it was he who propounded the great philosophy of anekantavada, which is capable of synthesising the diverse currents of thought in the world. We will not be able to appreciate him correctly as a great prophet of ahimsa (non-violence), and anekantavada (relativism) until we tried to practise the two ideals in our own lives. Let us draw Inspiration from the twenty-fifth centenary of Bhagavan Mahavira and unveil his image which time has hidden. This can be done only when we have an intimate knowledge of his life and the principle for which he stood. This small book is an attempt in that direction.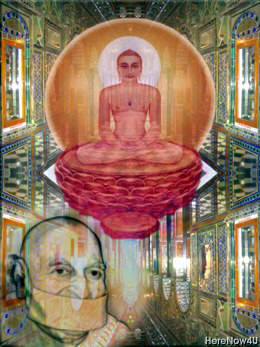 The modern life is throbbing with activities and involvements. Bhagavan Mahavira led a life of "renunciation". Although "renunciation" is generally taken to be antagonistic to "active life", Bhagavan Mahavira's mode of practising renunciation was not a way of passivity nor conformity to quietism or fatalism. On the contrary. It required vigorous spiritual exertion - ardent efforts and perpetual strivings for self-purification. That is why he preached "active renunciation" and stood foremost amongst those, who have infused Indian life with the spirit of "self-exertion".
Bhagavan Mahavira's philosophy of life was based on realism, and as such it illustrated both the aspects of truth - the eternal as well as the topical. The truths revealed by him, therefore, stand more significant for the present age of stark realism. The ideals of freedom, relativity, coexistence, harmony, and equality have already begun to become universal today. To this current of thoughts, let us add one more current so that it might assume the proportions of a mighty current to vitalize human life with the spirit of ahimsa and anekanta. This, indeed, will prove beneficial and blissful to all of us the whole world.
Ganadhipati Tulsi