| | |
| --- | --- |
| 2 | Thirty Years Of Family Life |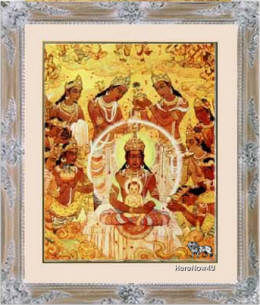 ame and form are the basic constituents of the universe. The king's son had been born with a beautiful form. He had yet to be named. The king invited all his relatives to a grand feast. The question for giving a name to the child came up for consideration. It was customary for the parents to choose a name for their child. The king observed: "Ever since Trisala had conceived the child, our family has grown richer in every respect.
Prosperity has been followed by increasing love among the members of family. Keeping in mind all this, I like to name the child as Vardhamana (literally meaning: ever-prospering)." The queen agreed with the king and the child acquired the name Vardhamana.
Vardhamana began to grow with time and along with him the prosperity of the family also began to increase. A growing child acquired new characteristics. In the case of the prince, tendencies he had acquired in the previous births began to grow thin. The child never wept nor laughed. He always remained in a contented mood and a strange aura shone on his face. He was quite active like a growing child but never restive. Some times his serious face perplexed the nurses. The rise in the level of his consciousness had far surpassed the growth of his body. Those, who looked at him in a cursory way felt him to be a problem child. But Vardhamana himself had outgrown all problems. Even as a small child, he appeared to be unattached to everything. He did not seem to have any physical attraction towards food and play. His spiritual growth made all the things of the world appear to be devoid of any kind of attraction for him. This state of his being hinted towards his great future.