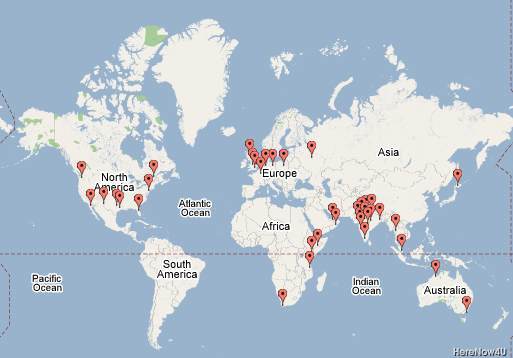 HereNow4U readers online
(click on picture to see actual situation)
NAME AS JAIN RELIGION

In the very ancient time, it was known as Arhat Dharma i.e. the religion of Arhatas. Earlier the word Jina was in use, which meant who conquered the self. The word 'Jain' more commonly has been used in Padam Purana (676 A.D.) and Harivansa Purana (683 A.D.) since when it has become common name 'Jain Dharma' for adherents of Jainism.
SPREAD OF JAINISM THROUGH EMIGRATION OF JAINS
Emigration plays an important role in the interplay of culture and thought, particularly if the emigrants are educated. Historically, five distinctive patterns of Indian emigration can be identified:
indentured labour emigration
kangani/maisry labour emigration
"free or passage" emigration
"brain drain" or voluntary emigration to the metropolitan countries of Europe, U.S.A., Canada, and Oceania,
labour emigration to West Asia.
The first three forms of migration were colonial phenomena and the later two forms are voluntary for seeking employment or for better prospectus. The migration of Jains from India to other countries has been on voluntary grounds for better prospects in life.
The earliest migration of Indians of Indians, including Jains (also Panis) is ascribed to countries of Africa, South East countries and China. The region wise position of Indian emigration is interesting.
India had a long stand, about 2000 years old, mercantile connection with East Africa mainly Kenya, Tanzania, Uganda, Mozambique as part of ancient network of Indian Ocean. They were present on the east coast of Africa long before the Europeans appeared on the scene. The 'Periplus' of the 'Erythrean Sea' in the second century A.D. provides ample evidence of arrival of Indian ships in the East African coastal towns. The great Venetian traveler Marco Polo describes in his 'Travels of Macro Polo' written in 1260 A.D. ' the merchants from Gujrat and Saurashtra on Africa's East Coast as the best and most honorable that can be found in the world". It is remarkable that merchants from Gujrat and Saurahstra (including Jain traders) had various types of trade through sea route with countries of Africa continent and by land and sea routes with several other countries of Asia particularly Afghanistan, China and Thailand.
Abolition of slavery in 1833 throughout British Empire created the need of large manpower in those territories. British government asked British India to send its manpower. Thus, from the year 1834 Indians began to emigrate through out the world. And they migrated to South Africa as well. In 1886 with the discovery of gold on the Witwatersrand, thousands of immigrant fortune seekers, including businessman (called Utilanders or 'foreigners') flocked into Transwaal and Johannesburg (South Africa). Transwaal was formed into a modern industrial economy.
Possibly after the discovery of diamonds in 1867, Indian traders entered cape-colony at the seaports of Port Elizabeth and East London. A small number of ex-indentured Natal Indians also made their way to the Diamond fields at Kimberley. Today, Indian traders and businessmen, including Jains, are found in Cape Town, Port Elizabeth, East London, Johannesburg and other towns.
In an over all position of migration of Jains to countries of Africa continent they are settled in fairly good number in Kenya followed by Tanzania, Uganda, Mozambique, Zanzibar and coastal towns of East Africa. As hinterland of Kenya and Tanzania opened, they went into inland and established their business there. They also went to Zambia, Zimbabwe, Malawi and South Africa.
Nairobi, the capital of Kenya and Mombase a beautiful seacoast of the country, has fairly good population of Jains, possibly 20,000 mostly Gujratis and in business. In Nairobi there are two beautiful Jain temples.
The trader's community of India traded with Malaya (present Malaysia) from pre-Christian era when commercial motives first brought Indian traders to its shores. Though, most of the Jains now in Malaysia migrated to that country buy many are locally born too. The Jains in Malaysia are by and large engaged in business. Due to liberalization of Malaysia's citizenship law in 1952 and 1957, which allowed non-Malaysia, provided they fulfilled certain requirements, many Jains have become Malaya citizens. Some rich Jain families have big business in Kulalmpur and other towns of Malaysia.
Thailand (Old Siamdesh) has attracted Indians from prehistoric times. They settled there, married with local and took Thai names. For over past 50 years inflow of Indian migration has been steady. Presently about 100 Jain families, who have mostly migrated from Rajasthan (India), are well settled in Bangkok alone carrying on gems, jewellery, cloth, real estate, commission agency and other business. They have a Jain society.
Singapore gained internal self-government in 1959. Migration to this beautiful island mainly started from 1972. Over 120 Jain families, mostly Gujaratis are residing in Singapore engaged in various types of business. 'Jain Sangh Singapore' is a prominent social - religious institution having a large Sthanak.
Hongkong is a big hub of business activity. Some 100 Jain families mostly engaged in business reside in Hongkong and Kaloon areas.
MIGRATION OF JAINS TO EUROPE, AMERICA, CANADA AND OTHER COUNTRIES
Following the Second World War Indian migration to the advanced industrialized countries of Europe and North America had begun to gain momentum. The post-war economic expansion in these countries created heavy demand for skilled labour and professionals. Simultaneously, immigration laws were also relaxed in Canada and U.S.A. This form of overseas Indian migration of skilled and education personnel, popularly known as the 'brain drain' thus resulted formation of sizeable Indian communities in Britain, Canada and U.S.A.
UNITED KINGDOM
Of all the Indian communities settled abroad especially in the western world, it is important to remember that for historical reasons the settlement of Indians in U.K. is not only one of the oldest, but also one of the largest.
Indians arrived in Britain not only from India but also from other British empire countries from Hongkong, Malaysia, Singapore, and Fiji in the Far East, from various countries of Africa, from Mauritius, Aden and Middle East, and from the Western Hemisphere from such land as Guyana, Trinidad and Tobago and from several other countries in the West Indies. Many Jain families too migrated from several of these countries to Britain.
Some of those who emigrated to Britain naturally settled there. But the largest Indian settlement, including Jains, has occurred after Independence of India in 1947. The inflow to Britain for white-collar jobs, public service, professions and business gradually increased in 1950s. Migration to U.K. increased in the early 1960s.
Indians are settled all over Britain, but nearly 50 percent of them are living in Greater London area. Out of the present Jain population of 30,000 in United Kingdom nearly 20,000 - 25,000 are living in Greater London Area i.e. London and its suburbs and rest are scattered in east Midlands, Leicester and around it, West Midlands, Birmingham, Manchester and surrounds in North - West and in Leeds and Bradford in Yorkshire. Jain families also reside in Glasgow in Scotland.
The Jain population in U.K. is established well in business, professions and services. They are active religiously and socially. About 30 religious, social institutions are working mostly in Greater London area. Some of those have established religious and social centers and a few even Jain temples. Institute of Jainology (London), which is carrying on research in Jainological subjects and publishes 'Ahimsa' English journal and the "Jain Academy" at Leicester, which has succeeded in introduction Jain syllabus in Leicester University, deserve special mention. Jain families have also settled in Germany, Belgium, France, Italy, Russia, Switzerland and some other European courtiers and also in Japan. Shri Vijay Mahta and Shri Suresh Mehta (Jains from Palanpur (Gujrat) are wealthy diamond traders at Antwerp, Belgium which is known world over for diamond cutting. Many other Jain families from Palanpur, Gujarat and else where have settled in Antwerp.
Kobe in Japan is a famous world centre in pearl trade. Shri S.R. Choudary is known name in pearl trade there. Many Jain families are engaged in various trades in Japan.
MIGRATION TO U.S.A.
The first arrival of Jains in America is recorded in the visit of Shri Virchand Gandhi, an educated English knowing advocate from Gujrat in 1893, to attend the Parliament of World Religions in Chicago. During the time, one American family - the Howard of Inglewood - became Jain, following Virchand Gandhi, Lala Lajpat Rai (a Jain from Punjab) (1865-1928), a pioneer in enlisting American moral support for Indians freedom, established in new York City during World War I "Indian home Rule League" and helped organise "Hindustan Students Association" in New York city. The next record of the Jain visit to America was by barrister Champatrai Jain to address World Fellowship of Faiths held in Chicago on 30 of August 1933. Records in the mid to late sixties show that there were handful of proselytised Jain in Canada and America.
Jain immigration to America started from early 50s of the present century. It increased in the 1960s with the USA liberalization of immigration Laws. The large arrivals occurred in the 70s and 80s largely due to exodus from Africa.
Jain immigration to American can be divided into four phases based on kind, period, political expulsion and homegrown population.
First phase consisted of coming of the professionals and the students, the immigration being directly from India. These men were mostly married before landing in America. After having established a home, they called their wives. The students (mostly unmarried) south immigration instead of going home, devised a system of their own to get a wife. They arranged marriage in India and sometimes they made two or three trips to India before they returned with their wife.
Second phase consisted of family members of the first arrivers. This was the period of building a foundation in the new country. Between the spouses the male assumed role of a patriarch with specific duties and responsibilities.
Third phase consisted of immigration due to political expulsion. They came as a family unit, often as a joint family. The period saw the numerical strength of the Jains grow, and thus, Jain communities came to existence in many regions.
Fourth phase consisted of the second generation Jain where North America (U.S.A. and Canada) Jain have established their own independent families, and in many instances children of the third phase formed a constituent of the majority born and raised second generation, who may be termed as Ameri Jains.
The exact number of Jain now residing in U.S.A. is not known but publications like telephone directories, Jain Directory published by Jain Centre of Greater Boston and mailing list of "Jain Digest" (Quarterly Journal) and 'Jinamanjari' publications indicate that about one lakh Jain (100 thousands) now reside in U.S.A.
For years of sincere working in various professions, business and services the Jains for the past two decades have become affluent enlightened class of the American population and also active socially and religiously. In many cities they have established Jain centers, associations, societies, and institutions, for celebration Jain Parvas, religious and social get together. These centres and associations are developing community brotherhood among Jains and many of them have become centres of initiating and developing religious, social, educational, literary and welfare programmes.
Jains United States live in all the states except Maine, South Dakota, and Wyoming. Majority of Jains are concentrated in the states of California, Illinois, Michigan, Maryland, New Jersey, New York, Texas.
CANADA
The second half of the twentieth century saw the dawn of a new era in inter-racial and inter cultural relationships, due to the displacement of large sections of people as a result of World War II, gradual disappearance of colonialism, national awakening in the so called third world countries, and rapid development of communications and transport systems. The Canadians themselves are a mix of so many nationalities who have settled in Canada. Canada was all-liberal in immigration laws. Like U.S.A., the Jain immigration to Canada mostly occurred from 1960s. The Jain population of Canada is at present estimated around ten thousands. All Canadian provinces, except Saskatchewan, Prince Edward Island, Yukon and Northwest Territories, have Jain residents. Majority of Jains live in the province of Ontario - mainly in Toronto, followed by Quebec (mostly Montreal) and British Columbia.
In America and Canada Jains mostly live in urban and industrial centres.