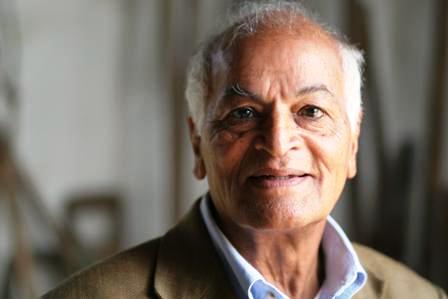 Lifetime
Born:
09.08.1936, Sri Dungargarh, Rajasthan, India
About
An Indian activist and editor. He has been a Jain monk, nuclear disarmament advocate, pacifist, and is the current editor of Resurgence & Ecologist magazine.

Now living in England, Kumar is founder and Director of Programmes of the Schumacher College international centre for ecological studies, and of The Small School.
Satish Kumar Jain, a profile
Born in a respectable Jain family of Nehtaur in District Bijnor, U.P., Shri Satish Kumar Jain took his master's degree in Economics from Agra University and did L.L.B. from Lucknow University. Known as a 'child prodigy', he showed his worth at various levels in School, College University, Government service and in social life.

As a brilliant student and prize winner a various occasions, he organised and participated in various School, College and University educations activities. Painstaking and sincere by temperament, he posses and undaunted nature and indifatigueable courage.

Keenly interested in social work, he is widely known among Jains in many parts of India, USA, Canada and several European countries. founder Secretary General of Ahimsa International and World Jain Congress, President of Jain Sabha, New Delhi and Chairman of Jain Happy School, he has created an image of its own kind in these organisations by his dedicated and untiring efforts. He visited USA, Canada and several European countries in 1983 and 1986 to organise the international Jain Conferences and addressed various Jain Centers and Associations. Connected with several literary, cultural, welfare, religious, social and music institutions of repute, for his organisational capabilities and stamina to work, he is known as and institution by himself. He has also been a source of inspiration for many upcoming, dedicated social workers.

He is a prolific writer on wild life, forestry, archaeology and economic matters, widely published in prominent literary periodicals of the country. He is also author-editor of Delhi Jain Directory published in 1970. He is currently working on several other books on forestry, Jain art and history and culture.