During the past several decades, the absence of multifaceted and full-fledged series of authentic Jain History was much felt by the Jain community. With his strong determination, Jain Ācāryaśrī Hastī Mala Jī M.S., the great spiritual Guru of this century, had shouldered the responsibility of fulfilling this void. To successfully complete this task, he travelled extensively and collected various valuable scriptures, from different libraries, historical manuscripts and treasures of information on Jain Culture. Besides carrying out his daily duties as a monk and preceptor (ācārya), this diligent Yogi had spent his time in writing a series of scriptures depicting the historical significance of Jainism. Deeply inspired by him, the Jain History Committee started publishing these volumes since 1969-70.
During this period, the History Committee published the following: 1 Paṭṭāvali Prabaṃdha Saṃgraha; 2 Ācārya Caritāvalī (History of Jain ācāryas); 3 Jain Dharma kā Maulika Itihāsa (Vol.1) Tīrthaṃkara Khaṃda; and 4 The three historical Tīrthaṃkaras (concluding part of Tīrthaṃkara Kaṃsa). These four books were published and presented to enlightened readers.
The committee is ever indebted to ācāryaśrī for accomplishing the herculean task of compiling the Jain history, during which he had to face a lot of obstacles.
While releasing the Second Volume of the "Jain Dharma kā Maulika Itihāsa" to the readers, the committee feels that it would not have been possible for us to successfully complete the responsibility of publishing this Volume, but for the divine blessings of ācāryaśrī. Besides, the financial and hearty support rendered by the well-wishers relieved us from half of our burden. The first Volume details the history right from the first Tīrthaṃkara Vṛṣabha Deva up to the latest Tīrthaṃkara Mahāvīra. The third and fourth Volumes, depicting the history of about 1500 years are under publication. (Since published)
While going through the manuscripts of these two volumes, one feels that ācāryaśrī has magic spell not only in his speech but also in his writings. We really wonder how he could have made a dry and complex subject like history, so simple, interesting and elegant. His works would definitely change the opinion of the readers who consider history a dry subject. The very presentation by ācāryaśrī makes the reader spell-bound and once started reading, he would not feel like parting with it.
The salient features of the present volume are as follows:
Narration of the prominent religious, social and political events and facts between V.N. years 1 to 1000.

Chronological History of Jain Saints

The Analytical treatise about the gradual decline and degeneration of the twelve fold scriptures (Dwādaśāṃgī).

Subjective presentation of contemporary Religious Practices and History of Royal Dynasties.

Clarifications on complex issues of Jain history; Protest against the deep-rooted superstitions besides giving new interpretations on certain somber issues on Indian history

Magnificent description of unparalleled contribution of women folk as female monks (Śramaṇīs) and female votaries (śramaṇopāsikās) to Jain Tradition.

Presentation of an abstract and dry subject such as history in a simple, fluent and an easy-to-understand language.
And finally we sincerely express our inner gratitude with deep respect to worshipful / reverent Gurudeva Ācāryaśrī Hastī Mala Jī M.S., who, besides exceptionally contributing to the growth of the religion, made an everlasting contribution to the Jain society, by writing this great work on History.
Owing to the long-time demand from enthusiastic readers, Samyagjñāna Pracāraka Maṃdala had come out with an idea to publish abridged versions of the four volumes of "Jain Dharma kā Maulika Itihāsa". Subsequently, after the abridged version of the first volume, we now take immense pleasure in presenting the readers the abridged version of the second volume of the Series.
Thanks to the great efforts of Surat-based ascetic Śrī Jayavantbhai P Shah, BE (Civil) (Retired Superintendent Engineer Govt. of Gujarat), who took up the task of summarization of the Hindi volume which enabled us to successfully bring out this English Version.
Śrī Shah, a staunch believer in "sāmāyika" (periodical contemplations on the self) and "svādhyāya" (study of the self in holy texts), has shown a wonderful combination of both these traits in abridging this volume. During his regular daily periodical contemplations (sāmāyika) rituals, he used to write a brief summary of the original volume, thus completing the great task. As a senior scholar, Shri Shah also teaches the monks and female monks. He had been awarded the First Prize for his performance in "An Open Test on Authentic Jain history" in Hindi. We heartily congratulate and express our gratitude for his dedication to the scriptures. His abridged Hindi version has been arranged and proof-read by Dr. Dilip Dhing. The English & Hindi abridged versions are edited by Śrī P.S. Surana, Advocate Chennai.
P Shikharmal Surana
President
S.R. Choudhry
Working-President
Viradraj Surana
Secretary
Samyaka jṅāna Pracāraka Maṃdala
Graphical representation of formulas for conversion of years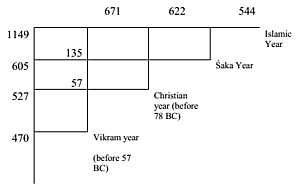 Veer Nirvāṇa or V.N. = (Vikram 470 Year, 527 BC, Śaka 605)
FORMULA FOR CONVERSION
| | | |
| --- | --- | --- |
| To calculate Vīra Nirvāṇa year | = | Vikram Year + 470 |
| | = | Christian Year + 527 |
| | = | Śaka Year + 605 |
| To calculate Christian year | = | Śaka Year + 78 |
| To calculate Vikram year | = | Christian Year + 57 |
| | = | Śaka Year + 135 |
A solar year has about 365 ¼ days, lunar year has about 354 days. Seven months would have to be increased, to compensate the difference of 213 ¾ days occurring in a span of 19 years. Of the above years, the Christian calendar follows the solar year, whereas the other four follow the lunar year. Hence, after every 19 years, a particular Tithi falls on the same date. As there is no provision for increasing of the month in Islamic calendar, according to their calculation, there will be a difference of one year for a span of every 32 ½ years.
V.N. (Vīra Nirvāṇa Year) started on the first day of Kārtika śukla (about November 1st). After 439 years, Vikram Year started from Caitra śukla1 (about 1st April - V.N. 470). 526 years 2 months after V.N. i.e. in V.N. Year 527, Christian calendar started on January 1 (puśya śukla 1st). This is about 56 years 9 months from Vikram year, i.e. in the Vikram year 57. Śaka Year started 135 years after Caitra śukla 1 (around 1st of April). Hence Śaka Year started 604 years 5 months after Vīra Nirvāṇa, (i.e. 605th V.N.), 77 years 3 months after Christian year (i.e. 78th Christian Year).
Islamic year emerged during V.N. 1149, Vikram 672 Year, Christian Year 622 and Śaka Year 544 as 7 lunar months exceed in every 19 solar years.