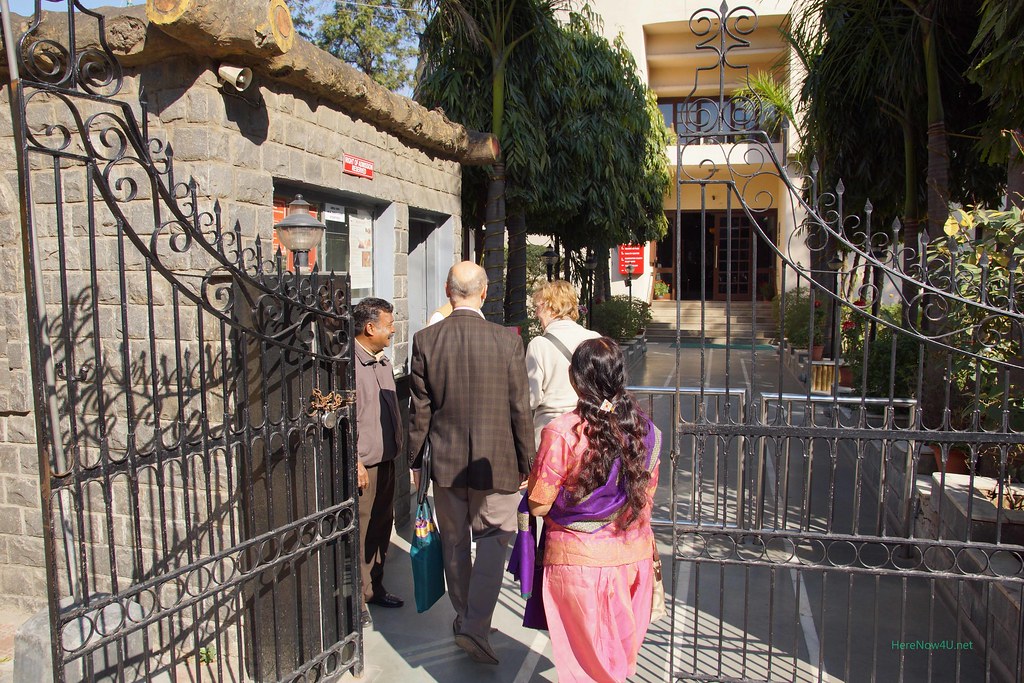 English: www.herenow4u.net/index.php?id=93214 Deutsch: de.herenow4u.net/index.php?id=89101
On the way to ISJS (International School for Jain Studies) Faculty Meeting to prepare the program for Summer 2013, Karuna Jain (talking to the gatekeeper), Prof. Dr. Key Chapple, and Dr. Purnima S. Mehta met at the entrance of the location.
Next morning, soon after breakfast we started with our Delhi schedule. Swami Dharmanand ji kindly had provided driver and car, resp. had compiled a very nice three-days-program with meetings, visits, and locations. When preparing the destinations to visit during the trip, we had informed him that in addition to our trip to Tapra we wanted to visit as much temples as possible.
This Saturday we were supposed to meet with Dr. Shugan C. Jain. On our way to the meeting we were told to not return for lunch to the Kendra. Aha, a casual meeting like we had during former visits. Surprise, Dr. Shugan C. Jain did not meet us as a private person, but had invited the three of us to participate in the ISJS faculty meeting. Those who aim at being prepared to the activities of the day might be taught in India how to disengage and instead cope with all situations to come.
The Jain studies program fits into the frame of American universities to provide profound knowledge on other than western cultures by specialised Indian or American lecturers. Professors, post-graduates, graduates, and students of relevant faculties as Philosophy, Comparative Science of Religion, South Asian Arts and History are interested in the subject and may choose between a 3, 4, or 6 weeks stay for Jain studies in India. The program is part of the point system necessary for being admitted to final exam. The program enjoys increasing popularity because of the special subject, and perhaps because the points can be obtained by participating in a reasonable educational journey during summer break, without the necessity to spend several months abroad. Naturally the number of points increases with the duration of the stay in a foreign country.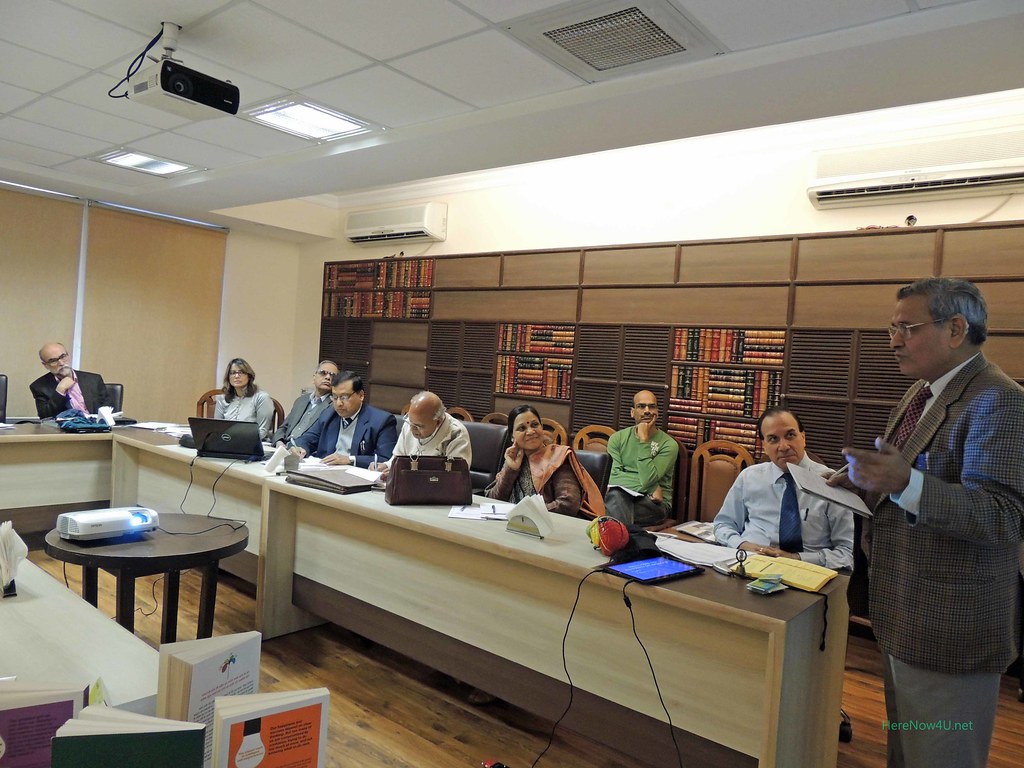 English: www.herenow4u.net/index.php?id=93214 Deutsch: de.herenow4u.net/index.php?id=89101

Dr. Shugan C. Jain (r., standing), director ISJS New-Delhi, welcomes the participants, f. l.: Dr. Sunil Gupta, motivation coach after Edward de Bono, Prof. Kusum Jain, director Maharani College for Young Women Jaipur, Prof. Bhagchandra Jain, director Institute of Indology, Nagpur, Prof. Dr. S.P. Pandey, academic dean Parshvanath Vidyapeeth Varanasi, Prof. Prakash C. Jain, Jawaharlal Nehru University New-Delhi, Dr. Manju Jain, director ISJS Nagpur, spiritual healer for drugless therapy, Prof. Dr. Christopher Key Chapple, Theological Department Loyola Marymount University Los Angeles, (2. row) Vivek Bhagwatkar, head SME-MTS India, Nagpur.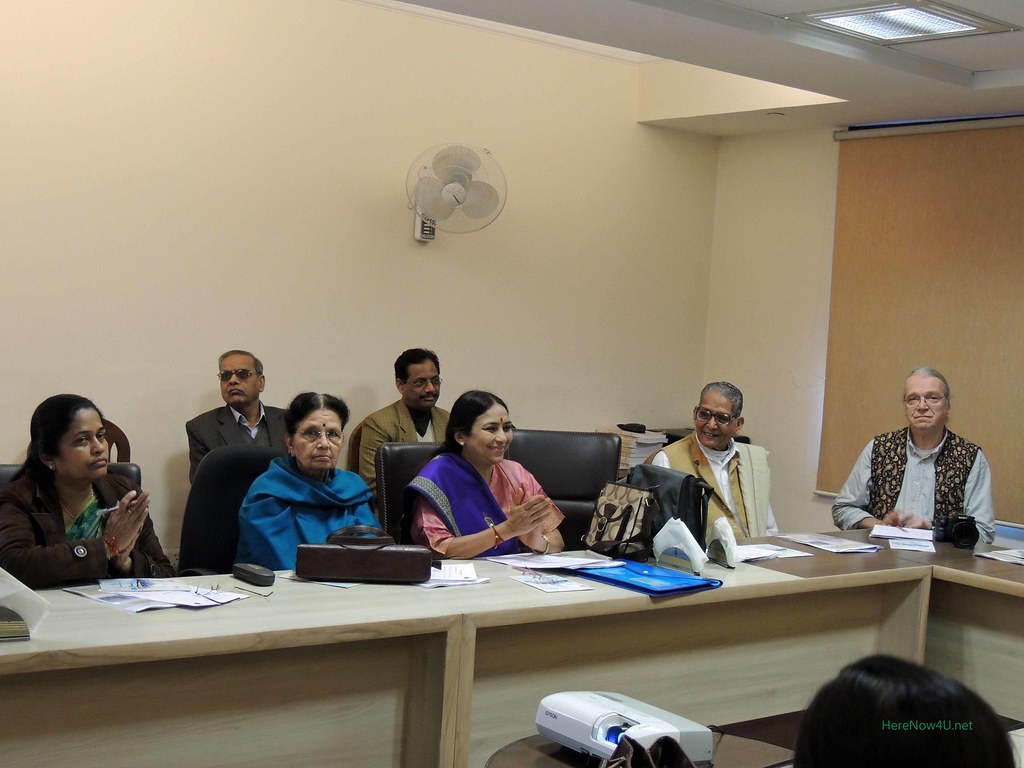 English: www.herenow4u.net/index.php?id=93214 Deutsch: de.herenow4u.net/index.php?id=89101

l.: Sushma Singhvi, chair of Rajasthan Sanskrit Academy Jaipur, Dr. Kamla Jain, teaching philosophy at Jesus und Maria College New Delhi, specialised on Jain ethics, Dr. Purnima S. Mehta, in-charge International Centre for Jain Studies, Ahmedabad, Gujarat, Swami Dharmananda Jain, director Adhyatma Sadhana Kendra Delhi, Christian Geerdes, publisher and editor HereNow4U, Berlin, 2. row f. l.: Dr. A. K. Kala, in-charge Hira Lal Jain Senior Secondary School New Delhi (which Dr. Shugan Jain also visited as he told the audience), Sushil Jain, since 2 years administrator ISJS.
English: www.herenow4u.net/index.php?id=93214 Deutsch: de.herenow4u.net/index.php?id=89101
l.: Dr. Shugan C. Jain, D.R. Mehta, founder and chief patron Prakrit Bharti Akademy Jaipur, behind the books of Edward de Bono, which motivation coach Dr. Gupta later on gave to participants as a reward.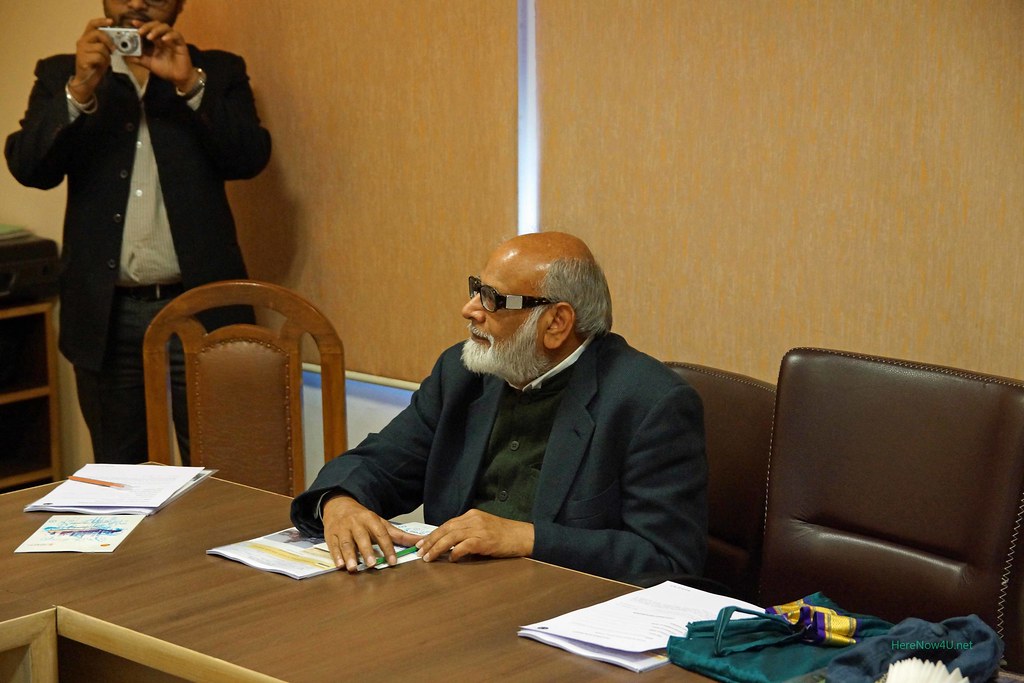 English: www.herenow4u.net/index.php?id=93214 Deutsch: de.herenow4u.net/index.php?id=89101
Prof. Dr. Viney Jain, Prof. Emeritus Jain Vishva Bharati University Ladnun, who is preparing a research project with Swami Dharmanand ji, trying to proof how inclination to aggression of students diminished after having undergone a Preksha Meditation Non-Violence Training. (See more in report on 11.02.2013)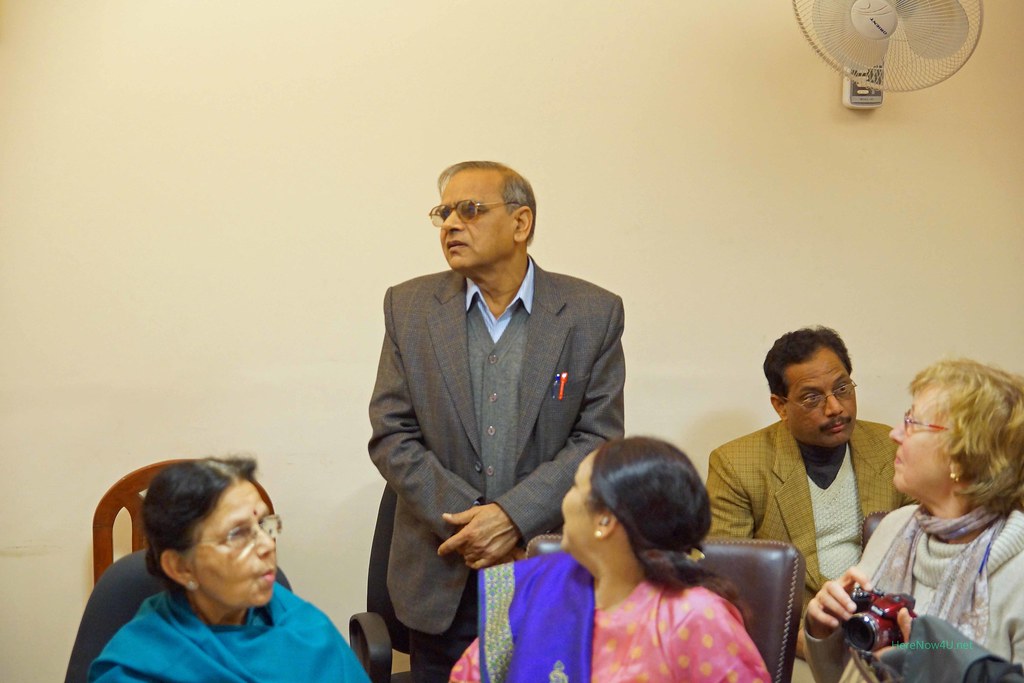 English: www.herenow4u.net/index.php?id=93214 Deutsch: de.herenow4u.net/index.php?id=89101
At the beginning of the meeting every participant was requested to present himself. Dr. Kala doing this heard and watched by Sushil Jain (r) and female participants (f. l.) Dr. Kamla Jain, Dr. Purnima S. Mehta and editor Karuna Jain.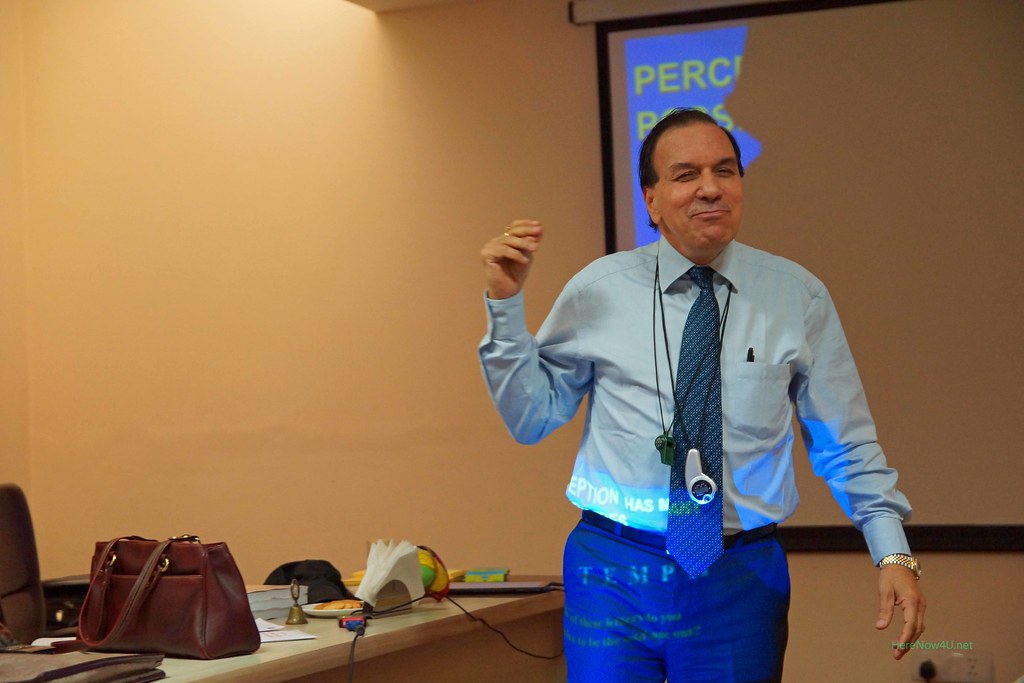 English: www.herenow4u.net/index.php?id=93214 Deutsch: de.herenow4u.net/index.php?id=89101
Motivation coach Dr. Gupta pulled out all the stops.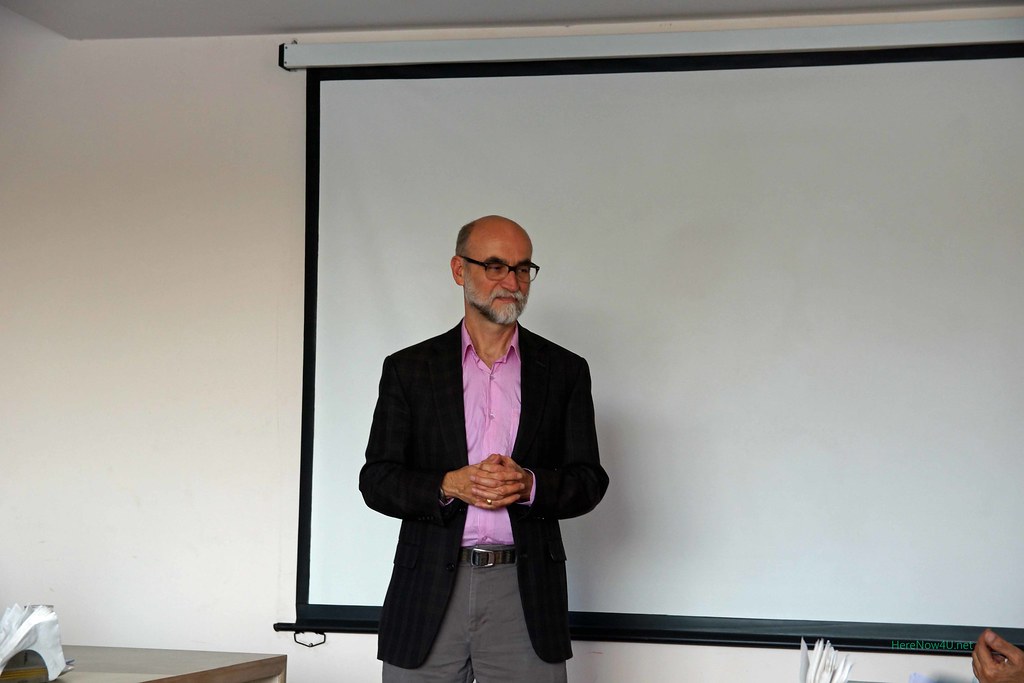 English: www.herenow4u.net/index.php?id=93214 Deutsch: de.herenow4u.net/index.php?id=89101

Prof. Key Chapple from Los Angeles had prepared a subject, which transformed into practice what Dr. Gupta's performance was all about. Prof. Chapple arranged the participants in groups and succeeded in giving special tasks to them initiating communication and exchange of ideas. His very modest and dignified attitude was encouraging.

After presentation of the schedule every participant was asked to introduce him/herself to the gathering. This was followed by speeches of D.R. Mehta, Prof. Kusum Jain, and the performance of motivation coach Dr. Gupta. His performance was this morning's highlight. Whenever the responsibles in Indian companies or institutions feel that it's time for paradigm shift, they will call Dr. Gupta. His task is to encourage people to start for new ways of thinking on the base of the strategies of Edward de Bono. Actually Edward de Bono seems to be quite popular in today's India, as I noticed afterwards when coming around bookshops. Dr. Gupta is a true star. He incredibly masters the growling or cooing sounds as well as tender voice articulation from the depth of the belly or brilliant analysis of a situation with convincingly applied logic. Like a talented actor he knows how to enchain his audience. The faculty members showed all the reactions well known to Dr. Gupta, as his very satisfied gazes around made clear, when the audience jumped very fast from amusement over distance and dislike to skepticism and shy acceptance. Hopefully his efforts will succeed, as in ISJS methods of education are converging, which cannot be more different than the background cultures of lecturers and students. This can be seen very clearly by the still highly hierarchical thinking on the Indian side and the very low hierarchical attitude on the western. In western culture small children already are learning e.g. by watching Sesame Street TV series, how important it is to put questions. Whereas in the Indian, especially in the Jain context putting questions very often equals to criticizing the subject, i.e. the person of the lecturer.
This makes a big difference in looking at the process of learning. Individual strategies of mentally digesting the subject, resulting in individual reflections and conclusions, which have to fit into it's big general frame, are favored in the global context at present. More than a parrot-like repetition of learned statements of learned persons. For the ISJS students it is difficult to concentrate not only on the subject, but also on the new cultural surrounding. Further, the quantity of subjects is huge, the lecture of 3 big volumes on Jainism is presupposed to be able to follow intelligently the lectures. Sometimes less is more, an exemplarily choice supporting own reflections on the subjects, which means answers to individual questions, would do better. Dr. Gupta was supposed to provide a break-through of new strategies to the Indian lecturers. Prof. Key Chapple from Los Angeles thereafter gave an impressing demonstration how this can be realized in practice. Interaction in small groups as well as own experiences were implied in the task to find out what the numbers from 1 to 5 have to do with Jainism. We were even asked to go out and find solutions, something very strange for some participants. I was in the group asked to deal with the numbers 2 and 3. We found out that this may be connected with 2- and 3-sensed living beings and went out to look for some. Except for ants (2-sensed beings) we did not find any flies or bees, perhaps it still was not warm enough for them.
Others were looking for strategies to put into practice as much of the 5 Mahavratas as possible for them. They also were interested in spreading the Jain values expressed in the 5 Mahavratas as guidelines containing big individual scopes from being a saint or a lay person. Everyone according to his/her possibilities. Ascetics as role models are showing that it is possible to realize the highest degree (100%). In day-to-day life it is more complex, everybody goes as far as possible, but without pressure, according to own choice. This might provide hitherto unknown answers to the many problems of today. The process of experiencing inner balance in life should be given as much importance as to the material objects around us.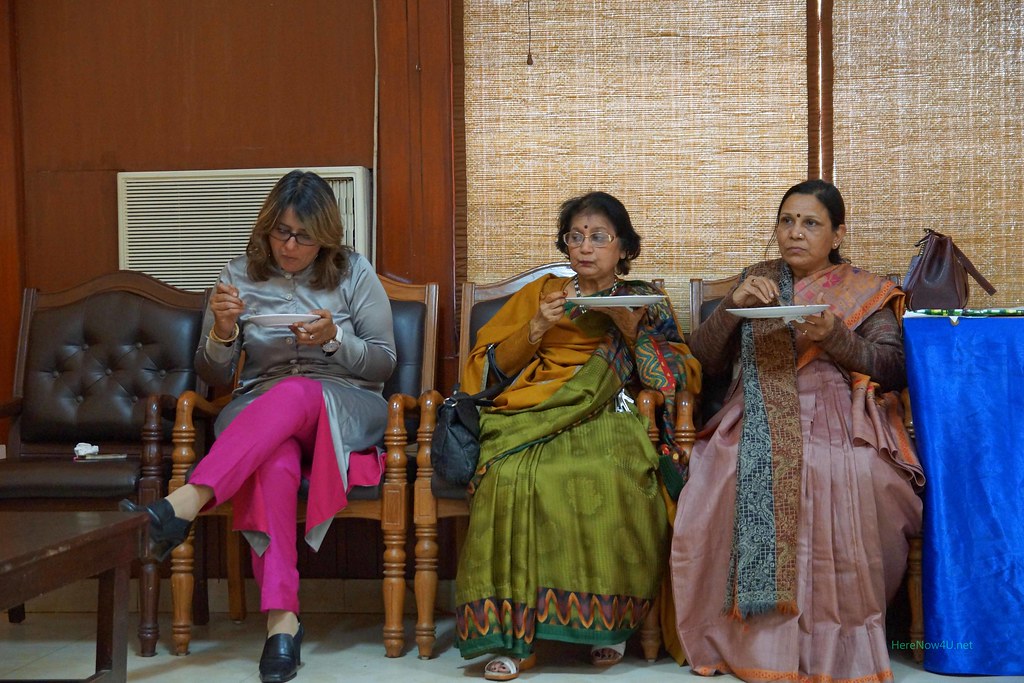 English: www.herenow4u.net/index.php?id=93214 Deutsch: de.herenow4u.net/index.php?id=89101
F. r.: Prof. Kusum Jain, Dr. Kamla Jain and Dr. Manju Jain are reflecting during lunch what they had heard this morning.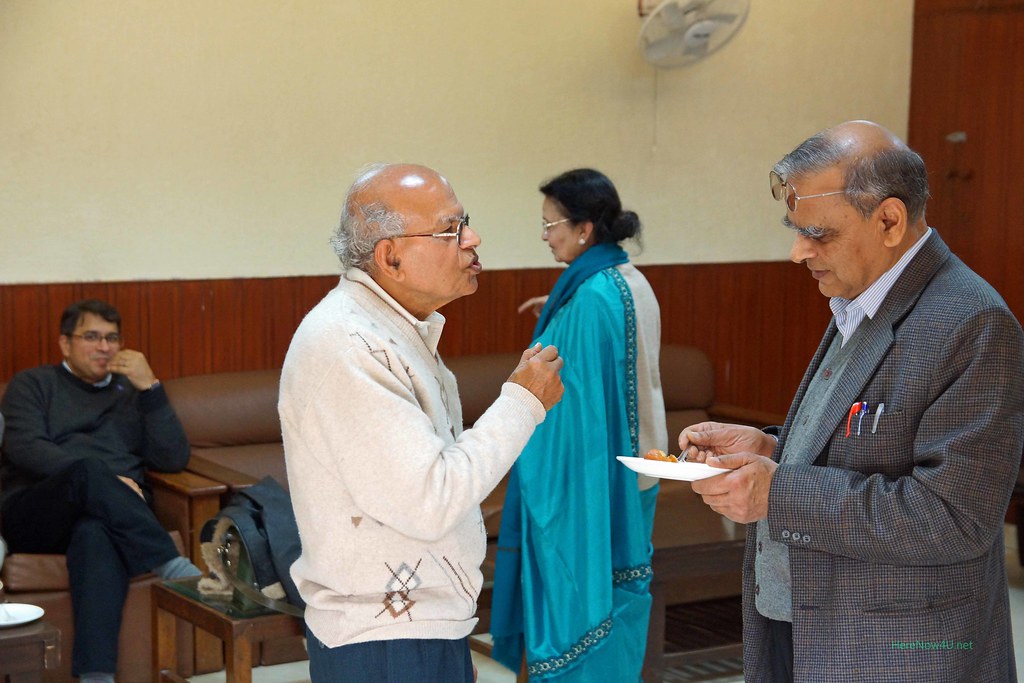 English: www.herenow4u.net/index.php?id=93214 Deutsch: de.herenow4u.net/index.php?id=89101

Sitting: Prof. Amit Jain, ass. prof. at Business School of National University of Singapore (Dr. Shugan Jain's son) joined the meeting a little later.
Dr. Kamla Jain is on her way to welcome him, and (front) Dr. Bhagchandra Jain (l) together with Dr. Kala certainly are talking on ways how to educate.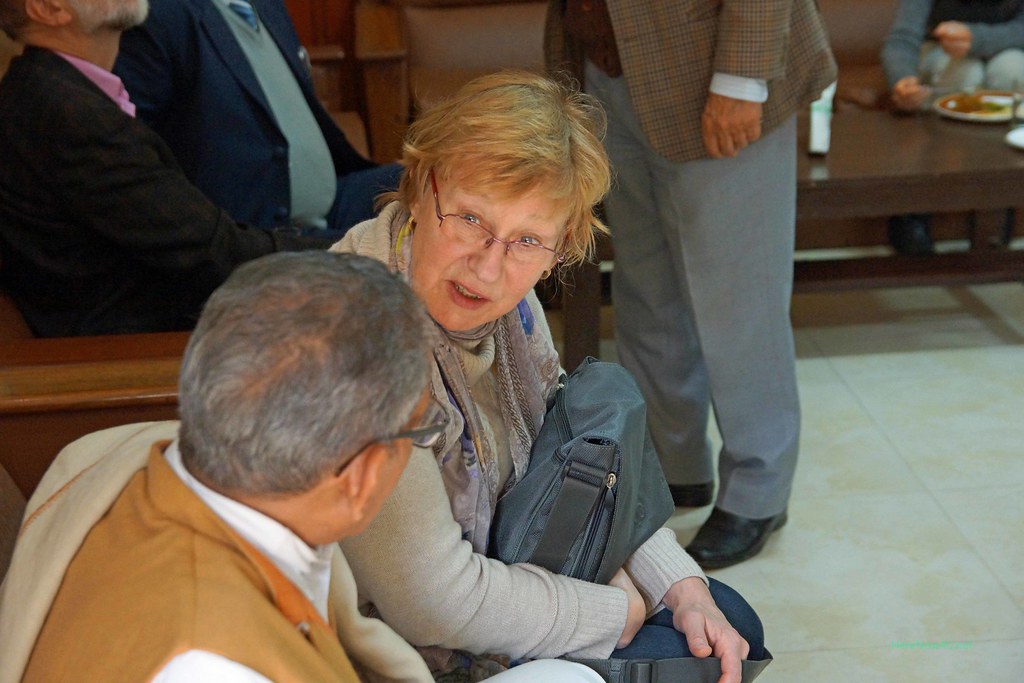 English: www.herenow4u.net/index.php?id=93214 Deutsch: de.herenow4u.net/index.php?id=89101
Swami Dharmanand ji and Karuna Jain talking after lunch.
After lunch, recharged and full of energy all gathered again in the conference room. We had a very interesting afternoon ahead, we were told when asking for going back to the Kendra because we were so tired: "No Kendra," we heard, "you wanted to visit temples, and there we go!" -?? - Surprisingly we stopped after a very short drive around the corner, and just in front of a..... Jain temple!