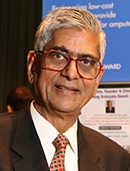 Lifetime
Born:
25.06.1937, Jodhpur, Rajasthan, India
About
D.R. Mehta is a former chairman of Securities and Exchange Board of India.

He is a graduate of Arts and Law from the Rajasthan University.
He also studied at Royal Institute of Public Administration, London, UK and the MIT Sloan School of Management.

He joined the Indian Administrative Service in 1961 and held numerous important positions initially in the Government of Rajasthan and later in the Government of India.
Apart from the commitment of Mr. Mehta to his official work, he is deeply involved in the social causes both at the policy and actual operational levels. In 1975 he set up the Bhagwan Mahavir Viklang Sahayata Samiti, (Jaipur Foot) a non governmental organisation. This institution has already fitted artificial limbs, calipers and other aids and appliances to more than five lakh handicapped persons. Indeed this organisation is the largest limb fitting organisation in the world.
On the literary and cultural side, Prakrit Bharati Academy, set up by him has emerged as a major cultural and literary organisation. It has already published 130 books, presently the institution publishes about 10 books a year on Indian culture, history, tradition etc.
Mr. Mehta is also interested in environmental issues and animal welfare.