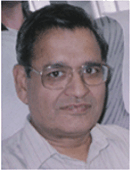 Address
D-28, Panchsheel Enclave
110017 New Delhi, India
About
Dr. Shugan Chand Jain, BE, M.S, Ph.D (Jainology),
an IT consultant & Advisor to leading organizations of USA, Europe and India, had been a consultant with Commonwealth secretariat, Government of India and World Bank for various development projects. Since 2001, devotes majority of his time to the study and practice of Jainism.
Director:

ISSJS

, Academic Council India

D 28, Panchsheel Enclave

New Delhi - 110017, India

Tel: +91 9818139000, +91-11-26491228.
Director Digambar Jain Trilok Shodh Sansthan (Digambar Jain institute of cosmic research, Hastinapur)

Vice chairman Centre of Jain Studies Mangalayatan University, Aligarh

Vice chairman Foreign education Shri Bharatvarshiya Digambar Jain Mahasabha New Delhi
2011:
President of Parshwanath Vidhyapeeth (2011)
Books:
Jainism, Key to reality (English translation of Tattvarathsutra by Ac Uma Swami in questions and answer form.

Jain Legend, Four volume (edited and translated abridged version of 'Jain Dharma ka Maulik itihas' by Ac Hastimalji)
Papers:
More than thirty papers on various subjects related to Jainism and its relevance to modern day life.