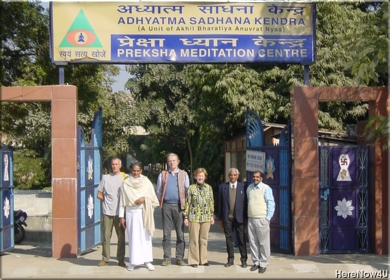 Entrance in 2005.01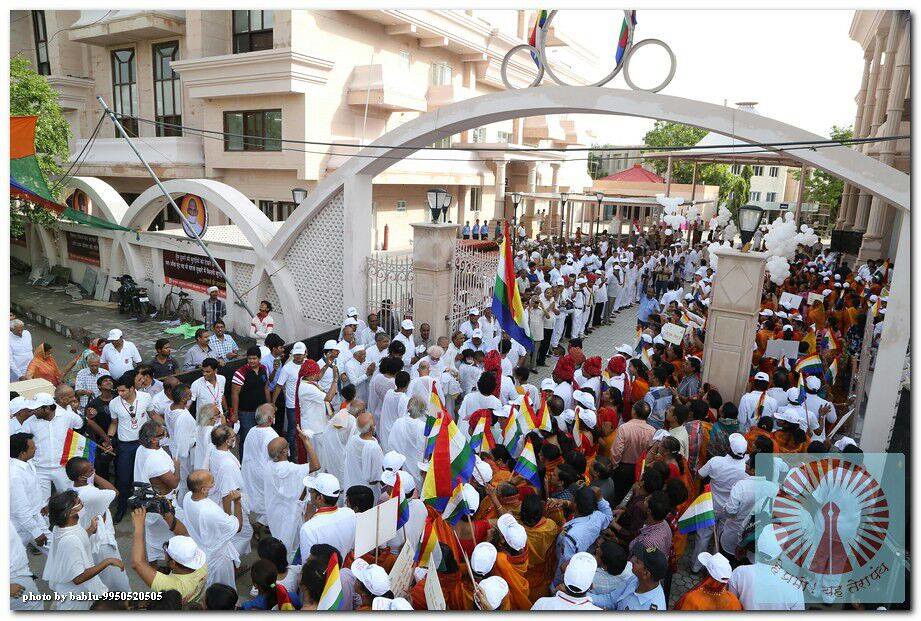 Location:
Main Chhattarpur Road, Mehrauli, New Delhi - 110074
Tel: +91 - 11 - 26802708, 26802679, 26802671
E-mail:
Website: http://adhyatmasadhanakendra.org
Geo Location: 28.503426,77.177359 (Entrance)
In maps (Google etc.) many faulty entries may confuse.
2013.02:
All 'historic buildings' on the left are teared down for new constructions. Also a new 'hall' is under construction on the right. All to be finished & ready for summer 2014 chaturmas.
Anyway:
Highly recommended for newcomers to India as an entry to the beautiful world of Meditation & Health.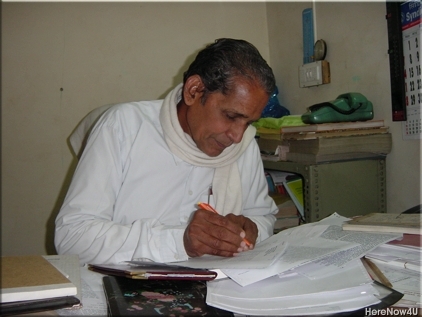 Swami Dharmanandji is the director of the Kendra and a genious guide for your spiritual journey.
The hospitality we found is unforgettable. Thank you Guruji!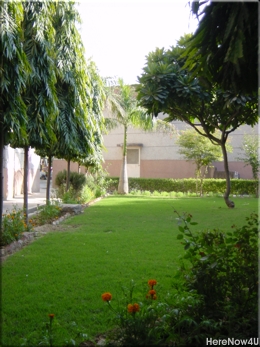 THE KENDRA
This Adhyatma Sadhana Kendra near Chattarpur Village in Mehrauli is a living tribute to this vision of Yuga Pradhan Acharya Shri Tulsi. It was set up by Akhil Bharatiya Anuvrat Nyas is 1965 to provide a place for spiritual practice to the aspirants, 15 km away from the heart of Delhi and 3 km away from Qutab Minar - A Historic Landmark.
To experience pure vibration conducive to one's spiritual quest, a calm & peaceful pollution free environment in the midst of the Nature is required. This Kendra has all of these and two well designed building and a big meeting hall. Ashoka, Mango, Neem, etc. and various flower plants.
The Kendra acknowledges the obvious truth and the fact that the quest for self-realization is a universal human need. It transcends man-made barriers of nationality, race, colour and religion. It is a right equal to man and woman. Therefore, only human being who wishes to journey the path of the spirit is a welcome to the Kendra.
MISSION
To develop a healthy and happy society free from stress and strain. To have physical, mental and spiritual harmony in the society through Training & Research in the Spiritual Sciences. To help the individuals to attain self-realization through Yogasana, Preksha Meditation, Kayotsarga, (relaxation) and silence. To create a sense of well-being between self, community and the nation. To arose the moral and human values in the masses. To achieve physical, mental, emotional and spiritual balance and to channelize human energies for betterment of the conditions of life upon the earth.
ACTIVITIES
Daily on-going meditation and yoga classes. Free treatment of patients through yoga and colour therapies. Various camps to treat physical ailments such as heart diseases, diabetes, mellitus, asthma, obesity, back and neck pains and psychosomatic problems are organised.

Periodical workshops on Preksha Dhyana (Meditation), Kayotsarga (Relaxation), which includes training in Anupreksha (Contemplation), Asanas & Pranayam and Lesya Dhyana (Colour Meditation for emotional purification and bliss).
Publication of books, booklets, pamphlets and newsletters on topics related to meditation, yoga, colour therapy & guidebooks for different ailments.
CAMPUS
RESIDENTIAL BLOCK: The natural beauty surrounds the residential block of sixty double bedrooms and eleven rooms with double beds and attached bathroom. A big dinning hall attached with pantry, kitchen and store on the ground floor. Reception office and administration office is also on this block.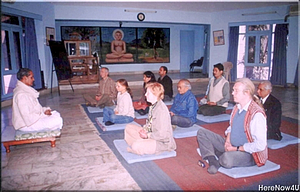 MEDITATION AND PRACTICE HALL
The Kendra is aware of the growing number of practitioners of meditation and spiritual aspirants. The meditation and lecture hall has been built to suit their needs. It consists of two large and spacious halls; one underground meditation hall and a well lit and fully ventilated ground floor hall for lectures, training in yoga, pranayama, relaxation. These halls are designed in a beautiful hexagonal shape with stated roofs and spires to give an electrified atmosphere for yoga, meditation & relaxation.
THE LIBRARY
A well-stocked library on various subjects such as yoga, meditation, relaxation, health case therapies and many titles on spiritual and ethical upliftment offer a wealth of information. Books on philosophy & different religious books are also on the racks together with various daily, fortnightly, monthly papers and magazines for reading.
ACCOMMODATION
Environment being important to one's health and cheerfulness the Kendra has designed rooms to help the aspirants for their spiritual practices. The atmosphere is very effective and helpful for the aspirants to learn yoga and meditation techniques and therapies under the guidance of learned teachers of the Kendra. Nutritious and wholesome vegetarian vegan food helps one's body to recoup lost health and to strengthen it against diseases. Only natural spices without other chemical additives are used in cooking. Food is delicious without any hot spices like chilies & pepper etc.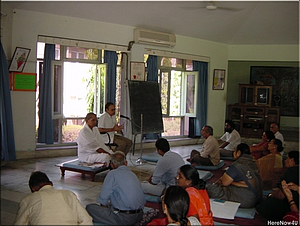 THERAPIES
For the fact that in order to lead a happy and peaceful life, one must have a sound physical, emotional and mental health, the Kendra offers regular workshops to reverse the heart diseases, diabetes, asthma and psycho-somatic disease under the expert guidance of yoga teachers supervised by medical doctors. The Kendra offers free health services & classes in colour therapy naturopathy & yoga therapy.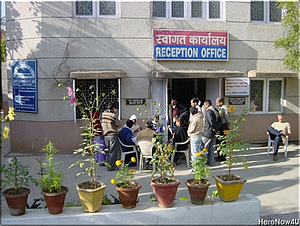 RESEARCH
From the last four years, scientific research work has been in progress in reversing heart, diabetes and asthma disease with the cooperation and research projects taken by the doctors from AIIMS (All India Institute of Medical Sciences) New Delhi under the guidance of Prof. Dr. S.C. Machanda MD, cardiologist and former head of the All India Institute and Swami Dharmananda, expert in Preksha Meditation and Preksha Yoga. The results are very encouraging and doctors are now convinced that yoga is not only preventive in maintenance of health but curatively as well. Every month one or two camps are being held to nullify the ailments. More and more people are now taking interest in these projects and offer themselves for such type of treatment and research work. After the first international conference on yogic life style change in Jan.1995, more & more doctors have shown interest in doing research in reversing the ailment through yoga & life style change.
---
Facilities offered at this centre:
For Meditation Practices:
Two Air Conditioned large spacious halls designed in beautiful hexagonal shape provide a serene atmosphere for yoga, meditation & relaxation.

There are three more halls and a covered open hall having sitting capacity for five thousand persons for national & international conferences.
Residential Blocks:
Twelve Air Conditioned double bedded rooms with attached bath.

Twenty Air Cooled double bedded rooms with attached bath.

Forty simple rooms double bedded.
Dining Hall:
A big dining hall attached with pantry kitchen & stores to cater 75 guests at a time.
The Food:
Strictly vegetarian & non spicy and all meals including breakfast, lunch & dinner prepared by a team of dedicated & trained cooks. The diets are purely hygienic, Sattvic as approved by dietitians, is highly suitable for the patients and sadhaks.
Medical Checkup:
A regular qualified & experienced homeopathic doctor is available in the kendra.
During heart camp days - services of a qualified cardiologist is also available by heart patients.
Our Treasure:
A highly qualified & experienced team of Yoga instructors headed by our director Swami Dharmananda who has widely travelled in India and abroad to give discourses on Preksha Meditation & Yoga lifestyle & a coordinator in various research projects on reversal of diseases like heart, diabetes, Asthma, Backpain etc.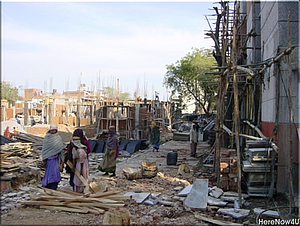 Atmosphere:
The pollution free area lust green surrounding, Sweat underground water supply is a speciality of the Kendra. We have got two stand by generators, so there is no problem of electricity.
---
2005, January:
On the back side of the Kendra new buildings are under construction for social events, separately from the spiritual part of the Kendra.
Some buildings of the Kendra are as well under construction: For the needs of the stay of Acharya Mahaprajna and his sangh in Delhi in June 2005 additional floors are added on top of various buildings.