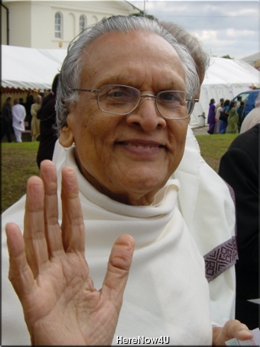 Gurudev Chitrabhanu
As we celebrate Gurudev Chitrabhanuji's 90th Birthday, let us look back at the remarkable journey of a visionary, a guiding and unifying voice for Jains in North America who has spawned not one but two revolutions and even today is nourushing jains on four continents with his message of Ahimsa and Peace -pure spirituality and revrance for all lives.
Gurudev Chitrabhanuji was born in 1922 a small village in Rajastahan. He bacame a jain monk at the age of twenty. He studied various scriptures, observed silence and meditated for five years, traveled 30,000 miles barefoot through hundreds of villages in India. He gave many speeches, wrote newspaper and magazine articles. He also penned more than 20 books and he was the most sought after Jain speaker. During the mid sixties, he used to draw crowds of several thousands on the Chowpati beach in Bombay to hear him speak on Mahavir Jayanti. He wanted to spread Mahavirs message far and wide. By now he had many westerners as his followers.
At the first Spiritual Conference in 1969 in Calcutta, organized by Temple of Understanding, Chitrabhanuji was invited to speak but due to conflict in schedule, he could not accept the invitation and instead he sent one of his students, Vatsala Amin. She spoke eloquently of Jain values and of her spiritual master - Gurudev Chitrabhanu. The organizers were so impressed by her presentations and her dedication and praise of Gurudev; they decided to invite him to the subsequent year's summit in Geneva.
Invitation to speak in Geneva at the second spiritual conference in 1970 created a lot of controversy among Jain community because tradition dictated Jain munis only to travel on foot and not use any kind of vehicles. This tradition had its root in avoiding exploitation of animals because in the olden days, animals were used to drive the vehicles. Jains have never been in favor of conversion so preaching overseas was never foreseen as a necessity. In 1951, Acharya Vallabhavijay Suri had foreseen the need for Jain sadhus to break with the tradition and travel overseas. He told Shri Meghjibhai of Mombasa "Wherever need of Mahavir's message, Jain Sadhu must travel - that is his duty". Nonetheless, this will be the first ever flight for a Jain Muni. For someone who had traveled 30,0000 miles barefoot all over India over 30 years, decision to travel overseas was truly a revolutionary one. Gurudev thought about Veerchand Raghavji Gandhi, his personal hero. In 1893 Virchand ji was the jain delegate to the first Parliament of World Religions in Chicago and as a first ambassador of Jainism he made the west aware of Jainism. Jains had not sent any emmisary to the west after that in the previous 80 years! Chitrabhanuji decided to follow in the footsteps of Virchand Ji Gandhi. This decission to break with the old tradition for the sake of spreading Jain Dharma to the west was nothing short of a revolution and the rest is history!
Gurudev arrived in Geneva on March 30, 1970. The organizers of the conference had learned of the courage it took to travel to the conference venue and bestowed upon Gurudev the privilege of opening the conference. Gurudev in white clothes entered the stage with his western followers who accompanied him in the chanting of Navkar Mantra. Seeing westerners praying in ancient Indian language mesmerized the audience.
The message he gave on the second day of the conference was to strive to know one's true self. "The one who knows self, will know every one". Listen to the inner voice and ignore external and physical boundaries. Material possessions and physical happiness cannot last. Only the bliss derived from restrain, pursuit of non-violence, desire to do good to the whole mankind can lead one to the happiness. That is the message of Mahavir and that message resonated well with the conference theme of "Requirements for World Peace"
This was a first encounter between a Jain monk and westerners. There were so many questions on Jainism - people wanted to know about the origin, basic tenets and life o Mahavir The press could not get enough of him. BBC and Voice of America broadcast his message. He received invitations to speak at Oxford and Cambridge University. He met with the Dean of Harvard University who invited him to America for the third Spiritual conference at Harvard in October 1971.
From Geneva, Gurudev traveled to Lyons, France where he met with number of students many of whom had become vegetarians at the Swami Hamsanda's ashram. Next stop was London. Due to a large Jain population in London, crowds were in thousands. During that week there were seven public forums he spoke at Oxford and Cambridge universities. Celebration of mahavir Jayanti with overseas Jains was the high point of that trip. His speeches were carried on BBC and Radio Canada. Amsterdam and Munich were the next two stops where he spoke at two public meetings before reaching Rome, the last stop before going home. At Vatican he had audience with Pope Paul VI a historic meeting of east and the west.
Six weeks of traveling through Europe and returning to Bombay was an important turning point for Gurudev. He realized that he was not just a resident of India but a citizen of the world. The world needed to hear Message of Mahavir and he must free himself of bondage of sectarian thinking. This newly found freedom transformed him form a jain monk to a messenger of Mahavir - an instrument to lift the world from the depth of despair through the message of Maitry (Freindship), appreciation of virtues in others, Karuna (compassion) and Madhyastha (Equanimity). For this day was the birth of a Universal man. He will go to all corners of the world in his mission. he will not look back.
On July 4, 1971 Muni Shri embarked on a 50-day tour of Kenya, Uganda and Tanzania.In kenya he was greeted enthusiastically at the Nairobi airport by hundreds of eager jains knowing the historic significance of Muni Shree's arrival. More than six thousand people came to hear him during his nightly speeches. After two days Chitrahanuji flew to Mombasa. There the deputy mayor and leaders of various Indian communities greeted him. When he reached the Jain Temple, he was taken aback by hundreds of eager people who had waited for hours to glimpse this revolutionary Jain monk. In Dare Salaam. He was apprised of how all the jains were united there without the distinction of sects. In Uganda a large crowd -jains and non Jains greeted him. At a public meeting at Uganda International Conference hall Chitrabhanuji spoke of universality of Man and need for man to help his fellow man. On 15th August he arrived back in Mombasa. Observance of Paryushan in presence of a Jain monk was a historic event in Africa. He gave religious discourse twice a day and many non Jains were also regular attendees.
In his farewell speech, Muniji congratulated Jain community in Africa to have maintained their heritage and unity. Their attendance in thousands have proven their religious commitment. He told them that unlike other religious leaders from India, he did not come to collect funds for some project in India. He had come to share and take with him their love. He advised them to spend their wealth in the land where they were - give back and obtain love and respect of the natives. He did not want to be known as a preacher but seeker of truth and peace.
From Africa, Guruji went to London for eight days and met with Jain communities in different cities before going to Hauge (Nedherland) to address International Vegetarian Congress. On 11th September 1971 Munishri arrived in New York His first public meeting was at the Consulate of India. His subject that day was" Religion in this Decade" He talked of the ravages wars bring to individuals. Peace conferences and disarmament treaties can not bring end to war but transformation of individuals will lead us to peace. As long as one harbors violence in his heart - his willingness to hurt even a smallest living being - he will not be able to find peace. For two hours he mesmerized the crowded hall and was interrupted by applause numerous times. A Jain monk speaking in such eloquent English was a revelation to many. The session ended with chanting of Navkar mantra. Excerpts of the speech was carried by New York Times and he received many more invitations to speak.
Temple of understanding had a conference in Washington on the subject of world peace on the 13 th. For two hours Chitrabhanuji answered questions from academicians, philosophers, politicians and reporters on the subject from Jain perspective. In the afternoon he attended reception held by Indian ambassador L. K. Jha where he discussed spiritual growth in India since independence.From there he was invited to speak at Buffalo university, Church of Faith in Rochester and Jain Society of Chicago and at Loyola Unversity. His last stop of the tour was in Los Angeles where he spoke at three venues and returned to India. As soon as he arrived in India, invitation to speak at the Third Spiritual Conference at Harvard Divinity School was renewed. He was chosen as keynote speaker and the invitation came as personal request from the Dean of the University.
The theme of the Third World Spiritual Conference was "Religion in the Seventies" 30 speakers were to represent as many faiths and denominations. The Temple of Understanding and Princeton Theological Seminary cosponsored it. Gurudev's speech was received so well that The Boston Globe newspaper next day called Gurudv Chitrabhanu "Hit speaker of the day". Sargent Shriver, Governor of Massachusetts invited Gurudev and other speakers to the Governors house.
So this is how Gurudev Chitrabhanuji's journey to the west began. He settled in New York. There were no Jain families to host him but he made a path for himself. He taught at various colleges, rode the subways and returned home late at night. He started teaching meditation to American students and in 1973, he founded Jain International Meditation Center. One by one, Jains started to arrive for discourses. This was the first establishment where jains could gather for prayer and meditation. A marble statue of Mahavir Swami was brought by a jain family. More and more jains started coming and he became the spiritual leaders of the Jains in NY. He told everyone that he was no longer a jain monk and people started addressing him as Gurudev.
As the years went by, Gurudev inspired formation of many Jain centers in various US cities. In 1981, Gurudev, along with Acharya Sushil Muniji inspired formation of a national organization of Jains "JAINA". This non sectarian organization has become the model of Jain unity world wide. He has been inspirational force behind many organizations all over the world but he has never allowed his name attached to any of them. But the Gurudev did not stop. Now he is on a path of the second revolution - a true adharance to Ahimsa. Over the years he had become vegan. He recognized the untold cruelty visited upon dairy cows and has been preaching Veganism as true application of Jainism in daily life. He is insistant that milk and Ghee not be used in our Temples.
His message of veganism has been largely ignored by the jain community. In fact many tradition minded Jains have critisized him for being so vocal on Veganism. Gurudev has not been fazed. His passion for the Vegan movement is so genuine that his heart cries out at the thought of the plight of speechless animals as they are exploited, tortured and ultimately slaughtered. Just recently someone asked Gurudev if he was aware of the opposition to him in the community for his insistance on Veganism. His reply was a couple of lines from the immortal song "MAITRI BHAV NU PAVITRA ZARNU":
May I always be there to show the path To the pathless wanderers of life. Yet, if they should not hearken to me, May I bide in patience.
Gurudev has chosen to journey an a path not taken by many and that is why he is the only one invited to the every YJA conference. He guides us on the true path of Ahimsa and enlightens us on the ways of Jain Dharma. We admire him, we follow him and we love him. LONG LIVE GURUDEV!