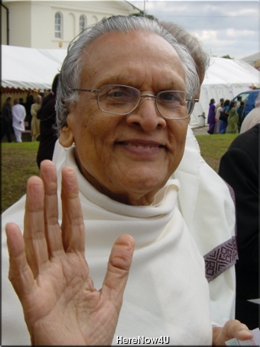 Gurudev Chitrabhanu
---
As we celebrate the 90th birthday of Gurudev Chitrabhanuji and honor his spiritual leadership, our heart is filled with gratitude and respect.
Much can and should be said about Gurudev's contribution to Jain communities especially in North America. His remarkable orator ship, his compassionate leadership, his inspirational teaching and his commitment to Jain dharma & Jains around the globe is second to none.
Born on July 26, 1922 in a small town of Rajasthan, India, Gurudev spent the first five years of his monastic life in silence and meditation (when he was 20 years old). With this experience, he realized that the ultimate purpose of all life is to expand one's awareness and to liberate the consciousness from attachment and aversion. This enlightened spirit brought wisdom, and with lucid language and eloquent speech, he made a home within the hearts of millions all over India.
After powerfully addressing the Second Spiritual Summit Conference in Geneva in 1970, he was invited to address the Third Spiritual Summit Conference, arranged by the Temple of Understanding series, at Harvard Divinity School, Cambridge, Massachusetts in October 1971. This was his first trip to USA.
Inspired by his message, the Boston Globe in its write-up titled Jain Sect "A Saint"... said he was the hit speaker of the day... explaining basic tenets of his sects belief... and he does not try to convert anyone.
As the West was healing from wounds left by Hiroshima, the Kennedy and Rev. Martin Luther King assassinations, struggling with involvement in the subjugation of Vietnam, etc..,Gurudev saw his calling to spread the message of Ahimsa (non-violence). He addressed other leading institutions of learning, such as Princeton, Sarah Lawrence, Yale, Cornell and State University of New York. He also founded the Jain Meditation International Center in New York City and became a spiritual guide to bring together all the Jain Centers in North America under JAINA.
He is a world-renowned author of over twenty-six books which reflect his philosophy of world peace and nonviolence, emphasizing the need to appreciate the sanctity of ALL life and to build solidarity in the larger family of mankind.
In recent years, he has been an avid advocate for animal rights and mindfulness in our consumption habits. He emphasizes the need for adopting a life-style free of the all animal products and pure vegetarian (plant based) diet. He also promotes elimination of animal based products (like milk, ghee, silk etc.) from our temples and religious rituals.
His message of pure vegetarianism (popularly known as veganism) has been largely ignored by the Jain adult community. In fact many traditions minded Jains have criticized him for being so vocal on Veganism. Gurudev has not been fazed. His passion for the pure vegetarian diet movement is so genuine that his heart cries out at the thought of the plight of speechless animals as they are exploited and tortured during milking life and ultimately slaughtered around the age of 6 years. Just recently someone asked Gurudev if he was aware of the opposition to him in the community for his insistence on Veganism. His reply was a couple of lines from the immortal song "MAITRI BHAV NU PAVITRA ZARNU":
May I always be there to show the path
To the pathless wanderers of life.
Yet, if they should not hearken to me,
May I bide in patience.
Gurudev has chosen to journey on a path not taken by many adult Jain scholars. He guides us on the true path of Ahimsa and enlightens us on the ways of Jain Dharma. We admire him, we follow him and we love him.
I met Shri Gurudev on his first visit to USA in 1971 in Philadelphia. Since then I am in constant touch with him. He is the advisor to Jaina Education Committee and supports whole heartedly all Pathashala educational projects. When I learned that Gurudev and Pujya Pramodaben became vegan, I felt immense pleasure within.
Recently YJA executive committee requested to help them to find the sponsor for the vegan book "Forks Over Knives", Gurudev immediately committed $5000.00 which purchased 700 books for the distribution to all our youth attendees.
Sudhirbhai M Shah, one of the education committee members indicated the following reflection about Gurudev
"I want to comment on one of his most important contributions; it is providing inspiration and keeping the essence of Jain values alive in our youth. When I first met Chitrabhanuji in my early youth, I was very apprehensive about Jain society, leadership, scholars and monks. I asked difficult questions to Gurudev and spoke harshly about my experiences with Jain scholars and leaders. He patiently listened and then asked me to "learn to separate message from the messengers". He encouraged me to study Jain scriptures/literature on my own and understand the essence on my own. As a result, I became a contributing member of Jain community." - Sudhir M. Shah (CT and NC)
On this occasion, if you would like to send your message to Gurudev, please e-mail it to Dilipbhai V Shah (past president of JAINA) or mail the message to him at 1902 Chestnut Street, Philadelphia, PA 19103. He is a Coordinator for the Committee for Gurudev's Birthday Celebration. He will compile all the messages in a book form and will present to Gurudev on his birth-day.
LONG LIVE GURUDEV!