At least, the music came nearer and nearer, and all eyes had enough to do by watching the beautiful procession, there was no longer question of following own thoughts or remembrances.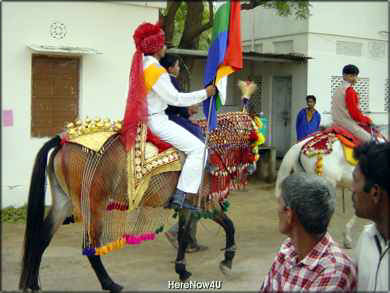 A traditionally dressed equestrian participates in the procession, looking like the bridegroom on horse, being part of Rajasthani wedding processions. Instead of the bride in a wedding procession, a boy from an aspirant's family was admitted to sit on the horse for some short time.
Generally, the Diksha processions in Rajasthan are arranged like wedding processions by the aspirants families. The future monks and nuns are dressed and gemmed like bridegrooms and brides. For the last time, they are shining resplendently in the eyes of the world.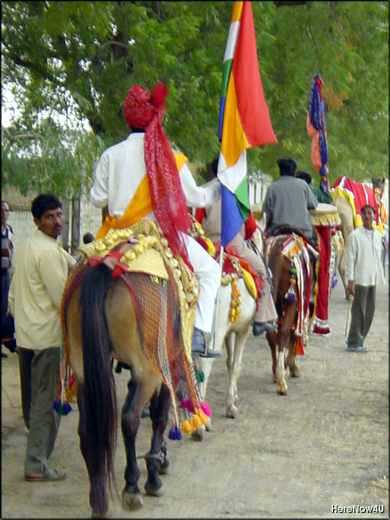 The procession was headed by a camel, which was followed by horses and horsemen. All were beautifully decorated.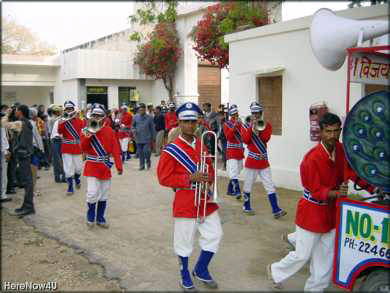 Then the sound truck followed with the musicians, trumpeters and drummers.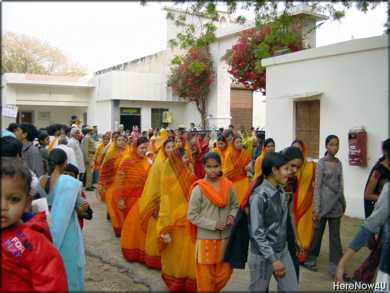 Then JVB Ladnun's women's wing followed in their yellow-orange sarees (traditional Indian women's dress).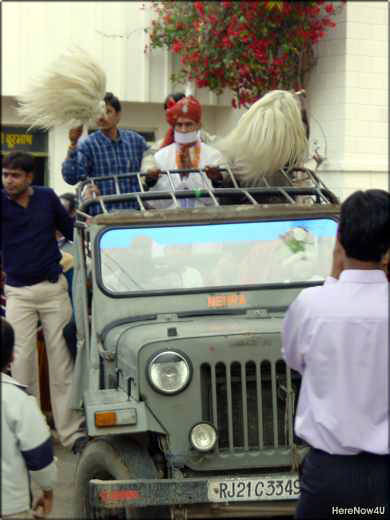 On the large cross-country vehicle, the future Muni stands in front, reciting Mantras and prayers. Kamal had told us that his brother-in-law had started to fast, and so did the future nuns. Because of their fast, they are sitting, respectively standing in the car.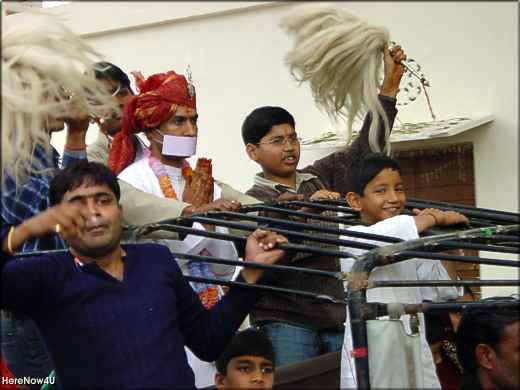 The little boy in white (right) came every day to the monks' place. At this time, he was 6 years old, and already had taken the decision to become a Muni as soon as possible. Every day he put the same question to the monks crossing his way, "When will you accept me?" Then he went to join one monk or one group of monks for the rest of the day. During the day, he ate only little here and there, in the evening he joined his family for dinner and sleeping accomodation.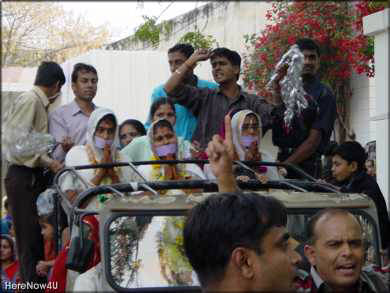 Five of the future nuns are seen here. The future Sadhvis can be recognised by the mouth pads they already had put on. Like all Samanis, the two going-to-be do not wear Mukhavastrikas.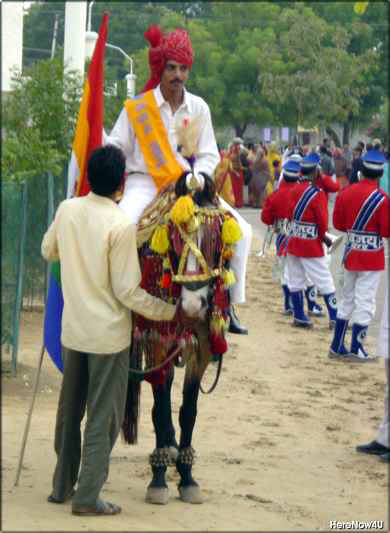 The musicians have lined for the aspirants; the equestrian and the man with the flag of Jain Vishva Bharati Ladnun stand aside now. Their task is fulfilled.