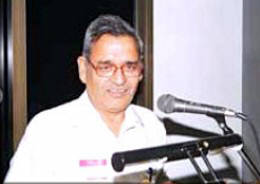 Mr. Shugan Jain
director of activities in India

University scholars of North America attend the first summer school in advanced Jain studies in India by Mr. Shugan Chand Jain.
Seven scholars, including Prof J. Fredrick, three Ph.D and 3 MA students are attending a two months intensive Jain studies program from June 1st to July 31st 2005.
This program consists of six modules namely:
Attending the daily rituals (like going to the temples or sthanaks or other places Jain worship
Two 1.5 hours classes on selected topics of Jain history, art and culture, ontology, metaphysics, epistemology, ethics, karma theory and other peculiar aspects of Jain philosophy daily.
Three hours of self study where they discuss day's learning's amongst them and supported by a resource person from the school daily.
One lesson of 1.5 hours on applications of Jain philosophy in various aspects of our life, like education, social service, health, food, Ahimsa, vegetarianism etc. daily.
Evenings with Jain families to experience the living Jainism daily.
Weekend trips to pilgrimages or living with Jain families or Jain monks from different sects of Jains.

In all 80 philosophy lessons, 40 subject specific application lessons have been planned.
Similarly visits to 25 Jain families, leading monks of all Jain sects and three major yatras are planned.
More than seventy Jain scholars are associated with the program to deliver the 120 lessons identified above.
The program will be conducted at Delhi, Jaipur, Ladnun and Indore of 12-14 days at each location followed by a 4 days review module at Delhi in the end.
The program started on June 1st at C 1 /47 Safdarjung Development Area (home of Mr Subhash Chand Jain) where all the scholars are staying also. The entire facilities were air conditioned for the comfort and learning of the scholars as this is the hottest time period in Delhi. The daily lessons begin with chanting of Navkar by the scholars and greeting each other and the teachers with Jai Jinendra. The entire program is planned in a way that the intensity of detailing the Jain concept grows every day and the scholars become more and more inquisitive every day.
Laura Newberry, one of the scholars sent the following note to me:
"Please also know that I am so grateful to you for everything that you are doing. Each moment, as I open, deepen and learn, I am so blessed to have been acquainted with all of you, particularly you for your kind nature and immense understanding of the beauty of Jainism. Uma and yourself have been so kind to me, and it is only the first five days!!! I am so looking forward to the rest of the time - and am excited to await each new day full of possibility and unfolding bliss.
Thank you, ji, for all you do.
Sincerely,
Laura Newberry"
We have also designed special medallions for each scholar, teacher and organizer to be worn during and after the program so as to develop a fellow feeling. Each scholar and others have so far been proudly wearing the same. We have also placed a notice board outside the class room showing the day's program, a new quotation from the scriptures as thought of the day and three new words of Hindi to make them learn the language. This has been highly appreciated and effective as the scholars are using these words regularly and buying books etc to learn the language also. We also have almost a daily feedback session seeking the opinions and problems faced by the scholars. Most of them are resolved immediately so that they can focus on learning and experiencing Jainism.
The class room is equipped with whiteboard, flipcharts facilities, overhead projector and a LCD projector on demand. All the lessons are planned to be highly interactive by keeping one hour for the lecture / lesson and the remaining time exclusively for the discussions. As expected these discussions extend to the coffee and lunch breaks showing the enthusiasm of the scholars. It is to be experienced only to see the intensity of discussions and the interest of the visiting scholars during the class rooms which are run on the lines of those conducted in good US universities. To facilitate the learning by scholars during the program and after it, we have provided each student a set of 20 books on different subjects and drawn from all sects of Jains; synopsis of all the lessons in Delhi and Jaipur, papers for their reading. We are also keeping another 30 books and a number of papers in the classroom for reference during the self study time.
Family Subhashji is extending all support and personal services to ensure the living comforts, excellent Jain breakfasts, lunches, dinners and mid meals. In fact all the participants are so overwhelmed by the arrangements that they are experiencing Jainism and are highly appreciative of all connected by the program. It is surprising to hear repeatedly that most of the scholars are planning either extending their stay or coming back for extended stays in India to study living Jainism. Similar facilities have been planned at Jaipur and Indore.
The program was formally inaugurated on June 5th (Sunday) at the famous India International Centre. It was attended by over 100 very eminent Jain leaders from all the four sects, scholars from USA and a few guests. The entire program was implemented in true Jain tradition and minimizing waste, harm to ecology and using the concept of WE (combining the audience with the organisers and the guests and making them feel as one) rather than guests as you and the people of the dais as I. It was an extremely interactive program which started with chanting of Navkar by the visiting scholars, followed by Saraswati vandana rendering by a Indu Jain of Sadhna TV, an excellent Jain meditation sitar rendering by Mrs Renu Jain, presentation of mementos by Mr Adnan Siddiqui, Cultural Attaché in US embassy in India to students(and their brief introduction and sharing vision),

Dr Sulekh Jain shared vision of the World Council of Jain studies for the program.
Mr Siddiqui made a very emotional speech as he was overwhelmed by the excellent organization and the spirit existing in the function and offered full personal and the US embassy's support to enhance the activities of the school as this is a part of his function and being done through a number of schemes like Full bright scholarship etc.
Shugan Jain first read an excellent message received from Prof. Cromwell Crawford, Academic director of the program and thanked everybody associated with program and the function. The program concluded with Jain vegetarian meal.
The entire function was compeered by Ms. Priya Jain, a young IT engineer recently returned from US and her team of young college going Jains Aditya, Prerna and Atika. The function was an experience never had before.
The leaders of all the four Jain sects were seen together in a happy mood, talking and sharing views with each other and inviting the India Director to meet them and contribute to the Jain movement in India itself. Three of the leading personalities insisted and are inviting the scholars to visit their homes and experience Jain living.

Another scholar, Ms Rambhoru Brinkman wrote as follows:
"The inaugural program held for the International Summer School was a profound expression of jain culture and a deeply meaningful experience for me. I was particularly impressed by the profuse gratitude exhibited by Shugan and Sulekh Jains for each and every participant of the program- which included even those whose contribution-at the first glance- might have in another context- been taken for granted. The message this meticulous show of appreciation conveyed to me was - regarding how every event and occurrence in life is dependent upon many factors and personalities. No one person independently can do anything. All accomplishments depend on many supporting factors. The meal that was so tastefully prepared and served according to Jain standards was - perhaps-one of the finest and most enjoyable meals I have taken so far."
We are also planning a similar concluding function (convocation) to mark the completion of the program on July 30th or 31st. We hope that a large number of you will attend that program and experience the pleasant waves of Jain academic studies and experiencing the Jain way of life flowing in Delhi, Jaipur, Ladnun and Indore. It is heartening to know that the organizers in USA are already planning to invite a batch of 15 to 20 scholars next summer. Similarly a number if individuals and organizations have committed 100 percent support for the program, in terms of time, facilities etc for the next year.
We hope and pray that this Jain movement i.e. spreading the philosophy of Live and Let live and Ahimsa as propagated by Bhagwan Mahavira grows for the betterment of all human beings.
We also hope that the movement becomes a two way flow of exchange of scholars, joint research and creating a platform to continuously share our knowledge and experiences of Jainism and Jain way of life.
Jai Jinendra