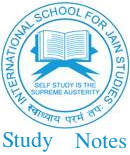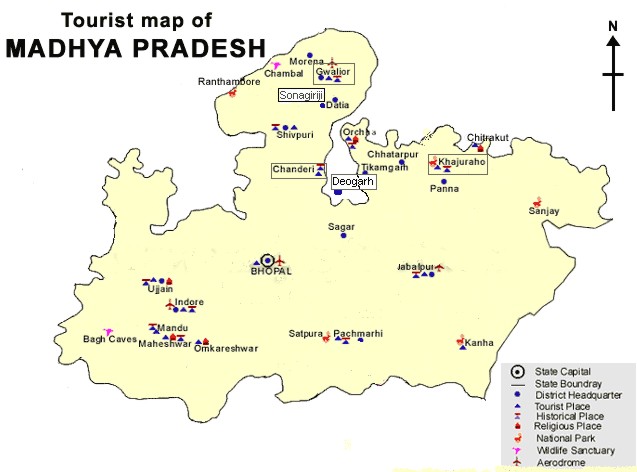 (G-1 Map of Madhyapradesh)
Map of central India shows the part of central India which abounds in sites of Jaina art and worship. Only some of the sites of interest to us for this pilgrimage are shown here. They belong to the area called Bundelkhand (primarily Madhya Pradesh with parts of Uttar Pradesh). Here we shall talk about the three places namely Gwalior and Deogarh for their art and Sonagiri for its religious and temples complex. Stories abound about Jain monks, rulers and others exercising influence and prospering in this area from 3rd century BC beginning with rule of emperor Ashok. Jain texts also talk of 8th Tirathankar Chandra Prabhu visiting Sonagiri seventeen times and subsequently thousands of their monks attaining salvation from there (Nanga and Ananga being the main ones).
From Jaina art perspective, the same begins at Mathura shortly before and under the Kushan dynasty (c 100-250). Also the same got a new phase during Gupta dynasty (c 320-500AD). In subsequent development this Jaina art spread to other places as well. Jaina art in central India regained its former glory at a somewhat later date with Gwalior (700-800AD) and Deogarh (850-1150AD) becoming Jain centres of art. These two places represent a new phase which is, on the whole, typical of central India and which can be called a regional style.
Gwalior
Gwalior is a modern city about 100KM from Agra, 150 Kms from Mathura on the Agra- Jhansi Road. It was the seat of Scindia dynasty and the ex rulers who still continue to be members of Indian parliament. The treeless fort-rock of Gwalior rises abruptly from the plain on all sides. It can boast of a number of exquisite Jaina sculptures. Some of them are rock cut and facing narrow ledges in the vertical walls of the solid rock. Others are free standing (not rock cut) and have survived; they are kept mostly in the new built archeological museum. Even though Gwalior and the fort are predominantly Hindu places (Teli ka Mandir(750- 800AD) and Caturbhuja temple(876AD), still we also find a dilapidated Jain temple (1108AD) inside the fort. However there was a revival of Jaina art in 15th century under predecessors of Man Singh Tomar (1486-1516AD). The rock sculptures of Gwalior are unsurpassed in northern India for their large number and colossal size but from the artistic view they are stereotype.
Deogarh (Uttar Pradesh)
Deogarh (Uttar Pradesh) is a small village situated about 40KM from Lalitpur and 200 KM from Gwalior. The name suggests a fortification which encompasses temples. There are many places in India by this name for this reason. Deogarh is known both for Gupta temple (500-550AD) and group of Jain temples in the eastern part of the fort (850-1150A). Deogarh temples and idols are important due to their stylistic and iconographic variety. The sheer number of images is impressive and more than 400 deserve description. The material used at Deogarh is sandstone, often of a warm brick red colour.
Sonagir / Swarngiri (Golden Hill)
Sonagir or Swarngiri (golden hill) is a Jain temple village with more than 120 Jain temples on the hill and plains around the hill. It is considered to be the second most important pilgrim place of Digambar Jains (after Sammetsikhar) due to the large number of temples, several hundred monks attaining salvation and the 8th Tirthankar Chandra Prabhu visiting the place seventeen times along with its location on the main rail and road link. There are several annual festivals, the most notable being around Holi festival in Feb-March when several thousand Jains gather for prayers and pilgrim. The temple architecture, especially the domes (shikhars) are noteworthy as belonging to different styles and periods (1300AD onwards).
Gwalior:
We can group the images at Gopachal in five sub groups as follows.
Urvahi group:

There are twenty two idols in standing postures on the way to the fort from Urvahi Gate. On five idols we find engravings to show the year 1440-1453. Idol number 20 of Lord AdiNath is the tallest, being 57 feet high and 5 feet wide at the feet(G-4). Idol number 22 of Lord NemiNath in sitting posture measures 30 feet high and we cannot find such a tall idol in sitting posture anywhere in India. In 1527, the Urvahi Jinas were mutilated by the Mughal emperor Babar, a fact which he records in his memoirs.



South-west group:

This group is located on rock outside Urvahi gate and under Khematal. There are five idols. Idol number G1 depicts a small child, husband and wife (poibly servants) and idol of lord Mahavir with his mother Trishla in sleeping posture and eight feet long are the important ones (G-5).



North-west group (G2):

Near Toda gate, there are three idols of Lord AdiNath having inscription of the year 1400AD and the names of the sculptor and the bhattarak who made these idols.



North-east group:

This group consists of small idols having inscription of the year 1355AD. These are located in a cave above Ganesh Gaur.



South-east group

(G3): These are considered to be the most important. Immediately after leaving the Phoolbagh gate under the Gangola Tal and spread over a kilometer and mostly cut in the rocks. There are 20 idols which are 20 to 30 feet tall and another group of same number measuring 10-15 feet tall. Some idols have inscription of year 1403AD on them.
Besides tirathankars we also find a number of idols of yaksh and yakshinis. We also find a number of idols moved to the Gujarimal museum and other places for safe keeping. We shall also visit the Golden temple in Gwalior, famous for its intricate art work in gold.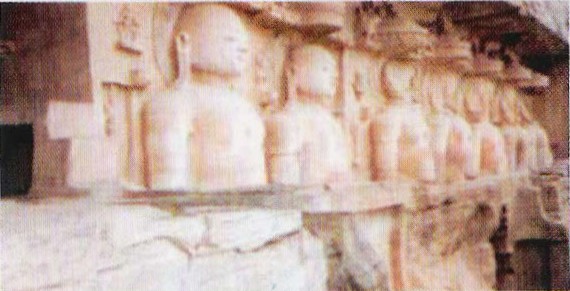 (G-2 North-west group idols)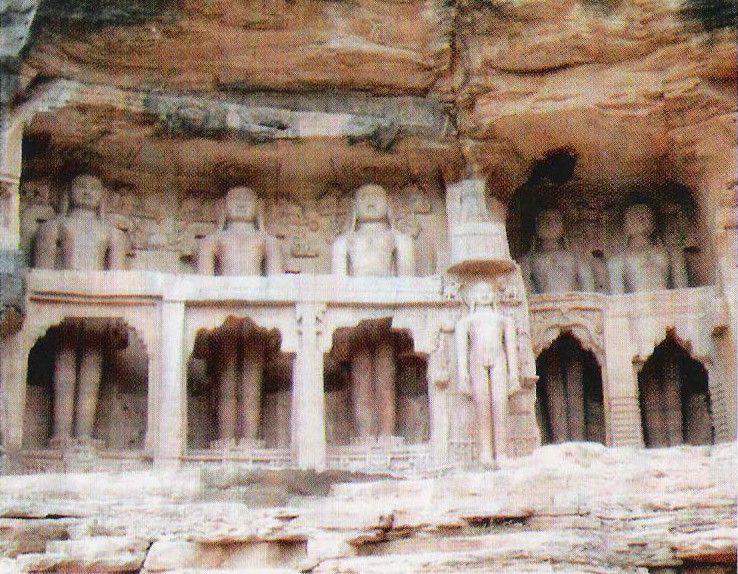 (G-3 South-east group idols)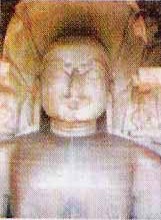 (G-4 Lord AdiNath is the tallest, being 57 feet high and 5 feet wide)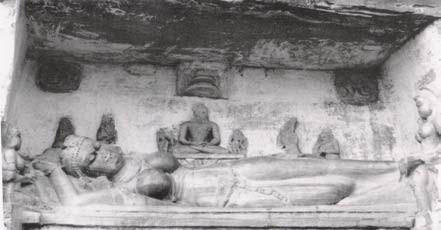 (G-5 lord Mahavir with his mother Trishla in sleeping posture)
Sonagir or Swarngiri
A small hill, called Sonagir, or the golden hill, is the central part of the place with more than 76 temples atop, mostly painted in white lime and having saffron Jain flag atop each (S1)making this place look distinct, pious and sends religious fervor to visiting Jain pilgrim. The domes of most of the temples on the hill (except main and a few others) are like half sphere and perhaps influenced by the Muslim architecture. The entire walk is approximately 3 km with the main temple (S2) having the large idol in standing position of Chandraprabhu, the 8th Jain tirathankars. The idol is supposed to be miraculous as ailing sick parts of the body (especially eyes) by sheer looking at the idol get cured. Perhaps this is the only temple where the twenty two afflictions (parisahas) of Jain monk are pictorially described on the walls. On the hill we also find a replica of religious congregation (samosaran) of the Jina and a newly built Nandishwar temple. The top of the hill with the main temple (no 54) has a large platform which provides a pleasing view of the green fields and water bodies all around and had been acclaimed as a very serene place encouraging meditation by previous scholars of ISSJS. On the foot of the hill, there are more than 25 temples and large number of dormitories to stay. The latest addition is the Kund Kund Nagar having very good lodging, boarding and meditation facilities with Jain scholars available most of the time for religious discourses.

(S-1 Temples with Flags)

(S-2 main temple of Sonaagiri)

(S-3 Moolnayak Candaprabhu)

Deogarh

The Jaina temples of Deogarh boast of a great number of images, virtually the greatest concentration of Jaina image in the whole of India.

The great ShantiNath (height of the figure 3.73mt.) in temple no. 12 at Deogarh; organization of image divinities and there are also image of Jaina monks. The image (idols) is built before 862. this temple consist of a quadrangular structure which is crowned by a tall tower (shikhara). The circumambulatory passage of temple no.12 is jammed with colossal Jina images and the sanctum (sanctum plus vestibule) houses, besides the great Shantinatha image fore standing image of the Jaina goddess Ambika. If we allot the elements which surround the great Shantinath to three vertical zones, we can read the upper portion without difficulty. The vertical zone to the left has from top to bottom, a male garland bearer, a rosette two Ashoka trees an elephant with small figures a garland bearing couple, fore figures standing for planets, and the capital of the pillar.

An image of jina is housed in the narrow sanctum of temple no.15. the unconventional element repeats basically the motifs (standard motifs) of the top area as seen in ill D2 (garland bearers etc.). The motif of the lion throne is amplified by the addition of a cushion and two blankets left and to the right of the throne. The carving of the composition is delicate and some decorated surfaces such as the halo with its flower design must be viewed up close to be properly appreciated. Unfortunately, this image is among the pieces which have been altered in the course of the more recent operations.

Reference:- Jainism page no. 110

(D-1 Candaprabhu)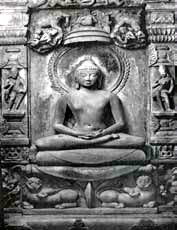 (D-2 Unnamed Jina in Deogarh temple no. 15)