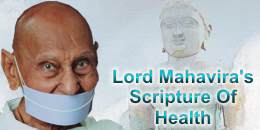 Problem of Health of the Aged
As for the health of the aged, the question is: when does old age begin? Man does not become old till the age of 70 years. He who believes himself to be old before that becomes prematurely old because of the faulty conventional belief. No one should consider himself old before he has reached the age of 70 years. Even after reaching that age, old age would begin somewhat later if the person is alert. The modern science is taking active measures to see that man does not age. The scientist today is conducting research to find out the ways of avoiding old age. Not only that, he is also devising ways of making him immortal.
Several methods are also being developed for that purpose. Many people have offered themselves to become immortal. They have already made their future plans. They have put certain amount of money in fixed deposits. The living body of such a person would be kept well protected in the laboratory on the day he choses. That body would lie in the form of a 'mummy' in an air-conditioned cubicle for a definite period. The time to bring it back to life would also be definite. At that particular time, that cold body would be brought back to life. This is not merely an imaginary idea of man. It is being actually implemented. The process is almost ready. Several people have already deposited the necessary amount of money while accepting this fascinating proposal. We cannot say for certain how far this attempt to make man immortal would succeed. No prediction about it can be made today. But these attempts by the scientists are definitely arousing new hope in man's mind.
Considerable attempts are being made to postpone the old age. Ways and means are being discovered so that old age can be forestalled and the phase of old age never comes and man remains eternally young. Probably, the Sage Chyavana had discovered the formula of Chyavanprasha so that man would never become old. But today even those who take Chyavanprasha are becoming old. The scientists are laying stress on taking vitamins. They recommend vitamin A, vitamin B, fenugreek etc. in order to gain strength and prevent the ageing process. Several such methods are being adopted, but man still ages.