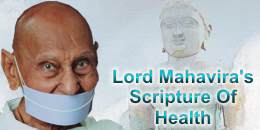 Anupreksha [contemplation] and Svasthya [health]
The first point about the development of contemplation in prekshadhyana is determining the objective. First and foremost, we must decide what we want to do. Contemplations are of different kinds and their achievements are also different. The abhaya anupreksha is very useful if we wish to get over our fear. The anupreksha for harmony is very useful if we want to overcome strife and conflicts. Therefore, it is necessary to decide what we wish to be. Anupreksha can be practised only on the basis of a definite objective. If we wish to improve our health, we must contemplate on health. Right now, in prekshadhyana, more than 30 types of anuprekshas are being practised. But this is not enough. There is a scope of further developing them and hundreds of types of anuprekshas can be practised. But their development and practice would only depend on what we wish to be. The practice of anupreksha can be decided only on the basis of the objective.
The second point is the development of concentration of mind. We must concentrate our mind completely on the objective we have set for ourselves.
The third point is to follow the commands of the mind and the brain and completely absorb them. We must present our objective in terms of the language. You want to develop the fearlessness then present it in the language of order like as: "I wish to develop abhaya, the feeling of fear is beginning to vanish and the feeling of abhaya is growing. The suggestion and the command of the brain is, abhaya has to be developed."
The hypothalamus, which is the main centre of emotions, should be given the suggestion, "Bring into action such emotions that would develop the feeling of abhaya. We should send the suggestion of the hypothalamus to use the secretions that would promote the development of the feeling of abhaya.

The fourth point is the experience or the use of motive words. After giving the command to the brain after that link your experience with it. The feeling of abhaya is beginning to grow. Let it not be restricted only to the verbal expression. Let it be linked with experience, with the emotion. The emotion brings strength. There is a very nice thing mentioned in Yoga: Charge haritaki with emotion.
ya, ra, la, va - are regarded as the seed elements. Its power would grow through emotion. Use the words to express your emotion and your experience. The atmosphere for abhaya would start building up.
This is the process of experiment of Anupreksha. Let us practice anupreksha in these four phases. Change is sure to come.