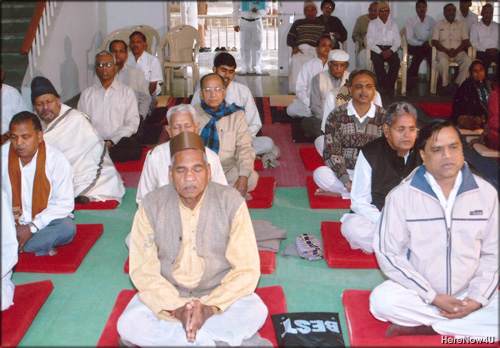 A seven days Preksha Meditation & Yoga, Heart Disease, Diabetes & High Blood Pressure Reversal Camp took place at Ahmedabad, Gujarat. It was the first time that such a camp was being organized from 5th to 12th January 2006 in theserene and natural environment at the premises of Preksha Vishva Bharati, Kobe, Ahmedabad. The management of the camp was handed over to Terapanth Yuvak Parishad, Ahmedabad, with the collaboration of Adhyatma Sadhana Kendra, New Delhi.
Dr. Roopkumar, an eminent physician of the city had offered free services for pre & post medical tests at his Chandramani Hospital to all the participants in the camp. In the afternoon on 4th January 2006, he also organized a lecture cum demonstration for a seminar of doctors at Shahibagh Terapanth Bhawan, to acquaint them with the Preksha Meditation reversal technique.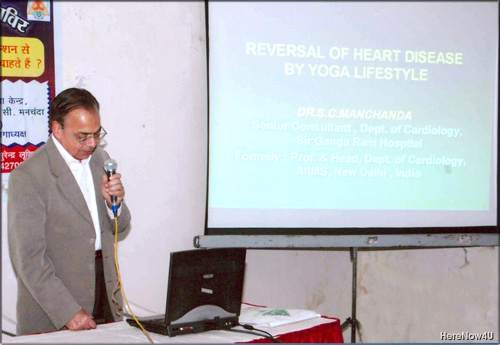 Prof. Dr. S. C. Manchanda (photo), former head of Cardiology Dept. of AIIMS, New Delhi, presently working as chief consultant for the Cardiology Dept. of Sir Gangaram Hospital, New Delhi, had been invited to deliver the lecture to the doctors. Dr. Manchanda explained them that the CHD (Coronary Heart Disease) is spreading so quickly in India and why the treatment offered by medical profession is inadequate and not much helpful. He explained how he had carried out a research to reverse the CHD. It had wonderful results. He informed the doctors that the Yoga lifestyle intervention was of Preksha Meditation Technique under supervision of Swami Dharmananda, a coordinator and director of Adhyatma Sadhana Kendra in this project, through the multimedia power point projection. He clarified more of the subject in a question-answer session. The session was followed by a lecture of Swami Dharmananda on the technique of Preksha Meditation. He also guided them through a practical meditation session of Perception of Deep Breathing. How science and spirituality had worked together, was highly appreciated by the audience.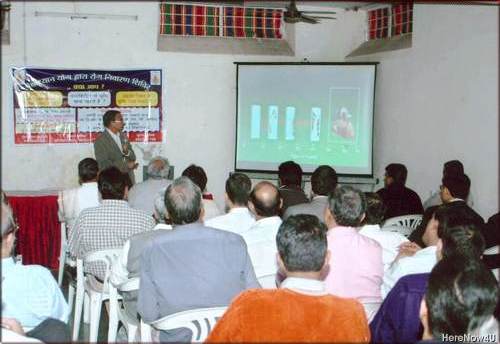 On 5th January at Preksha Vishva Bharati, Kobe, the seven days Heart Disease Reversal Programme was inaugurated by Dr. S. C. Manchanda (photo). He gave information about how heart functions and CHD is spreading quickly in India. He inspired the participants to learn Preksha Meditation which will definitely help them to reverse heart disease, as already more than fifteen thousands heart patients have benefited from the same. He clarified the different points raised by the participants. Swami Dharmanandji guided them to meditation session after informing them about Preksha Meditation Technique. Regular practical classes of Perception of Deep Breathing, three times, Kayotsarga (Deep Relaxation), twice, H. R. E., Asanas, Pranayama, twice, and contemplation, once, were held. Besides these practical classes, theory classes for Preksha Meditation, Anuvrat, and anatomy & physiology classes were held. All the forty participants were very happy and learned the technique with great interest.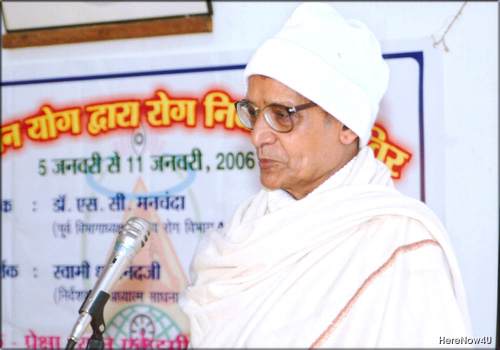 Swami Dharmanandji (photo) also guided the employees of Rajasthan Patrika, a daily leading Hindi Newspaper in Preksha Meditation Technique. He also had a meeting with the members of Gurukulam, Hirajain Society in Sabarmati, Ahmedabad and had a meditation session.
Dr. Tarun Dave, a leading cardiologist and previous student of Dr. S. C. Manchanda, was pleased to hear the experience of the participants and glad to say that he was planning to establish a rehabilitation centre for heart patients. Now he is happy that Preksha Vishva Bharati Kobe can fulfil his desire. He and other cardiologists will send the patients to this centre for rehabilitation.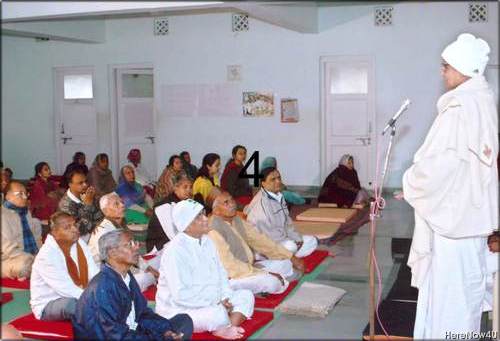 On the concluding day, Swami Dharmanandji addressing the camp participants (photo), trustees and guests said that such camps are very useful and reminded the participants to continue the practice, which they had learned during the camp (photo below). They will feel the benefit after the continuous practice for six months and get inspiration to continue the same for their whole life. Their changed behaviour and attitude will influence the members of their family and within their friend circle.
Dr. Roop Kumar was happy to hear the experience of the participants and pleased to inform that his life has changed after attending the Preksha Meditation Camp with his wife twelve years ago. He has 70 to 80 % control over his anger and his employees are more happy and doing work more sincerely. He expressed his gratitude to H. H. Acharya Mahaprajna for inventing the Preksha Meditation Technique.
Some of the experiences of the participants are given below:
Sri Chinubhai Shrimali said that he had come with curiosity and is now confident, that heart disease can be reversed with these practices.
Sri Hangimilal said he is fully satisfied with the training of the camp and he will finance participation of two needy participants in a future camp.
Sri Bajrang Lal Agrawal felt that this camp has changed his life by feeling relief in High B. P. and knee pain. He offered his services for such camps in the future and will bring more participants for the camp.
Sri Sunil Amin from Anand felt that he is healthy, but came only to know about the Preksha Meditation Technique. He said it is a well-designed camp for the reversal of disease cases., being preventive as well as curative in heart disease, diabetes and High B. P. He will be glad to become a volunteer in such camps in the future.
Sri Mithalal Porwal, the chief trustee, had also participated in the camp with his wife Smt. Chanchal Ben. Both of them had been pleased with the training during the camp, which had given them great relief in disease. They requested Swamiji for more camps at regular intervals in Kobe.
Sri Gautam Surana, the secretary, was very happy to hear the experiences of the participants and requested Mr. Sunil Pandey, who had come with Swamiji, to stay there to run the camp and train the yoga instructors to run the camps there. He facilitated Swamiji by offer shawl to him.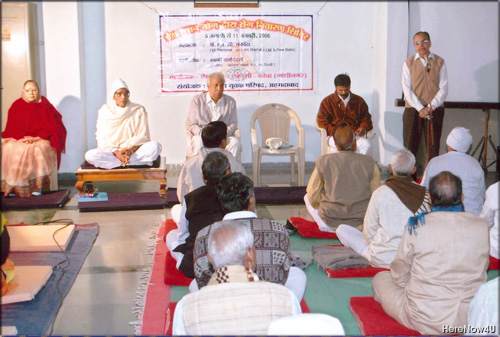 Smt. Nirmalaji, wife of Swami Dharmanandji (photo, first left), guided the ladies in the practice of Kayotsarga, H. R. E., Yoga Asanas, and Pranayama. Further, she gave them advice in ladies' problems, which was facilitated by Smt. Chanchal Ben Porwal. Mr. Sunil Pandey was facilitated by Mr. Mohanlal Chopra, secretary, Terapanth Yuvak Parishad. Swami Dharmananda assured the trustees that all possible help will be given to make the future camps a great success.
Sri Mohanlal Porwal, a devoted Sadhak of Preksha Vishva Bharati, Sri Sohanlal Bharsariya, a regular yoga instructor in Shahibagh classes, Sri Dhanraj Bhansali, Sri Amritlal Mukesh Guglia, Gajendra Bhandari, Sri Avinash Jain, Mahaveer and Joshi and others had worked hard to make this camp a great success. The management of the camp and service of food was excellent and had put a great impact on the participants. Mr. Dharmendra Jain, son of Sri Jinendra Kumar, the editor of Young Leader, a daily newspaper in Hindi and Gujarati, also helped to promote the activity.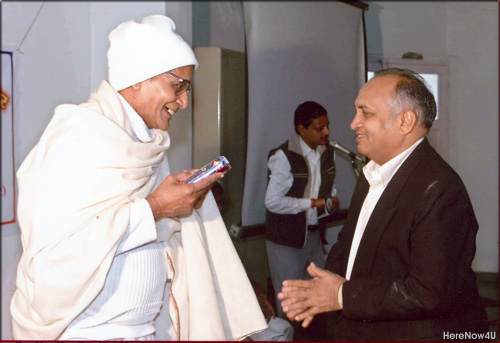 Swami Dharmanandji talks to a happy participant