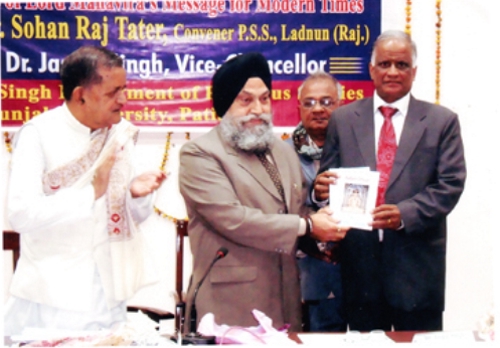 Vice Chancellor of Punjabi University Patiala Dr. Jaspal Releasing the Book "Atma Dhyan" Translated by Purshottam Jain & Ravinder Jain on the ocassion of Achyara Tulsi Memorial Lecture Series on Dt. 17-02-2009
Acharya Tulsi Memorial Lecture was held in Punjabi University. Patiala Science Auditorium on 17th February. 2009. Guru Gobind Singh Department of Religious Studies arranged the lecture with the financial help of Acharya Tulsi Memorial Lecture endowment fund sponsored by Parmarthik Shikshan Samstha, Ladnun (Rajasthan). Relevance of Lord Mahavira's Message to Modern Time was the main topic of the lecture, which was delivered by Professor Dayanand Bhargava. Dr Jaspal Singh. Vice-Chancellor of the Punjabi University, Patiala presided over the lecture. Smt Laxmi Mittal Executive Member of All India Terapanth Mahila Mandal was the Guest of Honour at the lecture programme.
The Vice Chancellor while delivering presidential remarks expressed his great satisfaction on organizing such lectures relating to spiritual and moral values by the Department of Religious Studies. He quoted Gurbani emphasizing diversity among the different religions but also underlying unity of human values in them. He said in a bid to promote religious harmony. Guru Gobind Singh Department of Religious Studies would be transformed into an 'Advanced Center of Inter-Religious Dialogue' for promoting religious harmony. Professor Dayanand Bhargava, former Head of the Department of Jainology, Comparative Religion and Philosophy, Jain Vishva Bharati. University, Ladnun (Rajasthan) nicely conveyed the gist of Lord Mahavira's teachings and its relevance to Modern lime. He delved deeply into the value of the equanimity in both stales of pain and pleasure was appreciated by all religions. He threw light on the efforts for the service of humankind made by Acharya Tulsi ji and his worthy disciple Acharya Mahaprajna ji. He further told that Jain religion gave importance to self-vigilance, self-purification and self-control. It also believes 00 supreme-self that is paramatma. One should not consider it to be agnostic religion. No other agency harms man as much as he himself and holds responsible other for the harm. Actually man becomes responsible himself for his harm. Jain religion rather urges a man to be industrious. No one comes lo help you if you do not help yourself. The Guest of Honour Laxmi Mittal delivered vote of thanks on the behalf of Jain community especially to the Department and University for organizing such a good lecture on such a good theme. The prominent members of the Jain community and teachers, researchers and students of the University also participated in the Memorial Lecture.
Dr. Rajinder Kaur Rohi, Head of the Department of the Religious Studies presented her introductory remarks about the lecture series, delivered welcome address and convened the lecture programme. Dr. Pradyunma Shah Singh Programme Coordinator threw light on the life of Acharya Tulsi Ji who was the ninth Acharya of the Terapanth Dharm Sangh and also delivered vote of thanks.
On this auspicious occasion the book titled Atma Dhyan translated into Punjabi Language by Purushottam Jain and Ravindra Jain and a book by Tejinder Kaur titled Yahudi Ate Isai Dharm were released by the Vice-Chancellor.
Dr. Rajinder Kaur Rohi
Head of the Department

Pradymnna Shah Singh
Programme Coordinator