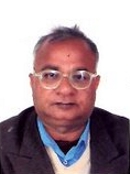 Lifetime
Born:
23.10.1949
Contact
Phone:
91-1675 - 261234 (R)
Mobile:
91-98158 - 05555
E-Mail:
About
Name:

Ravinder Jain

Father's name:

Sh. Mohan Lal Jain

Date of Birth:

23rd October, 1949

Place of Birth:

Malerkotla, Distt. Sangrur (Punjab)

Marital Status:

Married

Qualification:

B.A. from Panjab University Chandigarh in the year 1972 and Additional B.A. (Religion) from Punjabi University Patiala. Also cleared so many Examinations on Jainism conducted by different orgnisations like Shwetambar Jain Terapanth Sabha Kolkatta, Pathdi Board and Shri Atma Ram Jain Shiksha Niketan, Ludhiana

Started Writing:

From 1972

Total Publications:

42 Books on Jainism in Punjabi & Hindi.

Permanent Address:

Mahavir Street, Old Bus Stand, Club Chowk, Malerkotla Distt.: Sangrur (Punjab) INDIA

Phone No.:

+91-1675 - 261234 (R)

Mobile:

++91-98158 - 05555

Inspired by:

Jain Sadhvi Sh. Swaran Kanta Ji Maharaj

Awards:

Shramanopasak Award by Hon'ble President of India Giani Zail Singh at President House on 27th Feb., 1987

Sahasar Hindi Sevi Award Organised by UNESCO at New Delhi in the year 2000.

Award of Honour by Language Deptt. Punjab in the year 2001.