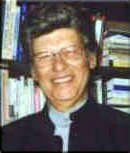 Address
University of Hawaii, Department of Religion
2530 Dole St.
96822-1835 Honolulu, HI, USA
Contact
Phone:
(808) 956-4200
Fax:
(808) 956-9894
E-Mail:
Links
http://www2.hawaii.edu/~scrawfor/
About
Dr. S. Cromwell Crawford is the Chairman and Professor of the Dept.of Religions at University of Hawaii, Honolulu. He has been there for thirty years and has guided many Ph.D. students in religious studies.
He is a pure vegetarian and follows principles of Jainism.
He is author of many books and research papers.
Regularly invited to speak in JAINA and YJA conventions.
He is an advisor to Jain Spirit magazine, Ahimsa Times, and several religious institutions.
Dr. Cromwell has done significant and somewhat pioneering research in Bioethics and Hinduism.
He wants to present the same subject from Jain perspective.
His latest two books on Bioethics and Hinduism were published by State University of New York Press and have been best sellers.
Dr. Crawford is familiar with India, Indian culture and can speak Hindi also.Born at Jhansi, Madhya Pradesh,
his parents were English in British army. His wife is a neurosurgeon from Hungary.
Dr. Cromwell has been to India many times and also has been invited and decorated by Govt. of India.
Education:
1966 Doctor of Theology, Pacific School of Religion, Berkeley, California.
1959 Master of Arts (Philosophy/Ethics), Indiana University, Bloomington, Indiana.
1952 Bachelor of Divinity (Theology/Philosophy/History of Religions) with Distinctions, Serampore University, West Bengal, India.
Academic Positions:
2001 Chairman, Department of Religion, University of Hawaii.
1999 Graduate Chair, Department of Religion.
1992-96 Director, Center for South Asian Studies, School of Hawaiian, Asian, Pacific Studies, University of Hawaii.
1988-91 Chairman, Department of Religion.
1979-82 Graduate Chairman, Department of Religion.
1965 Professor, Department of Religion, University of Hawaii, to present
1952-54 Lecturer, Union Theological College, Pune, India.
Research:
1972 School of Oriental and African Studies, London.
1979 Fellow, Tata Institute of Social Sciences, Bombay.
1992 Fellow, Department of Anthropology, San Paulo University, Brazil.
Languages:
English, Latin, Greek, French, Hindi, Sanskrit.
for more informations see his profile at:
http://www2.hawaii.edu/~scrawfor/
---
Articles: