The organizers of the International Summer School for Jain Studies met at the University of Hawaii, Honolulu on October 5, 2005. The meeting was attended by a delegation of 18 prominent Jains from India, U.K and U.S.A. The meeting was presided over by Dr. Judith Miller, Dean, College of Arts and Humanities and was opened with the welcoming remarks by Prof. Cromwell Crawford, Professor of Comparative Religions at the University of Hawaii. Prof. Crawford is also the Academic Director of the International Summer School for Jain Studies.
In his welcoming remarks, Prof. Crawford emphasized the need and importance of this unique program. He mentioned that Jainism is one of the three major religions (Hinduism, Buddhism and Jainism) that developed in the Indian sub-continent before the Common Era.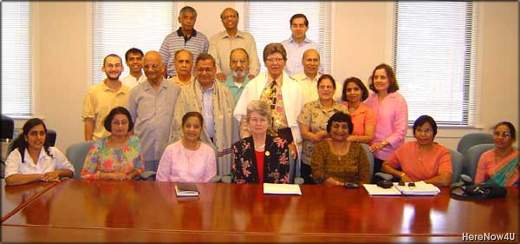 He further stated that South Asian studies is making rapid advances in American universities, due to
the new pluralistic outlook in the country,
the large and growing influx of immigrants from the subcontinent who give faces to Hinduism, Buddhism, Sikhism, and Islam,
an increasing number of faculty of Indian origin,
the emergence of religion as a major political player on the world stage, and
the felt need to think globally.
Though Jainism is the oldest of Indian traditions, and presents a rich field of scholarship, it has a comparatively miniscule status in North American academia. Approximately 1000 colleges offer courses in all disciplines (religion, philosophy, art, history, music, language) of South Asian religions. These courses are offered on the undergraduate and graduate levels, and are taught by highly trained professors, with chairs in prestigious centers of learning. By contrast, in the estimate of Jain scholar, Professor John Cort, there are only some 17 academicians, in as many colleges that are engaged in Jaina studies; and there are no indications to suggest that the present status will change for the better. Certainly, the reverse is possible: either in a world of rapid change, you move forward or you move backward.
He further emphasis that this situation is ironic, because while Jain studies goes begging, the Jain community in North America prospers like no other community in the fields of business, medicine, engineering, etc. To close this disparity, it is essential that the college-educated children of Jain families have access to the intellectual sources of their culture. It should also be a mark of pride for American Jains to have their culture studied and disseminated by the brightest in the land. More than pride, conditions in the world call for the type of culture that Jainism has to offer America and the world; a culture that has been shaped by thousands of years in the study and practice of humanitarian values that flow from the Jain ideal of ahimsa. Beginning with the time of Lord Mahavira, Jain teaching-monks performed this task through personal contacts, "but now with the changing lifestyles, modern education, instant communication and the internationalisation of the Jain community, the dissemination requires the study of Jainism at the academic level both for its traditional and contemporary aspects."
The International Summer School for Jain Studies attempts to build on the achievements of several earlier attempts but with this two-fold distinction: it is fully integrated within the American university system, in which students can earn up to credits towards degrees; and it is integrated with academic institutions in India, aimed at helping students understand Jainism within its indigenous environments. The plan is for a two-track program, open to students and professors in North American universities. Its purpose is to impart a basic grounding in the Jain religion within a cultural context where it is experienced as a lived reality. Through seminars, lectures, and library resources, students and professors will be provided with the basic intellectual tools for an understanding of the many facets of Jainism, including its history, politics, philosophy, ethics, architecture, visual and performing arts. Through fieldwork, they will be exposed to the culture of Jainism by means of temple worship, rituals, festivals, family ceremonies, and visits to Jain homes.
Prof. Crawford briefly reviewed the progress and achievements of the first International Summer School held in India during June and July, 2005 in which Six Ph.D. and M.A. students and one faculty members from Universities in USA and Canada participated. Prof. Crawford termed the first school as a great success. Next year the class will consist of fifteen students and faculty members from North American Universities. Dean Miller welcomed the Jain leaders and thanked them for this great initiative. She mentioned that no Indian philosophical studies are complete without the study of Jain philosophy and its contribution to Indian thoughts and culture. She also hoped that these Summer schools will help in exposing many students and faculty members throughout North America to Jainism and after their return; they will become catalyst in starting regular studies and research in Jainism. Dean Miller was very happy to be associated with the program and promised all support to the program.
Mr. Shugan Jain from Delhi; the India program Director of the International Summer School a non- profit organization in India gave a brief summary of the performance and functioning of the program. In his briefings, he also shared the feedback from scholars, and, lessons learnt etc. The Jain delegation honored Dean Miller, Prof. Cromwell Crawford and Mr. Shugan Jain for their dedicated, vision, support, guidance and distinguished contribution to the success of this program. All were presented with traditional and valedictory shawls, and badge of the Summer school. Dr Bruni, Chair, Dept of Religion University of Hawaii in her remarks talked about the program and of her full support. She mentioned that she is already engaging students of the first 2005 Summer school to offer classes in Jainism at University of Hawaii. Dr. Bruni made a request to create a Departmental library of 30 to 40 books on Jainism for the use of the students and the faculty. Her request was immediately accepted by the Jain leadership and assured her that very shortly we shall provide needed books to her Departmental library.
The Jain delegation consisted of Dr & Mrs. Sulekh Jain (Houston, TX), Dr & Mrs. Tansukh Salgia (Columbus, OH), Dr & Mrs. Dilip Bobra (Phoenix, AZ), Dr & Mrs. Natubhai Shah (London, U.K), Mr. & Mrs. Prakash Jain (Seattle, WA), Dr @ Mrs. Chandra Khasgiwala (Boston, MA), Mr. & Mrs. Swatantra Jain (Houston, TX), Dr. and Mrs. Shugan Jain (New Delhi, India), Dr., and Mrs. Virendra Bhachawat (San Antonio, TX);
In the evening, the entire delegation was given a dinner reception hosted by Philanthropist and well-known Indian family; Gulab and Indru Watumull at their beautiful and exquisite home. Watumull family support many civic and educational activities and program in Honolulu and at the University of Hawaii. They also have a special wing devoted to rare Indian arts at the Honolulu Museum of Fine Arts. The entire International Summer School Program in Jain Studies is coordinated, funded and managed by Mahavir World Vision Inc. USA. For information, please contact Prof. Crawford ; Sulekh Jain or Tansukh Salgia ; or