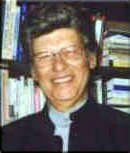 Professor Cromwell Crawford,
Director ASJNA
Academic Study of Jainism in North America
July 31st 2005
I am not a prophet, nor am I the son of a prophet, but I do confess to having made a prophecy, albeit in the euphoria of launching this International Summer School, that this experience would be life-changing for you. The day of reckoning has arrived, and it is now up to you to pass judgment on my prophetic skills. Question: Have your experiences in these two months changed you in some shape or form (not counting the effects of a vegetarian diet!)?
First, examine the meaning of " change " - it is not necessarily good. Philosopher Martin Buber draws a line between the role of the propagandist and the educator. The propagandist wishes to impose himself, his beliefs, and his life-style on the other person, but often with enough subtlety for you to think that these changes are of your own making, the result of your own choices. We popularly associate this kind of manipulation with the salesman, the politician, and the missionary.
But what of the educator? Does she not want to bring about some change in the student? To deny this would be to reduce education to information, in which there is no feeling, passion, or point of view. Of course, the educator counts on change; but it is different to the change of the propagandist. Like the propagandist the educator wants to affect the student, but he or she wants to accomplish this by enabling the pupil to unfold something that is really there in his or her own being. In the case of the Jain educator, it can be stated categorically that he does not wish to impose himself, for he believes that in every person what is true and good and beautiful is established in a singularly unique and personal way. The hope is for the student to draw on these inner resources and to develop his or her own point of view, which might even turn out to be different to that of the teacher! This is to say: each person is the product of his or her own mental and physical environment, and the job of the teacher is to be sensitive to the budding perspective of the student, so that with critical and constructive input, the bud may mature to flower and fruit.
Jainism teaches that my perception of the other person is usually inadequate, and this requires that I must try to overcome that inadequacy. The educator does this by making the student present. Of course, the student may be present in class, and is seated there before the instructor. But making someone "present" in a Jain sense is to regard the person as the very one he or she happens to be. The Jain professor tries to become aware of his student as uniquely different in his own peculiar way. Not only does he recognize him in his difference, he accepts him in his difference. He confirms him even though he believes the student is wrong! Here, the professor is affirming the freedom of the student to have the precious opportunity to make his own errors, and to become what he would become.
Through all these personal negotiations, Jainism requires our cultivating a heightened awareness of other people. I must experience my student as a whole, in his own her own concreteness. This quality of awareness is far removed to our customary analysis and dissection of others. Sometimes we reduce the other person to an abstraction - "she is only a dumb blond." Sometimes we cut down a person through a stereotype - "he is a villager" (gavari), or a shudra. In contrast, Jainism tells us to cultivate sensitivity through the use of our imagination. A practitioner of ahimsa is, by definition, an imaginative person. An unimaginative person cannot be a Jain. Imagination that is sensitized by ahimsa, allows you to "go over to the other side" and put yourself in the other's place, and to view the world from his perspective.
Furthermore, Jainism counsels that the teacher must not only make the student present to him, but must himself become present to the student. This means that in the guru-chela relationship, the professor is at all times open and accessible. He does not hide behind Sanskrit words or texts from the holy scripture (which are not to be questioned), nor does he piously invoke the mahavakyas of the saints, which, translated, means, "Back off!"
When we bring Jainism into this pedagogical picture, regrettably, the ideal description does not always fit with historic reality. Our professors, leaders, monks and nuns do not always live up to the norm of transparency. But, this, too, is a reason for change, and because of your studies, you are now equipped to become new makers and movers of change!
In closing, let me remind you of what Mark Twain had to say about this subject. He said "cauliflower is nothing but cabbage with a college education." If you came to India as a cabbage, and are leaving as a cauliflower, allow me to congratulate you on your success, and thank you and your teachers for validating my credentials as a true prophet!
Cromwell Crawford