Lifetime
Born:
10.10.1946
Digamber Info
Diksha:
30.06.1968
Links
https://www.facebook.com/VidyasagarGmuniraaj?fref=ts
About
Acharya Vidyasagara was born at Sadalga, Dist. Belgaum, Karnataka, India on Sharad Purnima, in 1946. (10-10-1946)
He took diksha in 1968 (30-06-1968) in Ajmer by Acharya Gyansagar ji, who belonged to the lineage of Acharya Shantisagar.
He was appointed Acarya in 1972 (22-11-1972), when he was only 26.
His conduct as a Digambara monk has been exemplary. He is known for his strict ascetic conduct and his ability to compose verse in Sanskrit, Hindi and Kannada with equal ease.
He has made tremendous contribution to Jain literature in the form of six Sanskrit Shatakas, Champukaavy, Mook-Maatee (epic), ten shatakas, three volumes of poems and 24 volumes of poetic renderings of Jain scriptures.

Since his diksha in 1968, especially after becoming Acarya in 1972, he has staunchly promoted Jain values and the Jain religion. He is revered by millions of Jains and non-Jains and it is a matter of pride for Bundelkhand that the learned Acarya has spent most of his vihara and caturmasa kala in Bundelkhand.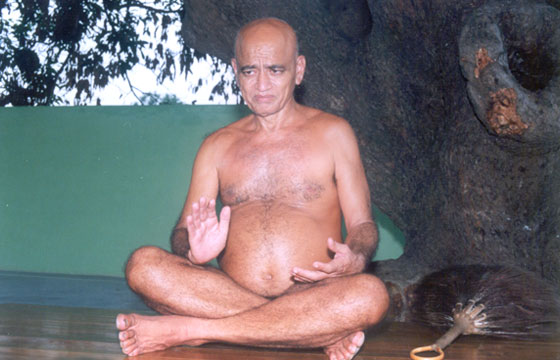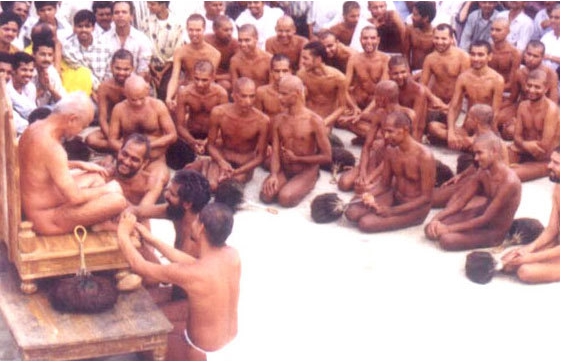 Works
An expert in classical (Sanskrit and Prakrit) and several modern languages, Hindi, Marathi and Kannada), he has been a prolific author in Hindi and Sanskrit. Several researchers have studied his works for masters and doctoral degrees. His works include:
Sanskrit texts: Niranjana Shataka, Bhavana Shataka, Parishah Jaya Shataka, Suniti Shataka and Shramana Shataka.

Hindi epic: Muka Maati, published by Bharatiya Jnanpith.

Verse translations of classics: Yogasara, Ishtopadesha, Samayasar (Kundakunda ka Kundan), Gomatesh thudi etc.

Verse translation of Samana Sutta
His tradition
He belongs to the tradition established by Acharya Shantisagar Ji:
Charitra Chakravarti Shri 108 Acharya Shantisagar Ji, who initiated

Shri 108 Acharya Virsagar Ji, who initiated

Shri 108 Acharya Shivsagar Ji, who initiated

Shri 108 Acharya Gyansagar Ji, who initiated Acharya Vidyasagar J
Some of his famous disciples
Acharya Pushpdant Sagar Ji, who has later been Given Acharya Pad by Acharya Vimal Sagar Ji

Aryika Anantamati Mataji

Aryika Dradmati Mataji

Aryika Gurumati Mataji

Muni Kshamasagar Ji

Muni Nirnayasagar Ji

Muni Niyamsagar Ji

Muni Praman Sagari Ji

Muni Sudhasagar Ji

Muni Vinamra sagar ji

Upadhyay Guptisagar
---
Rare photo:

~1980
Left: Muni Vidyasagar ji
Right: Acharya Jnansagar (Gyansagar) ji
---
Video: