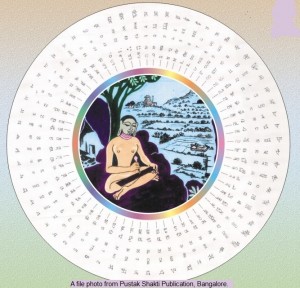 About
It may be a matter of debate on concluding the period when Muni Kumudendu existed. But to a rough estimate about a thousand year ago Muni Kumudendu dwelled in a village called Yelavalli near Nandi-Parvat in Kolar District of Karnataka. He was contemporary to King Amoghvarsh of Rashtrakoot dynasty. Muni Kumudendu was a Digambar Jain saint in lineage of Deshi Gana / Nandi Sangh.
Muni Kumudendu has dedicated 'Siri Bhoovalaya' to Lord Gommateshwara and has drawn inspiration from another great Granth titled "ShatKhandagam" by Muni Pushpadant and Bhutabali.
It is subject of serious research on – How could Muni Kumudendu create this unique epic which he scripted with complex arrangements of only numerals (range 1 to 64) covering verses and poetry in 18 major and 700 minor dialects at the same time? It is mentioned by himself that it took only 46 minutes to craft this great wonder.
Out of estimated 6000 Chakras, only one copy 1270 Chakras survived from clutches of time. Under strange circumstances this only remaining copy of the original manuscript was brought to light by Pandit Yellapa Shastri through his tireless efforts in around 1950's and continued till his sudden demise in 1957. Till that time this spectacular and only such creation in human history remained undiscovered. Since the whole script was in numerals and that too enciphered in variety of schemes, the work did not attract attention of even great scholars. Pandit Yellapa Shashtri deserves countless thanks for bringing this gem of originality to be recognized and appreciated by concerned persons.