The source of truth consciousness is faith, Acharya Mahaprajna remarked on the occasion of the felicitation ceremony by the Dharam Sangh to honour him for his 75 years of monkhood. He continued that the three factors mentioned in the scriptures, faith, revelation, and self-restraint are difficult to accomplish.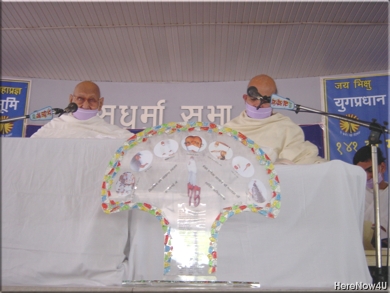 "I am happy to say that I succeeded to do so. Without right vision one is more attached to matter than to spirituality. What seems to be right in the beginning turns out to be false in the end. In the beginning, truth does not seem to be very attractive, but living in truth increases the inclination towards spirituality. Valuing self-restraint is rather difficult, but for me it was easy to rely on. I had the opportunity to understand all these factors, also due to the previous life.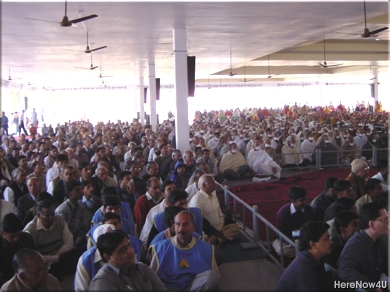 In the education field the misconception prevails that a child is born as a blank sheet. Due to this many illusions have cropped up. I was not born as a blank sheet, due to some impressions from the previous birth and to destiny I became a monk. What is hidden inside can come to the surface when the opportunity has come to bring it out. Then the hidden is expressed. Like a statue is carved out of the stone by the sculptor, I was initiated by the eighth Acharya, Kalugani Ji, and educated and formed by my mentor, Acharya Tulsi. I felt like put under an obligation by my full faith in them, their kindness and affection. It was a difficult task to live under Acharya Tulsi, as he had the power of discipline from his birth.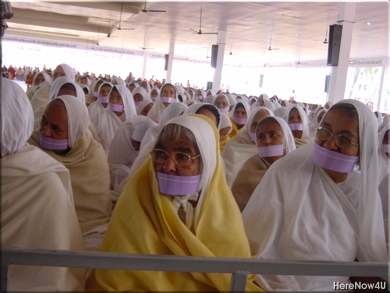 Purity and holiness of aims and actions in life are transforming the life-force. Life is linked to change and not to strict old rituals. When I look upon the 75 years of my monk life, I feel that I had spent the years full of activity and led a fruitful life. To control anger is one of the most important achievements, I did not become angry for 75 times during these 75 years of monk life.
To have got initiation in the Terapanth Dharm Sangh, to have worked under the great Acharyas Kalugani and Tulsi and to celebrate this day make me feel blessed."
Acharyashree closed his speech by inspiring his listeners to realise faith, revelation and self-restraint to live a fruitful life.
On this occasion His Excellency, the President of India, Dr. APJ Abdul Kalam, had sent a video message to H.H. Acharya Mahaprajna, presented by Dr. Y. S. Rajan. There the president stated, "Acharya Mahaprajna's divine message always sounds my heart."