Special Video message on H.H. Acharya Mahaprajnaji on the 75th year of his Monkhood.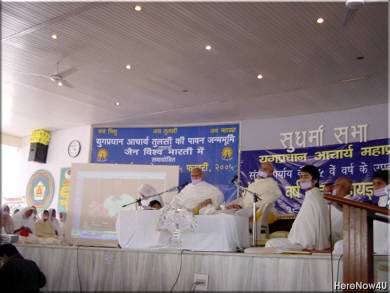 At Jain Vishva Bharati, Ladnun
18 Feb 2005

Acharya Mahaprajnaji: The Beacon of Monkhood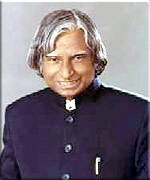 Acharya Mahaprajnaji,
Namaskar.
Today is a very important day. I am seeing in our country a great sage, who has been performing "Tapas" for the last 75 years. Through the intense Tapas, he has freed himself from passion, anger, love and hate. Presence of such great souls in the country spreads peace and promotes spiritual prosperity. He is a beacon light that attracts lesser mortals towards him to become enlightened souls.
There are three characteristics of his Tapas: Walk, acquire and give. He walks with undeterred dedication and concentration; acquires knowledge from every one he meets as well as from the nature; and radiates hope to the society through his writings, actions and practice. He is a towering inferno of knowledge that purifies every soul that comes into contact. I myself experienced this when I met Acharya Mahaprajnaji at Adhyatma Sadhna Kendra, Mehraulhi, 1999 at around midnight.
He prayed three times with his distinguished Jain Munijis for the welfare of the nation and the people. After the prayers, I still remember, he gave a divinely message to me which still reverberates in my mind. He said:

"Kalam, God bless you for what you have done with your team. The God Almighty has a bigger mission for you and that is why you are here with me today. I know our country is a nuclear nation now. The mission for you is greater than what you and your team have done, and it is greater than any human being had ever done. The nuclear weapons are proliferating in tens and thousands in the world. I command with all the divine blessings, you and only you, to find a solution to make the same nuclear weapons ineffective, insignificant and politically inconsequential".

When Acharyaji finished his great advice, there was a pin drop silence; it looked to me as though the confluence of heavens concurred with the sagical message. This command shook me for the first time in my sixty eight years of life. It had since then become a challenge working on me and has become a motto of my life.
On this day of celebration of the 75th year of Jain Acharya Mahaprajnaji entering the monkhood, I would like to give my respects by reciting one kural (couplet) from my
favourite Thamiz classic composed over 2200 years ago by Thiruvalluvar. The Saint Poet has devoted one full chapter of 10 kurals out of 1330 kurals to Tapas. It says:

It means, with the power of Tapas, if one discards the attachment to ones own life and "I" the "ahankar" in him, then all lifes in the universe will bow before him.
How true in 21st century we see a walking and saintly example in H.H. Acharya Mahaprajnaji. I join the lifes in the universe to pay my reverence and respect to him.
My Greetings to all of you.
Dr.A.P.J. Abdul Kalam
18 Feb 2005
www.presidentofindia.nic.in