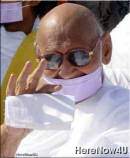 the followers of jainism celebrate paryushan parva, a spiritual festival that is spread over 30 days, culminating in the kshamavani diwas, the day of forgiveness and atonement. in pursuance of the ultimate goal of jainism, of achieving spiritual good, these 30 days are characterised by the observance of fasts, vows of silence and meditation. the underlying philosophy is to expound on truths like the impermanence of life.
there are two paths in life, the material and the spiritual. as long as we continue to work only through our conscious mind, we can never truly aspire for perfection. there are four steps to attaining spirituality; contemplation of impermanence, of non-sheltering, of separation of self from the material body and contemplation of solitariness. by achieving these four kinds of contemplation, we come closer to attaining spirituality. mere repetition of certain words or just chanting alone does not make one spiritual. the harsh reality is that with the present mental, physical and emotional conditions, we can never realise either our soul or our existence. by practising the four-fold spiritual process we can realise ourselves.
the first step towards realisation begins with the practice of impermanence of matter. by practising this, gradually, the happiness and sorrow associated with the object will start annihilating. an undesirable object gives sorrow, and a desirable object gives happiness. but in the state of intense awareness of impermanence, there is no sorrow. when the truth about the acquisition and separation of an object is fully understood, then there is no sorrow. when this consciousness awakens with full realisation, then there is no more fear and suffering of old age or death. a person who lives realistically and in spirituality with full realisation, can transcend these sufferings and enjoy unobstructed and infinite bliss.
what is sambodhi or enlightenment? it is the witnessing or awareness of impermanence. basically, enlightenment is of three types: enlightenment of knowledge, of vision and of conduct. intellect is also of three kinds: intellect of knowledge, of vision and of conduct. witnessing is also of three kinds: witnessing of knowledge, of reality and of conduct.
the first step of spirituality is the witnessing of impermanence. a spiritual person is one ``who has witnessed the impermanent''. the second element is non-sheltering. the helpless state of sickness and intense pain can awaken the consciousness of non- sheltering in anyone. external materials cannot provide relief and shelter. therefore we should seek for shelter within ourselves.
there are basically two kinds of persons, external seekers and internal seekers. a spiritual person is an internal seeker. an external seeker is materialistic because he is always inclined to seek externally. he searches for the solution to every problem in the material world. he hankers after objects. it is natural that wherever you are inclined, you will always move in that direction only. if your tendency is to seek within, then you will surely seek the solution to every problem in your spirit.
we are deeply attached to our physical body. our delusion is so profound and deep that we have accepted the body and soul to be the same. as long as this thinking persists, spirituality cannot materialise. the philosophy of contemplation of separation from the body is that, when knowledge of the separation of the soul from the body awakens, then spirituality starts taking root.
we accept three traits of personality: memory, imagination and thinking. all the three are mechanical and not related to the soul. feeling is related to the soul. it cannot be mechanical. the one who realises happiness and sorrow, exists. when the consciousness of the separation from the body awakens, then only does spirituality commence.
the last step of spirituality is to be solitary. mahavira has attached great importance to meditation in a solitary state. a person who has learnt the art of experiencing solitude even while in a crowd, has learnt to lead a life free from tension. the practice of spirituality should be pragmatic and rational, like the four contemplations talked about in jainism. in the context of prekshadhyana, we have accepted 16 types of contemplations. each contemplation is practised for months together and only then are they assimilated in our life. perception and contemplation should be practised together to attain happiness, to help us refine our thoughts and purify our mind.