Acharya Shri Mahapragya (91), the Tenth Acharya, head of Jain Swetembar Terapanth group, passed away at Sardarshahar in Churu district at 2.52 pm on Sunday 9th May 2010. His last rites would take place at Sardarshahar at 3 pm on Monday 10th May 2010. He was in the city in connection with "chaturmas" festival to be held next month. The news of the demise of the Acharya send waves of shock in the entire Jain Samaj and hundreds of his disciples and followers left for Sardarshahar to attend his funeral.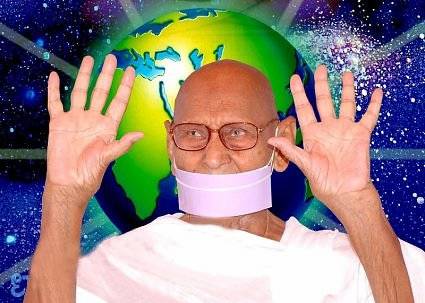 Acharya Shri Mahapragya (14 June 1920 - 9 May 2010) was the tenth Acharya, supreme head of Jain Swetembar Terapanth group. He promoted nonviolence and lead the Ahimsa Yatra movement. He also formulated the Preksha Dhyan movement in the 1970's. Along with his concept of sending learned Samanas and Samanis, (laypersons with advanced vows) abroad to promote the ideals of Jainism, Preksha Dhyan brought a large number of people close to Jainism.
Acharya promoted non-violence and led the Ahimsa Yatra movement. He had travelled more than 100,000 km on foot covering more than 10,000 villages reaching out to masses, spreading the message of harmony and peace. Walking across the length and breadth of India from Kutch in Gujarat to Kolkata and from Punjab to Kanyakumari, Acharya Shri had travelled on foot under the leadership of Acharya Tulsi, his predecessor. During these travels, he addressed thousands of public meetings.
Anuvrat Anushasta Yugpradhan Acharya Shri Mahapragya is the only name in this era whose multidimensional personality and enormous contribution for the educational, social and religious cause can never be over emphasised. He has enlightened the whole world by his profound knowledge intuitive insight and wisdom.
Acharya Mahapragya has indeed provided new dimensions to the religious and intellectual fields and has emerged as a highly venerable saint. His name is the Symbolism of Spirituality of the Twentieth Century. He is known for his style for tracing the beginning of a thought process and then finding solutions for it. His extraordinary talent has presented Science and Spiritualism as synonymous to each other. This completely New Theory in the religious field has provided many new dimensions to the field of Religion. Humility, kindness, wisdom, courtesy, patience and universal friendship are only some of his noble virtues.
He had been adorned with the following Titles:
The 10th Acharya of Terapanth Sect
Anuvrat Anushasta
Yugpradhan
Lokmanya Maharishi
Ambassador of Peace
Indra Gandhi National Unity Award
Brahmarishi
Mahatma
Dharma Chakravarti
National Communal Harmony Award
Mother Teresa Peace Award
Doctor of Literature
One is deeply sorry to hear of the same demise of Acharya Shri Mahapragya, at Sardarshaher. He was truly ecumenical in his approach and one of the most learned Jain seers in the world. I bow in obeisance to his memory and offer my condolences to the entire Jain Sangh. Even though Acharya Shri's work will remain with us, the perfume of his presence has gone.
Om arham
Rahul Hirawat