by Emma Holden
18 February 2000 saw the Jain Studies Department of London's School of African and Oriental Studies host its second conference, entitled 'Jain History and Culture'. The conference, held at the Brunei Gallery, was organised by Dr Peter Flugel, and chaired by Dr Julia Leslie from the Department of the Study of Religions at SOAS.
The prestigious SOAS (School of African and Oriental Studies) is a couple of minutes walk from the British Museum, Russell Square, London. In November last year Jain Studies, with Dr Peter Flugel at its helm, was added to the Department of the Study of Religions at SOAS. Jain Studies at SOAS is currently funded by the World Council of Jain Academics, inspired by Dr Natubhai Shah. As well as offering an undergraduate course, Jain Studies at SOAS also host regular conferences that provide an excellent venue for discussion and debate concern­ing the most recent research and developments in Jainism.
To begin the programme, Dr Werner Menski of SOAS, delivered a paper titled 'Is there such a thing as JAINA law?' In this he argued for the existence of an independent Jain jurisprudence despite there being no official Jain law in India today. He was followed by Dr Sean Gaffncy, also of SOAS, whose paper 'Continuity and Change in Early Indian Religions: The Twenty-Four Buddhas and Twenty-Four Tirthankaras' delved into some differences and similarities between these two religions, with reference to the importance of lineage. Next, Dr Natubhai Shah presented his ideas about 'The Proposal of the Western Order of Jainism'. As a foreign­er abroad, Jainism finds itself having to adapt to a new environment. Dr Shah is dedicated to seeing Jainism not merely survive, but thrive in the West. He outlined the aims and objectives of the proposed 'Western Order of Jainism' by comparison with other religions that have successfully established themselves in the West. As Dr Flugel commented, Dr Shah's paper may be an historic document, when in a few decades' time the position of Jainism outside India is considered, and the course of its development is reflected upon.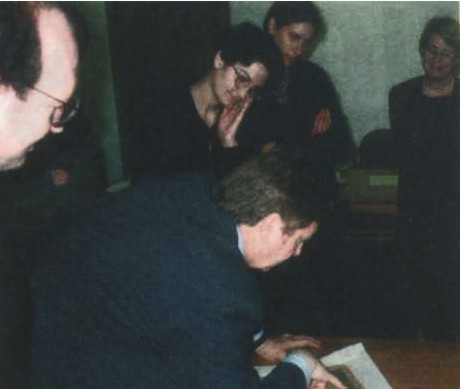 Dr. Dominik Wujastyk of the Wellcome Institute demonstrating ancient Jain scriptures to the conference delegates.
The afternoon session was opened by Dr Flugel, who is researching modern Jain reform movements. The paper he delivered 'On the History and Organisation of the Stanakvasis' challenges many of the received ideas about the definition and historical development of the Stanakvasi movement. This paper was just a taste of a larger piece of work. Next, Akiko Shimizu, a PhD student at Kings' College, London, shared some work in progress relating to her thesis about Digambara and Svetambara Jains in Delhi. Having recent­ly returned from Delhi, Akiko told us about the many Jain families she interviewed to gain a better understanding of these two groups. Following Akiko, Dr Julia Hegewald from Oxford, who had also just returned from India, spoke about 'Multi-Shrined Complexes: The Structuring of Space in Jaina Temple Architecture in Northeast India'. With an excellent collection of slides, Dr Hegewald explained how temple architects manipulate space on the horizontal and vertical axes with consideration to accessing the Jina images. Dr Hegewald's presentation will contribute to a longer paper to be published later this year.
Finally, Dominik Wujastyk from the Wellcome Institute treated delegates to a marvellous display of Jain ancient paper manuscripts. The Welcome Institute also has examples of older palm leaf manuscripts in its collection, but they are obviously too fragile to transport. Although essentially concerned with health, the collection at the Welcome Institute houses manuscripts from all areas of culture and society, reflecting India's holistic approach to the physical and spiritual health of women and men.