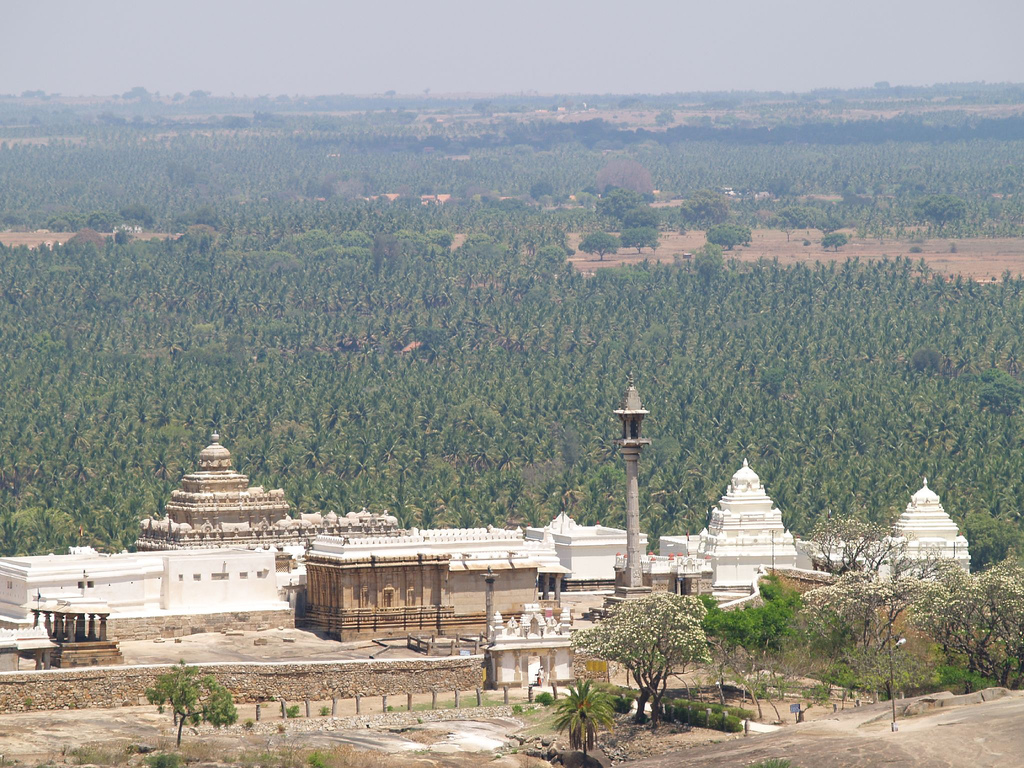 Jain Temples and Statue of Gomateshwara at Shravanabelgola
Shravanabelgola (Kannada: ಶ್ರವಣಬೆಳಗೊಳ), located in Channarayapatna taluk of Hassan district of the Indian state Karnataka is one of the most important Jain pilgrim centers in India.
Shravanabelgola which is also known as "the white pond of the Sravana" or "the Jain monk" is named with reference to the colossal Jain image of the place and its prefix Shravana that also serves to distinguish it from other Belgolas with the prefixes Hale and Kodi. The derivation of the word 'Belagola' appears to have been from the two Kannada words Bel (white) and Kola (pond) in allusion to the beautiful pond in the middle of the town.

A large number of Jain basadis (temples) are located all over the site of Shravanabelgola.

There are two hills, Chandragiri (Chikkabetta) and Vindyagiri. The last shruta-kevali, Bhadrabahu Swami, and his pupil, Chandragupta Maurya (formerly the King), is believed to have meditated there. Chandragupt

.

a Basad

.

i, which was dedicated to Emperor Chandragupta Maurya, was originally built there by Emperor Ashoka in the third century BC.

Chandragiri also has memorials to numerous monks and shravakas, who have meditated there since the fifth century AD, including the last King of the Rashtrakuta dynasty of Manyakheta. Chandragiri also has a famous temple built by Chamundaraya, who was a disciple of Acharya Nemichandra Siddhanta-chakravarti.

The statue of Gomateshwara or Bahubali at Shravanabelgola is one of the most important Jain pilgrim centers. The 57 feet monolithic statue of the is located on the Vindyagiri. It is considered to be the world's largest monolithic stone statue and was erected by Chamundaraya, a general of King Gangaraya. The base of the statue has an inscriptions in Kannada and Tamil, as well as the oldest evidence of written Marathi, dating from 981 AD.
---