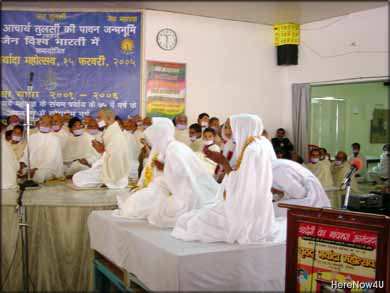 At second sight, it was clear that the former female aspirants also had vanished completely. Only the chains of flowers around their necks were indicating that they have something in common with them. No question, they had become different during the twenty minutes out of public sight. One after the other, they were bowing down in direction of H.H. Acharya Mahaprajna...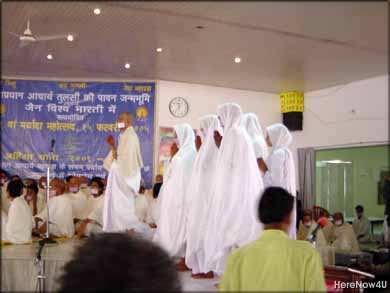 ...while taking off the chains of flower which were kept by some relatives. Then, all seven got up simultaneously, without any sign of mutual communication, the same action was performed by all. The Sadhvishrees & Samanjis remained motionless in their positon, whereas the Muni moved towards Yuvachrya Mahashraman.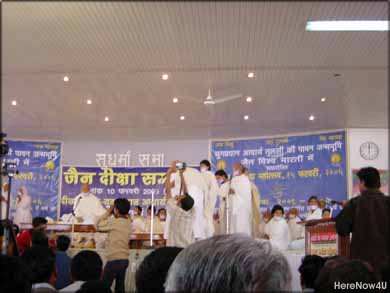 He was about to undergo a procedure for Munis only. When the Muni gets shorn his head, always a small tuft is left from shave. This traditionally is removed by the Yuvacharya's hands. It signifies the preparedness to stay calm in whatever circumstances might occur and not to associate with bodily pain.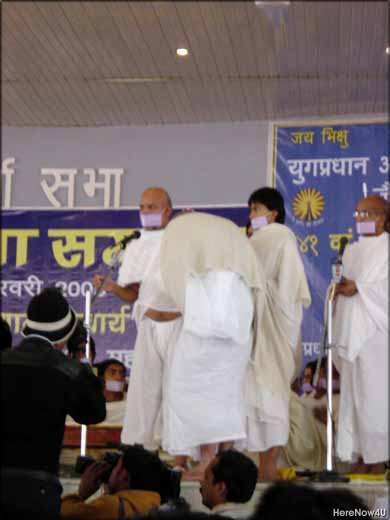 The new Muni had not left a small, but a rather big tuft. When looking at his tuft, the spectators muttered. Even Yuvacharya Mahashraman's decided and powerful transaction did not succeed to remove all hairs left at first attempt. He was looking astonished, but when the Muni asked him to continue, finalised his task with another resolute move.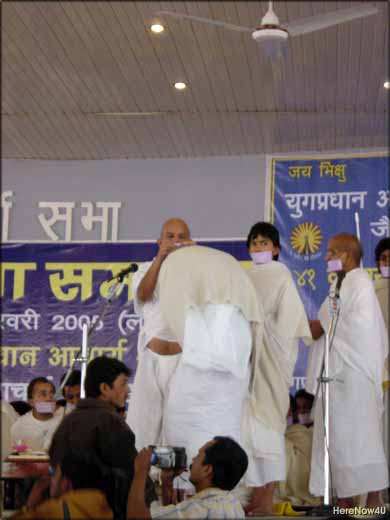 Then Yuvachrya Mahashraman spoke prayers and blessed the Muni.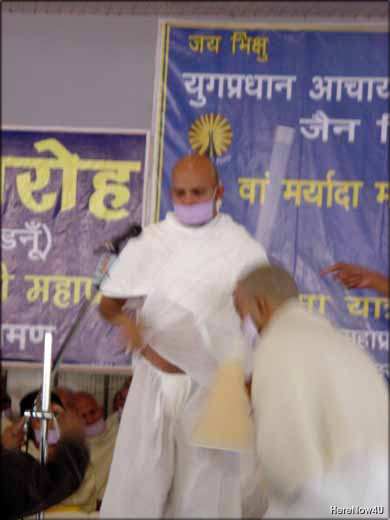 At least, the muni received his broom.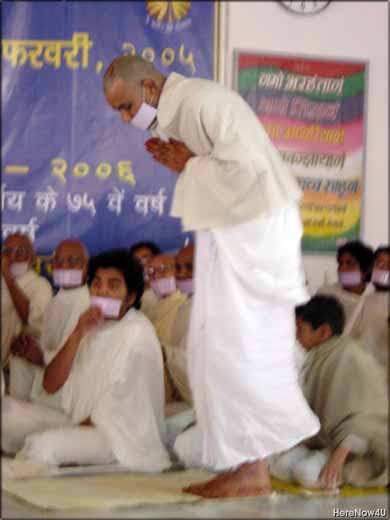 Then, after having bowed down again, he took his seat among the other Munis on the stage.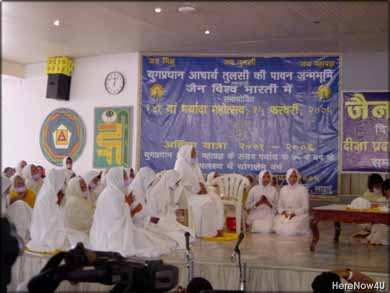 Meanwhile, the four new Sadhvis had taken their seats near Sadhvi Pramukha Mahashrami, and the Samanis had gone down to the Samanis. On stage, there are only two representatives (middle on their knees, facing the audience) of the Saman order.
Now all 7 were members of the order.